Trans Awareness Month is bigger than ever
First-ever trans pride flag raising ceremony kicks off month of panels, workshops and screening
November 02, 2017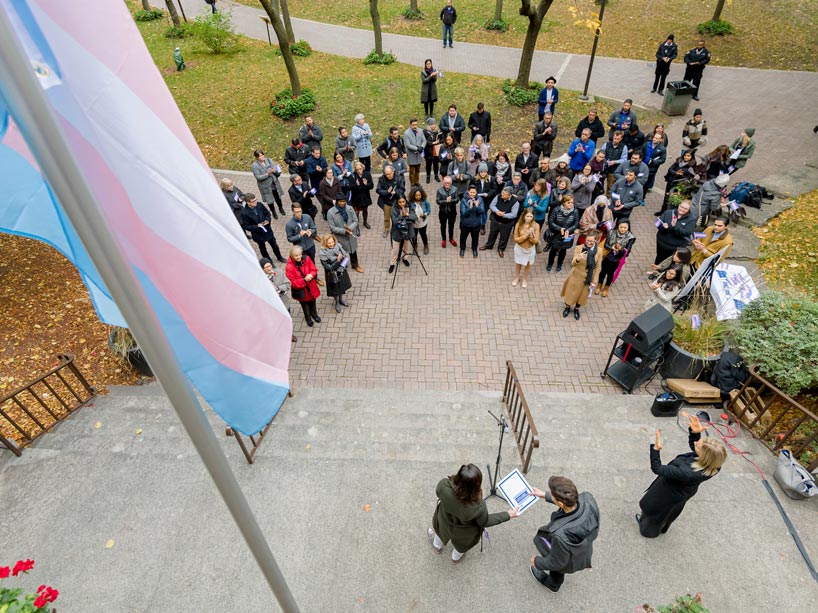 On November 1, Ryerson's first-ever trans pride flag raising ceremony in the Kerr Hall Quad opened Trans Awareness Month. Organized by Positive Space at Ryerson, Ryerson's annual celebration of its trans community returns for its most ambitious and event-packed instalment yet.
"Trans awareness month is important because our trans community members continue to experience harassment, discrimination, violence and systemic barriers on campus and in our communities," said Laurie Stewart, manager of administration and finance communications, and co-chair, Positive Space. "In past years, there have been a small number of things done for trans awareness month ranging from university-wide communications to a small service on Trans Day of Remembrance. This year the volunteer employee community network group, Positive Space, built a calendar of events for the month of November to celebrate, honour and raise the visibility of the trans community on campus."
One of the highest-profile events will be Trans Inclusion in Sport (November 13, 2-3:30 p.m., Alumni Lounge, MAC), where Harrison Browne—the first openly transgender athlete in North American professional hockey—will speak on his experiences in the National Women's Hockey League. The address will be followed by a panel discussion between Harrison, Barb Besharat, and Chris Spiess, moderated by Christine Hsu.
What are the joys and challenges of dressing while trans? How can fashion be recontextualized for trans bodies? At Transdressing: Trans Inclusion in Clothing Design and Fashion (November 21, noon-2 p.m, KHW-258), cultural historian Art Blake will moderate the discussion on trans contributions to clothing design, featuring artist Vivek Shraya and designers Jalisa Luces-Mendes and Jack Jackson.
Trans Awareness Month will also be an opportunity for Ryerson to explore how it came to be a more welcoming community. On November 1, Positive Space hosted Trans 101: Supporting Trans Individuals which was an interactive workshop that identified barriers to inclusion for trans students, faculty and staff. The Learning and Teaching Office will be hosting two workshops in November as well. Inclusive Classroom Workshop (November 7, noon-2 p.m., POD-372) will explore efforts to develop a university-wide teaching strategy to foster ECI in the classroom. At the Trans Pedagogy Workshop (November 14, noon-2 p.m., POD-372), participants will discuss the issues facing the transgender community inside and outside the lecture hall.
The trans pride flag will be up in the quad for the entire month, but on November 20, it will be at half-mast in recognition of Trans Day of Remembrance. This reflective day memorializes those who were killed due to transphobic and transmisogynistic violence, and draws attention to the ongoing violence endured by the transgender community.
The month concludes on November 27 with a free screening of Lady Valor: The Kristin Beck Story (4-6:15 p.m., Carlton Cinema), a documentary about a U.S. Navy Seal who embarks on her first mission in her new identity. Kristin Beck will be on hand for a post-screening Q&A.
This year's trans awareness activities are made possible with sponsorship from every dean's office on campus as well as the AVP, HR and VP, Equity and Community Inclusion, VP Students, and Director of Athletics.
For a full list of events, visit Positive Space at Ryerson.