How a scholarship can change a life
President's Entrance Scholarship brings top students to Ryerson
November 03, 2017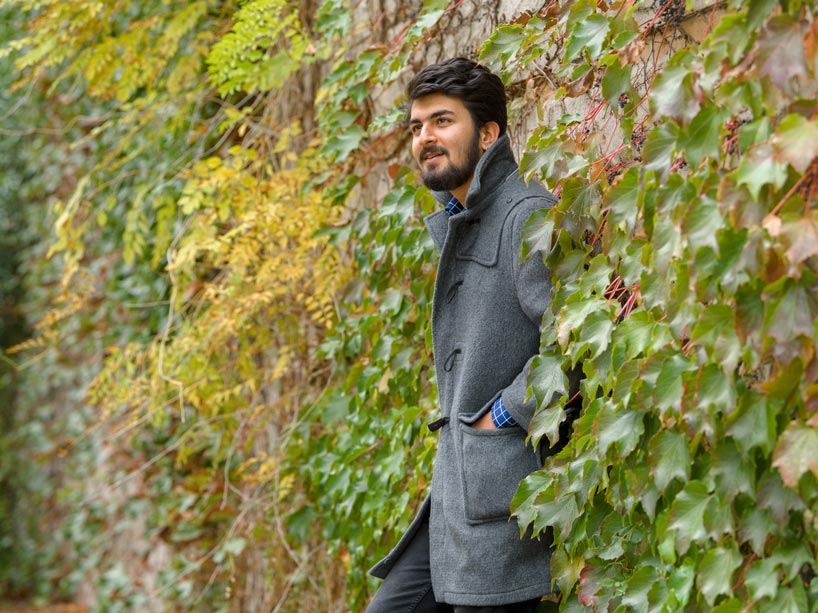 When he was living in his hometown of Hisar in India, Abhi Raheja had only two options for his future: go to work, or go to Ryerson: "Ryerson journalism is the best in the world, and Ryerson is the only school I applied to."
A year later, Raheja is a Ryerson journalism student, but his destiny was never a foregone conclusion. "My story of coming to Ryerson is a very dramatic one," remembered Raheja. "My family went through a very major financial crisis last year, so the option was either to not go to school ever, or if I got a scholarship, go to Ryerson." His life changed on June 10, when he learned that he would be awarded a President's Entrance Scholarship. "I decided I was going to come here when I got the scholarship—otherwise, I wouldn't be in Canada. If you ask me the question, 'How did it feel to get this scholarship?'… it was all my dreams coming true."
The President's Entrance Scholarship offers financial assistance of up to $40,000 ($10,000 per year) to promising students, evaluated on three criteria: academic excellence; demonstrated potential through leadership activities; and capacity for original thought and/or creative ability. The award is one of numerous Ryerson scholarships and awards that ease a financial burden that may be insurmountable for some, and helps students achieve their potential without the stress of staying afloat.
"Ryerson is proud to support these new and talented scholars," said university president Mohamed Lachemi. "Our scholarships and awards show our commitment to fostering academic excellence wherever it appears. As someone who has benefitted from scholarships on my path to education, I know a scholarship has life-changing potential."
Raheja's interest in photojournalism evolved through his initiative "Not Just Another," a photo project he developed in India when he was in ninth grade. "I started doing something that the 'Humans of New York' page on Facebook does: I'd go around talking to people and sharing their stories. Through that, I started meeting people who aren't comfortable with their lives, or are struggling. I tried to do something for them, and it just turned into something bigger." The mission changed when Raheja and his friends were contacted by the mayor, who asked them to carry out a cleanliness drive in the city. This turned into three drives, which brought more than 400 people into the streets to clean the city.
President's Entrance Scholarship winners come from all over the world and bring a wide range of interests. Soundos Rezig, who grew up in Toronto, is now in the Biomedical Sciences program, but she has also nurtured a lifelong passion for art. Her paintings engage with social issues, particularly the struggle for teenagers to "fit in" while also maintaining a personal identity.
"My parents were very keen on art," said Rezig. "They always told me I needed to have something on the side—something that I really loved to do that would keep me going. I would go to the Regent Park Art Club, and be part of the AGO extracurricular summer art program, and I was also involved in dramatic arts. The arts allow me to take my mind off stresses, and lets me be creative and express who I am as a person."
Rezig says that people are often surprised by her dual interest in the arts and sciences, but that the two spheres aren't as far apart as some might think. "I really find that art and science do connect. Scientists are always surrounded by new creations, new species. Artists are always exposed to new colours and shapes. In a way, scientists are artists: we're always constantly trying to achieve something new."
For Rezig, the scholarship will help her make the most of the university experience in a way that would not otherwise have been possible. "I'm the third child in my parents' family, and we only have a single income, so I knew that I was going to have to be paying for my tuition. Knowing that the scholarship will be covering my full tuition is extraordinary. It will allow me to focus on my studies, and it will allow me to join more extracurriculars."
Another student, Melissa Marquez, helped bring her Bolivian heritage to her hometown of Whitby when she coordinated a Latin-American pavilion at her high school's annual multicultural night. "My whole family is from Bolivia—I'm the first generation to be born in Canada. I'm definitely proud to be Canadian, but it's also important to express my Bolivian culture. That's where I come from, and since Canada is so multicultural, I think Bolivia should be represented.
"In the years before, Multicultural Night at my school didn't have a Bolivian pavilion or even Latin American representation," said Marquez. "To bring that to my school for the first time was a really good experience. We displayed some art and artefacts and food from our culture, and we had dance and Spanish-speaking lessons. We brought our culture out to the school community."
Marquez is pursuing a career in nursing after being inspired by her own positive experiences with nurses. "They really inspired me to get through what I was going through," said Marquez. "I want to be that person for someone else. I love helping people, and I want to make their healing experience and good as possible."
When asked about his future, Abhi Raheja said that he hopes to use his Ryerson journalism education to help people and communities share their stories with the world. "Every club, every bar has a security guard and vendors—just normal people who we forget to acknowledge in our daily lives. I just wanted to express through this club, this organization, this state of mind that no human is 'just another' human. Every human is special; every story is worth telling."
For more information on Ryerson's scholarship and awards, go to ryerson.ca/admission/scholarships-awards. For information on how to create an award, please visit ryerson.ca/giving/wheretogive/PACE.