Many voices, one installation
Architectural science students collaborate on interactive Nuit Blanche installation
September 26, 2017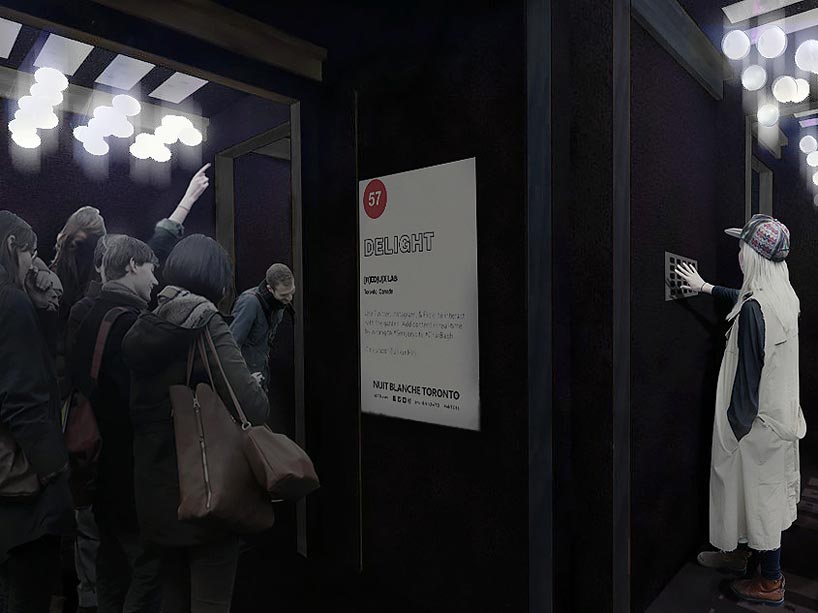 We all know that Nuit Blanche—the annual all-night art extravaganza—transforms the city. But sometimes, the city can also transform the art. For this year's event, a team of students from Ryerson's architectural science, opens in new window program have designed a unique installation that is both immersive and interactive.
Titled DELIGHT, external link, opens in new window, the exhibition allows visitors to directly alter their environment. As people approach and enter the space, the frequency of the sounds they emit will alter the movement of the installation's suspended, light-emitting orbs. The orbs will move in the same formation as a sine wave representing the sound's frequency. "If patrons can take part in the exhibition, it can become more meaningful," said Louise Shin, architectural science '17 graduate and one of the project leaders.
In recognition of Canada 150, this year's Nuit Blanche sees artists grappling with issues of migration, displacement, colonialism, privilege, reconciliation, and the natural landscape. "Just as the design process is very collaborative and incorporates many voices, that's what we thought of when we thought of Nuit Blanche's theme, 'Many Possible Futures,'" said Shin. "Our installation features sound-activated light that moves faster or slower depending on the amount of ambient noise in the room. In that sense, it's like everyone's voices and sounds are helping to power this installation. It's many voices, one installation."
The project grew out of the students' final project in their fourth-year class, Professor Vincent Hui's ASC755 Digital Tools. The assignment was to design a module that could be submitted as a Nuit Blanche exhibition, and created as part of [R]ed[U]x Lab, external link, opens in new window, a fabrication and design collective led by Hui in the Department of Architectural Science. The design team—who mostly graduated this year— consists of Shin, Michelle Friesen, Jonathan Brunath, Kelly (Pin Ju) Lai, Wayne (Jiachen) Bai, Farah Elmajdoub, Jean-Paul Guay, Laura Herrera, and Agnes (Ka Pui) Cheng. They also drew on the contributions of volunteers from lower years to complete the installation.
"We got real-life experience, and we could apply the skills we learned in school," said Shin. "I'm one of the project leads, I'm getting a lot of experience with co-ordination, applying for funding, and actually building and detailing everything. It's also nice to get to know people in the program who I wouldn't have met. I graduated recently, so without this project, I wouldn't have met some of the second- or third-year students."
Also at Nuit Blanche, Ryerson Artspace, external link, opens in new window is presenting Foreign Bodies, external link, opens in new window, an exhibition by Elise Rasmussen, Camille Rojas, and Avery Steel. Blending photography, video, and performance, the exhibition explores the relationship between bodies and space, and encourages visitors to consider how their own bodies interact with the exhibitions as they navigate the room.
Nuit Blanche, external link, opens in new window takes place Saturday, September 30, sunrise to sunset in downtown Toronto. DELIGHT will be located at 401 Richmond St. W, and Foreign Bodies will be at Ryerson Artspace (1214 Queen St. W, in the Gladstone Hotel).