A new home for the Real Institute
College Park office brings the Ryerson English as an Additional Language Institute under one roof
September 15, 2017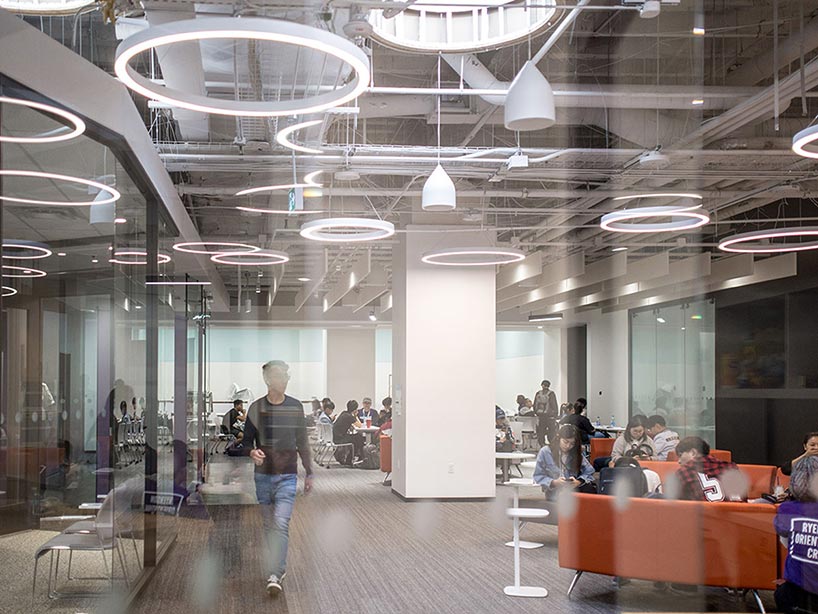 An institute that's growing by leaps and bounds needs a space that can keep up. With Ryerson's English as an Additional Language (Real) Institute settling into a state-of-the-art new facility at College Park, its students and staff finally have a space to call their own.
"We were located on three different floors in The Chang School, we had classrooms on three different floors in the Victoria building, so we were all over the place," said Gerd Hauck, director of the Ryerson ESL Foundation Program. "It's a real joy for us to be in the same location and coexist as an entity."
Construction on the 30,000-square-foot facility began in May, to be completed by the end of September. The facility is centred around a large open "town hall area," with tables and bleachers ideal for collaborative work or socialization. Elsewhere in the facility are 21 classrooms of varying sizes, plus private interview rooms and a quiet space.
"We wanted to use the space as much as possible," said Hauck, "so the designers staggered the classrooms. They're not all aligned. It makes it more interesting to look at architecturally, but also creates spaces that use the windows, and creates spaces where students can relax between classes.
"Flexibility was the key word in our design and production process," he added. "We wanted the space and furniture to be as mobile as possible."
The Real Institute offers both short-term intensive programs and a rigorous full year-program to enhance English proficiency for students of varying levels. Its programs include an ESL Foundation Program (for students who are academically qualified and have received a conditional offer of admission but do not meet minimum English proficiency requirements), a Real English four-week intensive program (focusing on speaking, reading, listening and writing skills), and a Real English ++ program (for international students seeking to combine degree-credit study with English language education).
The new headquarters represents the culmination of a period of intense growth for the institute. "The program started in 2013 and we had 25 students," said Hauck. "The following year we had 56. Year after that we had 80, last year we had 162, and this year we have 220." The new space is designed to accommodate as many as 600 students—a target Hauck hopes to reach by 2021.
For more information, visit the Real Institute.