The business of basketball, up close and personal
TRSM student to work with Toronto Raptors as inaugural Wayne Embry Fellow
August 11, 2017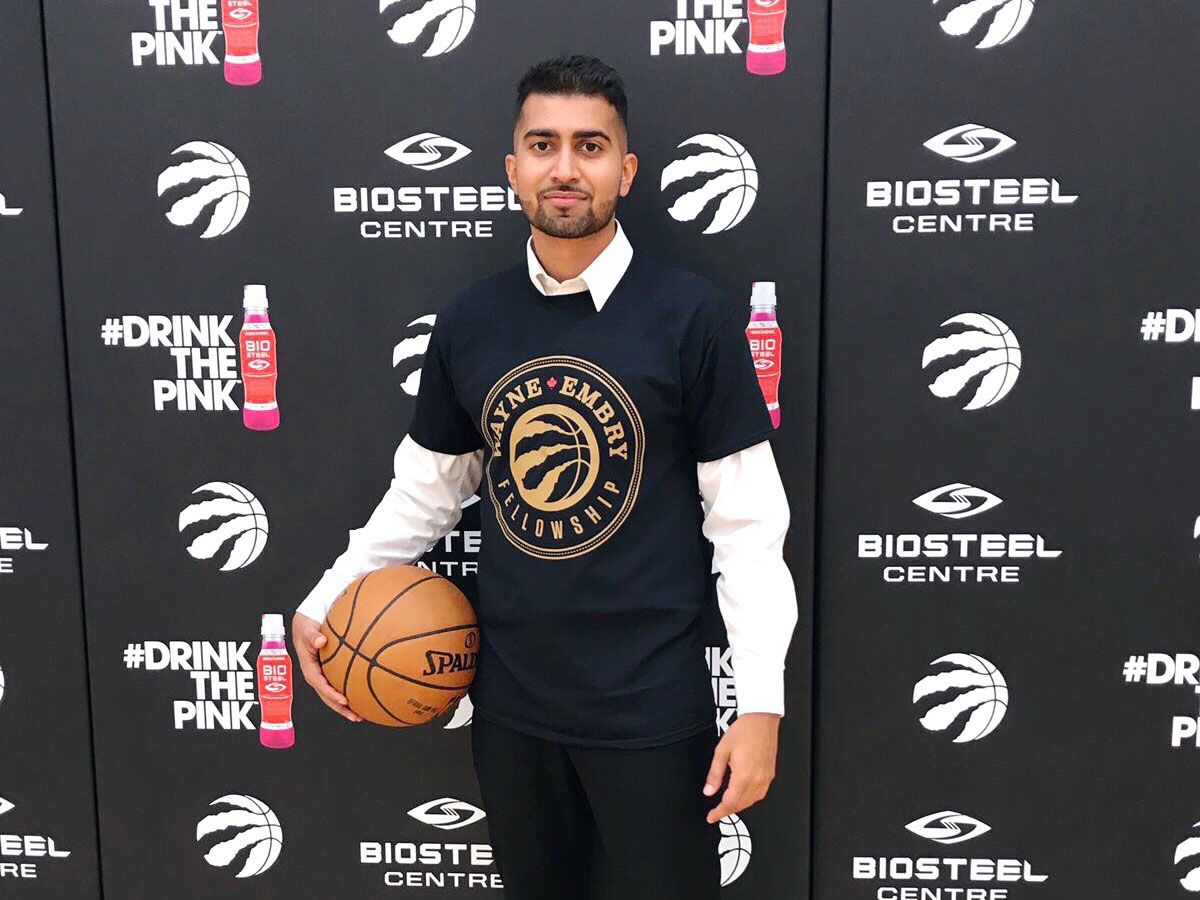 A new fellowship program will help Canadians build a career in the world of basketball, and a Ryerson student is the first recipient. Sam Bhachu, a law and business student at the Ted Rogers School of Management, will work with the Toronto Raptors as the inaugural winner of the Wayne Embry Fellowship, external link.
"I love the sport, and I have an interest in business as well—I come from a business family," said Bhachu. "I love the sport on the court, but I love seeing what happens behind the scenes. Combining those two is ideal to me."
The year-long paid position will expose Bhachu to all facets of basketball operations, including coaching, scouting, player development, team services, medical, financial, equipment, and more. Each phase of the program will pair him with a mentor and specific responsibilities, and he'll also gain significant experience in event operation.
Bhachu's love of the game goes back to his childhood. "I played a lot of basketball growing up in Oakville and Mississauga, and I ended up coaching over the summers for the same clubs I was in. It felt like giving back to those clubs, and I was able to see myself in those kids."
At Ryerson, Bhachu did marketing and social media management with the Ryerson Sports and Business Association, external link. His interest in pursuing sports as a career was sparked when he took a sports marketing class taught by TRSM professor Cheri Bradish and Teresa Resch (vice-president of basketball operations and player development for the Toronto Raptors). "In that class, we had guest speakers coming in from places like NBA Canada and MLB. That's what really got me thinking about pursuing it. I did whatever I could to learn about how to get into the industry, and applied wherever I could, and this opportunity came."
The Wayne Embry Fellowship is named for the basketball legend who became the NBA's first African-American general manager and team president, and who currently serves as a senior basketball advisor to the Raptors. Recipients are selected based on six P's: "Perseverance, Persistence, Preparation, Passion, Perception and Pride." As part of the application process, finalists met with Embry and a panel of Raptors executives.
"Sam is getting an unbelievable, priceless experience of exposure to how an NBA team works, and an incredible opportunity to grow," said Teresa Resch. "It's a chance to learn about the game, meet the individuals that impact the team. He's working for not only the team, but also the league, the Summer League, the G League—just the networking opportunities are incredible."
The Wayne Embry Fellowship is open to all Canadians regardless of age. For more information, and to watch Bhachu's submission, visit the NBA website, external link.