University honoured as social entrepreneurship leader at Oxford
Ryerson receives Global Higher Education Institution of the Year award at international innovation conference
July 13, 2017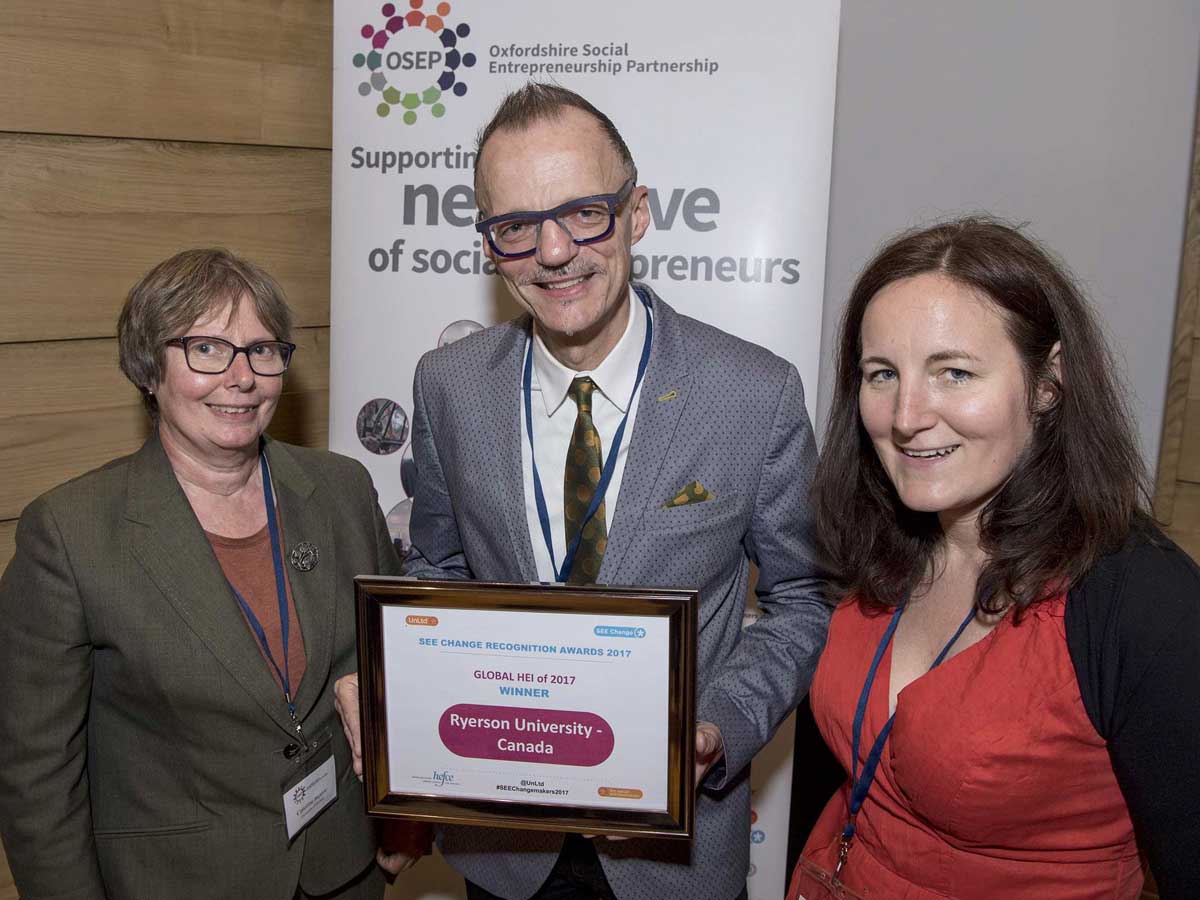 Ryerson University was recognized as a global leader in social entrepreneurship, honoured as the Global Higher Education Institution of the Year at the SEE Changemaker Recognition Awards.
The award celebrates a university that is supportive of students, faculty, staff and alumni who are pursuing social ventures. It was presented at Oxford University on June 28 as part of the annual SEE Social Entrepreneurs' Exchange.
"This honour anchors Ryerson's reputation as an innovation university by recognizing our initiatives in social entrepreneurship," said Ryerson President Mohamed Lachemi. "It validates the efforts of Ryerson social innovators and we will continue to support students, faculty and staff who are creating enterprises for the common good."
Ryerson has made a global impact with its zone learning network: its 10 zones (including the SocialVentures Zone, Clean Energy Zone, Transmedia Zone, external link, and others) have fostered more than 400 companies, 25 percent of which are social impact ventures. Student and community initiatives such as Access Now, Growing North, and Rumie were incubated in the zones.
"Ryerson's social innovation impact is also evidenced in its community partnerships built to effect social change, such as efforts to prevent the spread of HIV, to mobilize communities to resettle Syrian refugees in Canada, and to involve lower income youths in art to express their experiences," said Jean-Paul Boudreau, executive lead for social innovation at Ryerson. "We have also made a strong impact through quick and spontaneous actions such as our ChangeMakers North of the Border Symposium in protest of the U.S. travel ban against Muslim-majority countries.
"On a personal note, it was inspiring and humbling to have Ryerson's collective innovation efforts acknowledged at the University of Oxford, a campus known for its history, architecture, and world standing."
Nickala Torkington chaired the awards adjudication committee and noted that Ryerson University "demonstrated the most comprehensive approach to supporting social entrepreneurship that the judges had ever seen – covering enterprise, innovation, curriculum, research and more, with established partnerships internally and externally to take support, innovation and impact forward in each of these areas."
Ryerson's University Relations office has supported students in social ventures (including the Skoll/Oxford Global Challenge) through its community engagement unit. Ryerson is also Canada's first campus with the Ashoka Changemaker designation—part of a network of universities and colleges committed to solving real-world problems in creative ways.
The award is part of the Oxfordshire Social Entrepreneurship Partnership, external link. The nomination was made by Ryerson's offices of Community Engagement and Social Innovation, and the award was accepted at Oxford by Jean-Paul Boudreau.