Can students build the world's greatest Mars rover?
Ryerson Robotics Team to compete in University Rover Challenge
May 12, 2017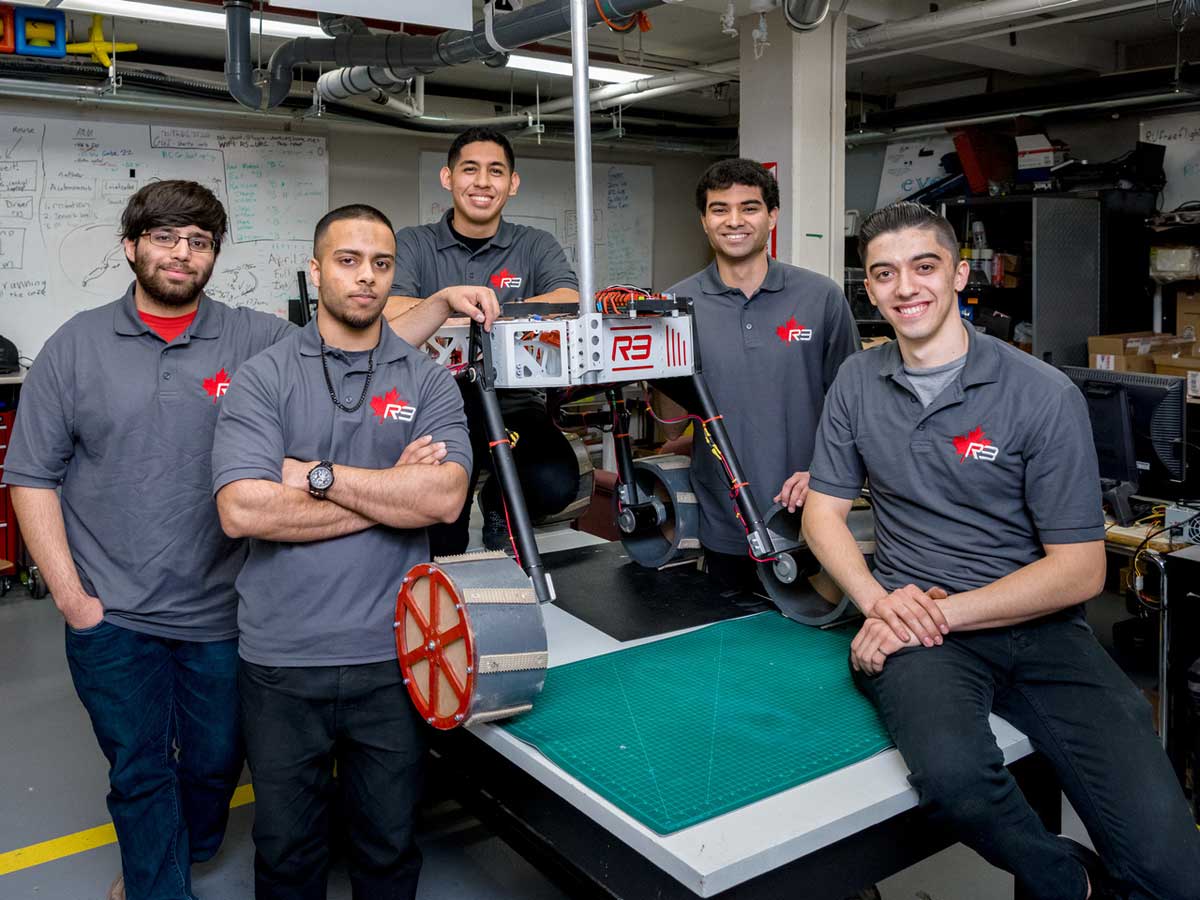 Can Ryerson engineering and science students build the world's best astronaut-assisting Mars rover? From June 1 to 3, the Ryerson Rams Robotics (R3), external link will be at the Mars Desert Research Station in Utah to compete in the University Rover Challenge, external link (URC).
The team is one of 36 to advance to the finals (from 82 in the first round)—the biggest challenge yet for the 30-person Ryerson robotics team, which launched only three years ago.
"We always knew that before we graduated, we wanted to do something that would challenge us to our limits," said Michael Marmeto, a team captain. "We started looking around for competitions, and one of us found out about Mars Rover and a few other competitions. We knew since the beginning that we would want to do one of these big challenges before we left Ryerson."
Their rapid rise has seen them facing off against better-funded and more established teams in major competitions like VEX U, external link. How do they survive? "The only way is to work harder, and use what resources you have more efficiently," said Feroz Balsara, another team captain. "A lot of teams have advanced resources, but they've had them for so long that they take them for granted, or aren't using them in the most innovative ways. We try to stretch everything that we have as much as possible."
The team has undergone a rigorous yearlong schedule to make the URC competition: August to December was the design and analysis phase, with building occurring from December to now. "We've built robotics projects in really short budgets and really tight timelines," said Balsara. "For this, we had a longer timeline, but we had a lot more to do in that timeline, so it ended up being just months of intense work."
The 30-person team is divided into sub-groups, each with a specific focus (the robot arm, the controller, the drive, etc.). "A lot of teams are very hub-based—everyone works on one thing," said Balsara. "That's not our model—we're very cloud-based. We actually meet as a whole team quite infrequently—we've only met once or twice. But each subsystem meets, and within those subsystems are sub-subsystems." With limited resources, the team was forced to be creative: third-year mechanical engineering student Omar Shariff designed and developed parts for the rover's arm that would normally cost in the hundreds of thousands.
"We're a very multidisciplinary team, especially for the science task," Marmeto added. "We recruited the efforts of a lot of science students from the science department. They can do things beyond the scope of the engineering department."
The team launched three years ago as a venue for students with an interest in robotics and electronics. Their projects so far have included a basketball-shooting robot for the Toronto Raptors and a robot for the airplane manufacturer Airbus.
"A lot of us started with a competition in high school called First Robotics, where we found a passion for creating these technologies and building with teams," said Marmeto. "It's the team-building experiences, and trying to create something bigger than yourself to create a big, cool thing."
For more information on the Ryerson Rams Robotics, visit their Facebook page, external link.