Students and police work together
Ryerson geography students develop mental health app with Toronto Police Service
April 13, 2017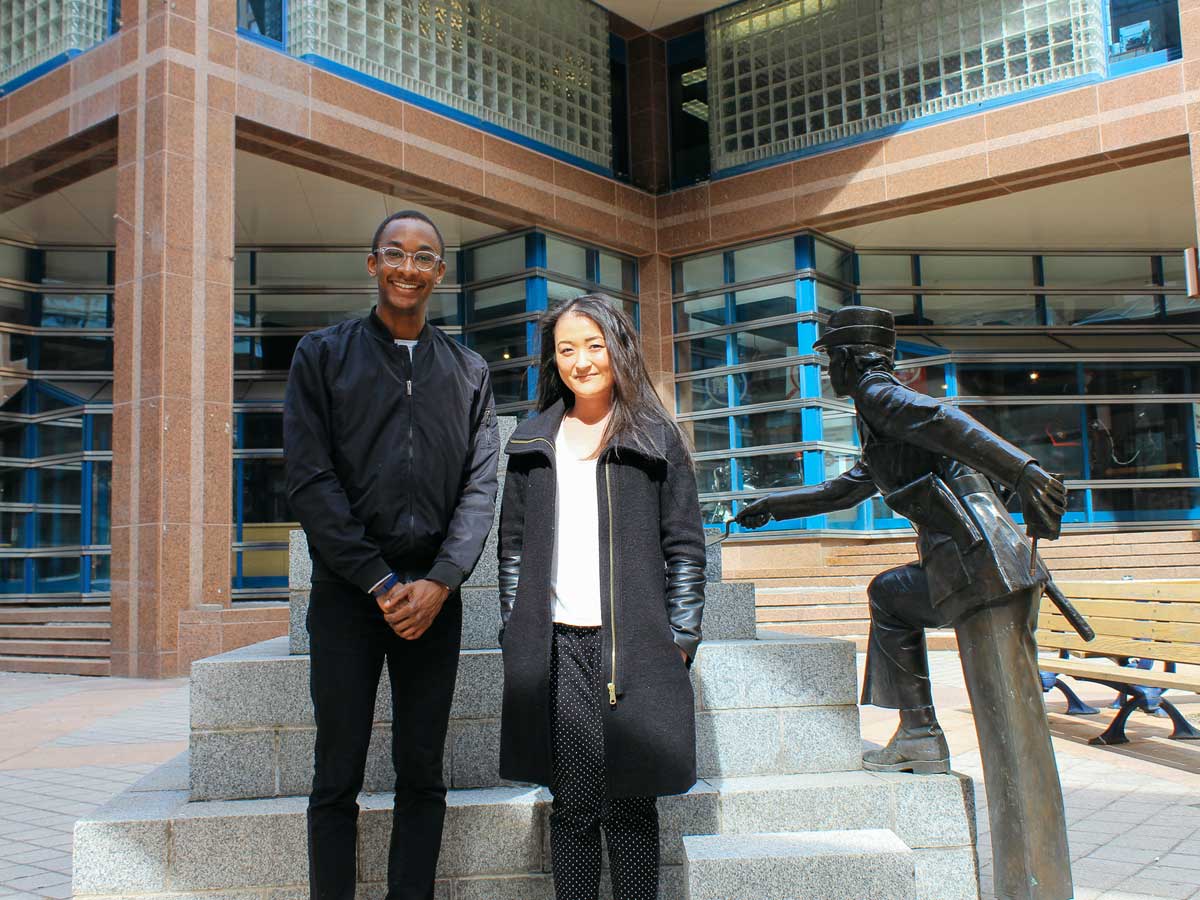 Four students from the Master in Spatial Analysis (MSA) program worked with the Toronto Police Service (TPS) to design and build an app that will help police officers connect to mental health resources in the field.
The Community Asset Portal (CAP) is a partnership between Ryerson, TPS, the City of Toronto, and Find Help/211 that seeks to create an efficient, map-based system for practical front-line use. The partnership started with a graduate student project for the Geographic Information Systems (GIS) Project Management course, where students work in groups on external projects provided by real clients.
Students drew on their education in the MSA program, particularly their skills in data handling, spatial analytics, web GIS, statistical modeling and critical social analysis, to develop the tool. "When you're doing crime analysis, everything happens within space," said Joseph Ariwi, who worked on the project with Gabby Lee, Ela Lichtblau, and Gary Moloney. "When you're able to bring together all the spatial data for a large city such as Toronto, you're able to understand how to better allocate your resources; understand the hotspots for crime; and find out what times crimes are occurring."
Applying the same logic to mental health resources, students researched resources to develop the tool. "We researched how we can best design this app so officers can access the most information as quickly as possible," said Ariwi. "They're on a shift. If the app is cumbersome or slow or hard to understand, then they won't use it, because it would be more of a hindrance than an aid."
One of the students, Gabby Lee, accompanied officers on a 12-hour ride-along for research. "It was nice to get that real-life experience behind the wheel," said Lee. "It was definitely a different perspective that opened up a lot of problems that officers face on a daily basis that citizens normally wouldn't notice."
The pilot phase of the project is complete. The app will first be released to police officers for feedback before an official rollout at a later date.
"From a project management perspective, I learned the importance of being flexible," said Ariwi. "Oftentimes in school, assignments are very rigid and there's only one way to do things. I learned with this project that there were different approaches and perspectives, and I learned a lot from my team members to be able to create the best product."
The TPS has a long relationship with Ryerson's Department of Geography and Environmental Studies, opens in new window: it is an annual participant in the GIS Project Management course, among others. Gabby Lee is doing her co-op/practicum term with TPS, and Joseph Ariwi is working part-time this summer to implement the app.
"We do maintain a very close relationship with the TPS through experiential learning at both graduate and undergraduate levels, as well as student placement and actual employment," said Lu Wang, graduate program director of Master of Spatial Analysis. "I see this collaboration as expanding much more in the future, as the technology advances and there is more recognition from the industry in terms of how spatial data analytics can inform their decision-making."