Opening a dialogue about women in Islam
Faculty of Arts class displays projects on contemporary Muslim life
April 28, 2017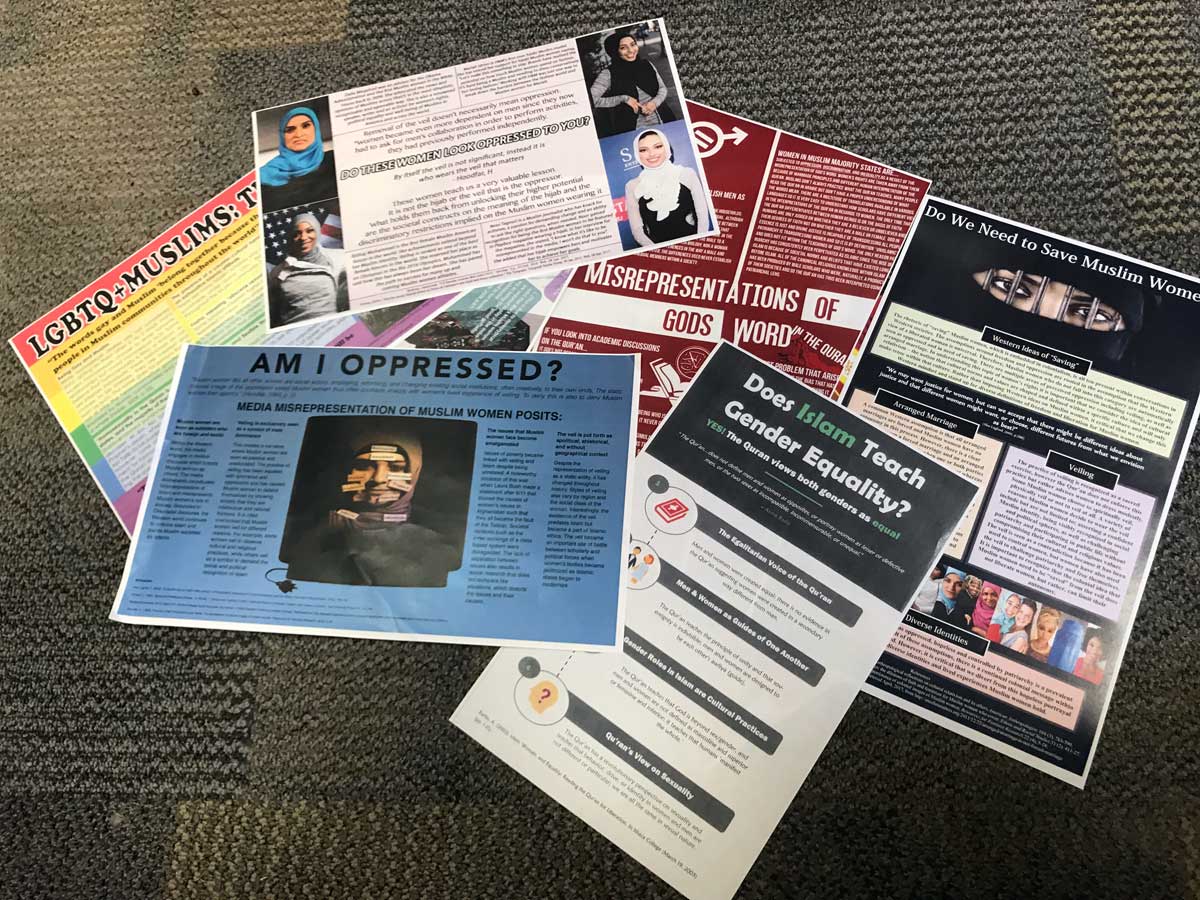 University education is about creating a dialogue. For their final project, students from Amina Jamal's Women in Islam class collaborated on an exhibition of educational posters that explored major issues in contemporary Muslim life.
Groups of five or six students collaborated on posters that covered a broad range of ideas: the representation of Muslim women in the media; the LGBTQ presence in Islam; hip-hop music by black Muslim women, and many more. Students also wrote a 250-word rationale for their topics, and exhibited the posters April 10 at the SLC.
"The idea was to encourage students to develop the confidence to talk about these issues with the larger public, and create a dialogue around issues that are so important," said Reena Tandon, service learning co-ordinator at the Faculty of Arts. "The students really developed confidence to develop their own perspectives through the interactions Dr. Jamal creates in her classes. It's a culmination of the knowledge they gained."
"That's our job: to enable the possibility of a dialogue amongst students who may come in with very different ideas about the topic," said Amina Jamal, sociology professor. "They learn to talk about it with each other."
Neha Fatima worked with her group on a project about the role of veiling in the Islamic community, asking who decides if a woman wears a hijab. "In some parts of the world, women are forced to wear hijab and niqab, while in other parts of the world, they're forced to remove it. We felt that it's an individual woman's choice," said Fatima.
"We talked about pros and cons, and talked about how it's been throughout the world. People think women are forced to wear a hijab, and that removing it is liberating them. But sometimes that's not the case: sometimes women choose to wear it because they want to follow their religion, and sometimes women with hijabs are getting attacked."
The group collaborations were truly interdisciplinary, coming from across the university and a range of ethnicities.
"All of us were from different parts of the world, and we're all Muslim," said Fatima. "We had a lot of conversations while we were working on this project, and every time we wanted to add something to the poster, we had long discussions about, 'How is it in your country?' I'm from India, and a guy in my group was from Saudi Arabia, and a girl was from Egypt, and we had varying experiences. 'How is it in India?' 'Wearing a hijab is not a big issue—you can walk around, and don't have to wear a full niqab…'"
At the exhibition, students displayed their posters and exchanged ideas with the broader Ryerson community. "They took ownership of the whole thing," said Jamal. "They were explaining, and interacting among themselves and the community. I found it very empowering."
"It was opening a space for a dialogue around a sensitive issue," added Tandon. "There are not always opportunities to engage in things that seem controversial. This was an ownership of knowledge."