Life after Leafs
Hockey legends discuss the pitfalls and opportunities of retirement at Mattamy Athletic Centre
April 11, 2017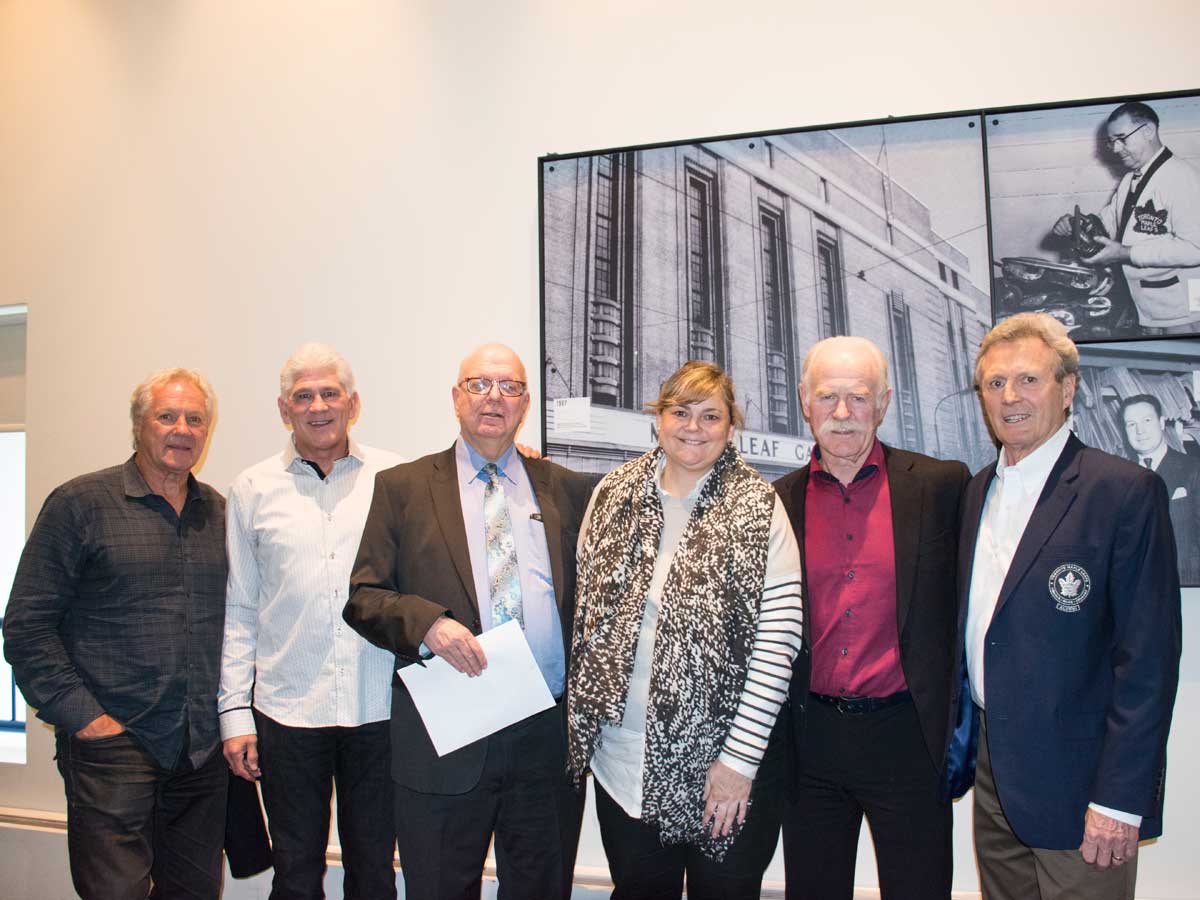 What happens when hockey players hang up their skates? On April 6, four celebrated Toronto Maple Leafs alumni visited the Mattamy Athletic Centre, external link, opens in new window to tell TRSM, opens in new window's Business of Hockey marketing class about their long careers both on and off the ice.
"The toughest year of my life was the year I retired," said Lanny McDonald, whose 16-year hockey career included 500 goals, 1,000 points, and a 1973-1979 tenure on the Leafs.
"Every day when you've been doing it for the past 20-plus years—through junior hockey to pro—you know exactly the challenge. … When you leave the game, and now you might be 36, 50 years old, and now you're trying to find, 'Where do I fit in?'"
Since then, he has held a variety of management positions, including with the Calgary Flames and Hockey Canada, but he still remembers the stress of the first year. "It's tough on your family, it's tough on you. The only thing that sometimes keeps you going is, the confidence you had as a player helps you get through that to get to the next level."
Rick Vaive, by contrast, had a smooth transition. The Leafs' first 50-goal scorer moved to a farm team in Hamilton where he became a player assistant. "I was injured for most of the season, so it was mostly as an assistant coach. Then the next year I got a full-time coaching job in the east coast league, and then eventually the American league and the OHL. I was very lucky that I didn't really have much time to think about it: I got right into coaching. That really helped alleviate the stress of retirement."
"I always took the attitude right from the get-go that I never knew how long my career was going to last," said Darryl Sittler—still the record-holder for most points scored in a single game (six goals, four assists against the Bruins). "In the summertime, I would get involved: I'd do some minor hockey banquets, some speaking work for a few companies, with the idea that when my career was over, there was a better chance of a second career."
Sittler also warned that retirement leads some ex-players to complacency. "They train all their lives to get to this level, and then they quit playing and forget about their training habits. They start putting on weight and getting out of shape, and as you get older, you get some complications with that. I've always tried to maintain and stay in half-decent shape and work out a little bit, because I knew it gave me a better opportunity to live a better life.
Paul Henderson—who famously scored the winning goals against Russia in the 1972 Summit Series—recalled that during his first year with the Detroit Red Wings, he earned the minimum pay of $7,000 ("and I got a $1,500 signing bonus"). To supplement his income, he found work during his summers. "I sold cars one summer. I knew I was never going to be a car salesman, okay? I worked for a brewery for two years, for Molson's. That was a great job, and hockey players do like their beer, but after two years, 'I am not going to do that!'"
It was while experimenting with different career opportunities that he stumbled into his calling as a motivational speaker. "I found out you could get a hundred dollars to speak at a hockey banquet in those little towns. And I was terrible—I was just a terrible speaker. I was fine until they mentioned my name—then my heart would start to pound and my armpits would be soakin'.
Now 74, Henderson is still speaking. "I've been doing motivational speaking for years now, because I said to myself: 'I'm gonna beat this, I don't care.' I should have gotten some training, but I just ground it out. It's unbelievable what you can do."
Though all four players have found new challenges and successes, Sittler noted that he still missed the camaraderie of the dressing room. "It's hard for me to find something to get the same emotional satisfaction I got out of playing hockey, because I loved it so much. You get the highs and lows right away. After the game is over, you might be involved in business, you might have some success, but it's not the same."