Biomedical Zone fosters student/clinician collaboration
Ryerson and St. Michael's Hospital team up to develop novel health-care solutions
April 07, 2017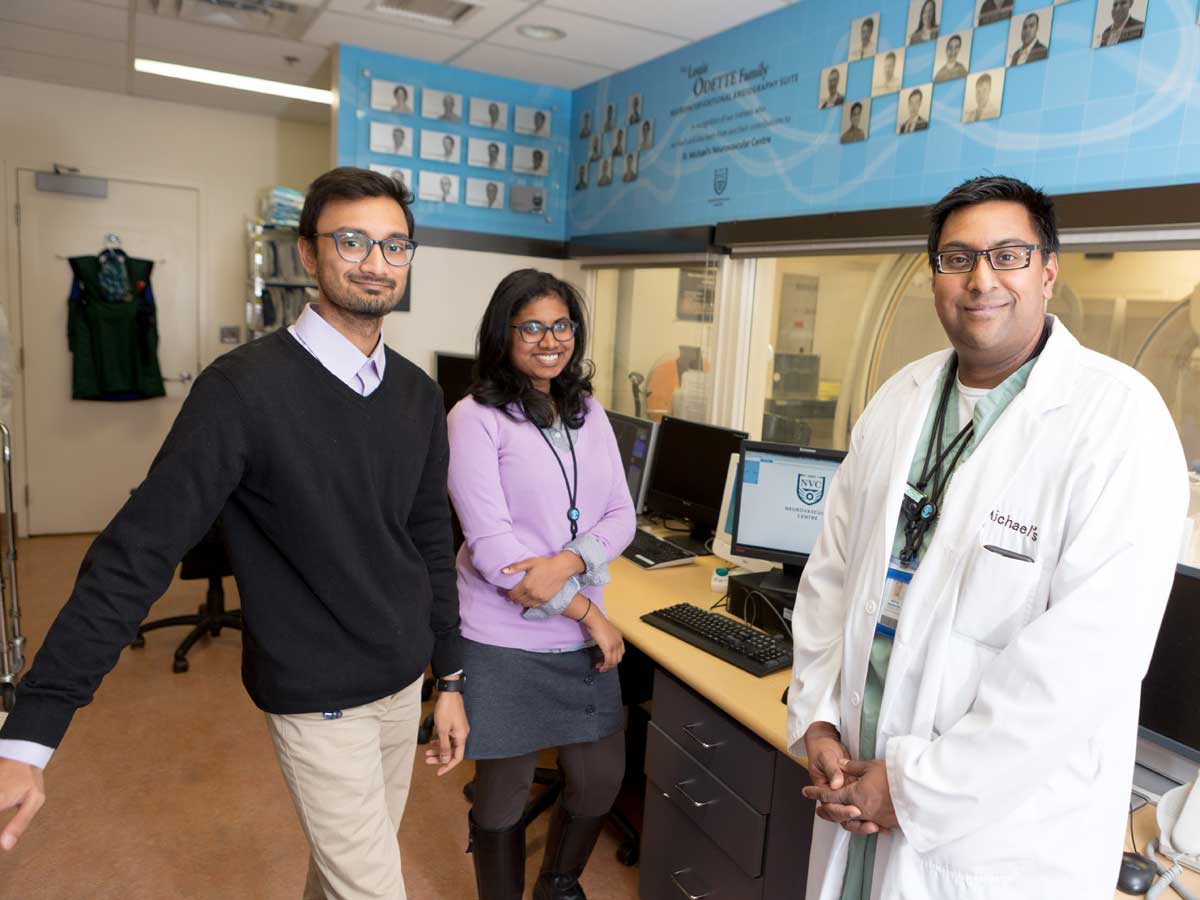 When great institutions work together, there's no limit to what they can accomplish. The Biomedical Zone, external link, opens in new window, a dynamic example of inter-institutional partnership, is connecting Ryerson students with clinicians at St. Michael's Hospital to create practical solutions to the hospital's challenges.
For the first project of the zone's Co-Development Lab program, students worked with St. Michael's Hospital interventional neuroradiologist Dr. Aditya Bharatha on a digital database for the hospital's neurovascular patients. When implemented, the Neurovascular Booking Database will act as a reliable alternative to the hospital's existing paper system.
"With this kind of treatment, the patients almost always need very careful follow-up," said Bharatha. Currently, follow-up appointments are written down and filed in a queue. "If the appointment is six months from now, it will be put in a six-month queue. And then six months later, they go to that paper folder and start scheduling. It's very paper-based, and it poses possible problems if a patient calls to cancel, they can be lost in that queue.
"Our idea was to create an electronic tool that tracks the patients through when they're first referred to us to their follow-ups, and to make sure no one slips through the cracks. And that's where we got help from our two students."
Two biomedical engineering students, Saad Ahmed and Samara Seepersad, worked for eight months with clinicians at the hospital to create the database.
"I was looking for opportunities to broaden my skillset and know what it's like to be an engineer," said Ahmed, now in his third year at Ryerson. "In class, you get the theoretical part—you learn math and physics—but it was still fuzzy in my head of what it's like to be an engineer. Even after you graduate, low-level jobs typically don't give you that exposure. You get jobs like quality inspection. This was a great opportunity for me, because I'm working with a client, and we're actually building something that has a creative process."
"It taught me soft skills I didn't realize I needed," said Seepersad, who graduated in October, and is now working full-time as a technical analyst at Techna Institute. "One of the skills you cannot learn in the classroom is how to switch from talking to a client to talking to a peer. In a classroom, you're talking in technical jargon because everyone can understand what you're saying. Here, when we're dealing with other stakeholders, we have to reframe what we're doing. Those are skills I can use a lot going forward."
Nabil Uddin, fourth-year biomedical engineering student and Biomedical Startup Liaison for the Biomedical Zone, described the relationship as mutually beneficial. "There aren't many opportunities for undergraduate biomedical engineers to gain experience in a hospital setting—to have that in your résumé is huge. For the clinicians, they get to see their project come to fruition."
The Biomedical Zone is a partnership between Ryerson and St. Michael's, bringing Ryerson's zone learning, opens in new window ecosystem within the teaching hospital. The entrepreneurship incubator fosters students and researchers with innovative startup ideas to transform health care. Since launching in January 2016, it has hosted 13 current companies and six alumni companies (all still active), created 17 startup jobs, and put 22 students in zone programs and placements.
Find out more about the Biomedical Zone, external link, opens in new window.
*
Related stories:
A zone for biomedical innovation
iBEST begins a new era of collaboration