Fashion Zone startup shows a different side of Islam
Black Orchid combines Muslim culture with modern design
March 17, 2017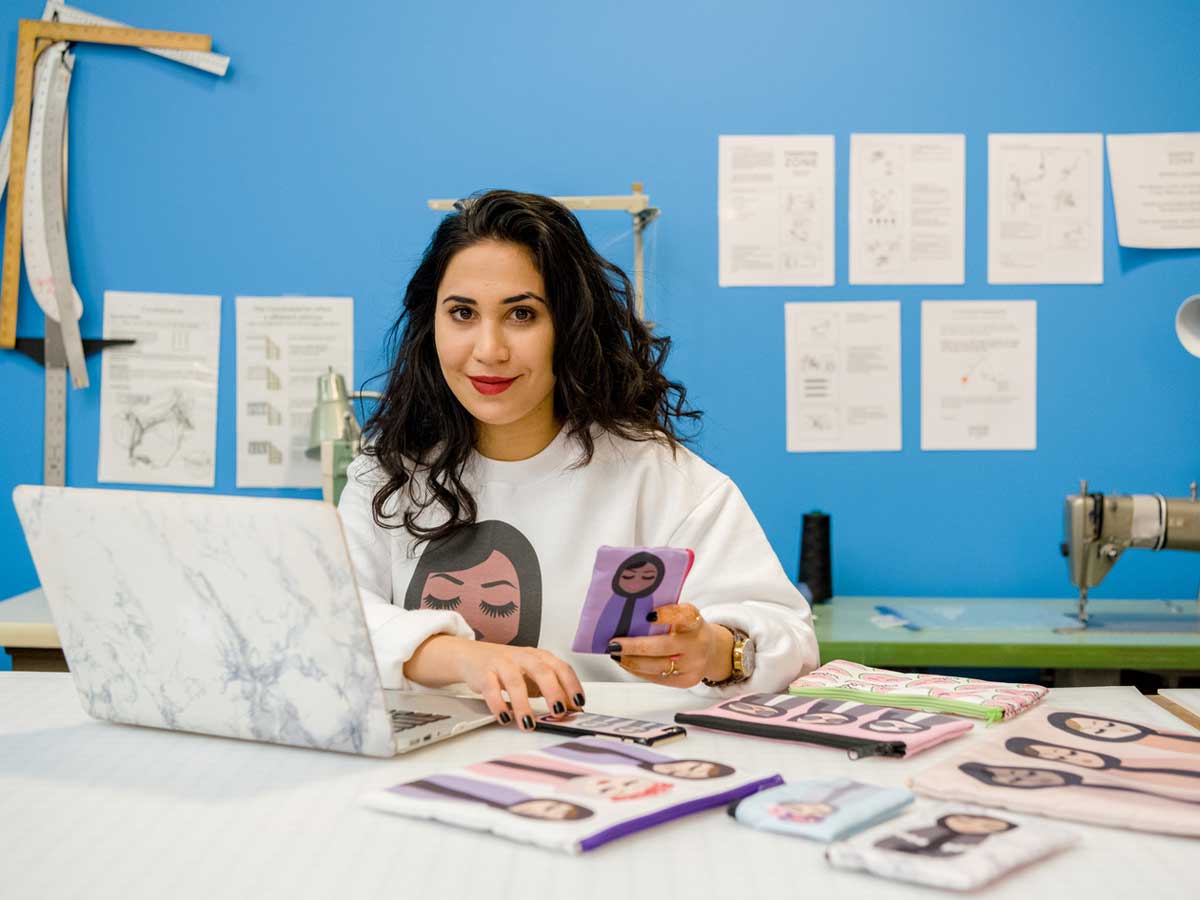 In a time of unprecedented Islamophobia, a Ryerson-based fashion startup is showing a positive side of Muslim culture.
Black Orchid, external link, opens in new window, the brainchild of fourth-year retail management, opens in new window student Shahad Mahdi, offers clothing and accessories that combine Islamic culture with modern design. Based in the Fashion Zone, external link, opens in new window, it sells a growing line of tops, pouches, phone cases, and other items featuring colourful, stylish depictions of Muslim women.
"I don't wear the hijab, but I know a lot of ladies who are super fashionable, especially bloggers, and are able to style it in a very nice way," said Mahdi. "There has been news about women with hijabs in advertising from Cover Girl, Nike, and other brands, and I thought: Those girls are not what the media portrays the religion to be. We need positive representation."
In the face of growing anti-Islamic sentiment in politics and the media, Black Orchid is part of a more positive counter-trend. "Uniqlo is launching a hijab line, and Nike is now launching a line for athletics, so the idea is getting out there," said Mahdi. "But I started my brand before it was a thing, because I saw that Muslim can be fashionable and cool too. Why not reflect that in response to all the negative things we see in the media?"
Her time in the business management program has helped her learn on the job. "When I started, I didn't know all the legal steps involved," said Mahdi. "I was taking a retail course, and there was a class regarding the labelling—there are certain regulations I wasn't aware of. It happens to be that I'm doing something and learning at the same time, so it just works."
The Fashion Zone—one of Ryerson Zone Learning, opens in new window's business incubators—has also helped the business during its growth. "The Fashion Zone has been amazing," she said. "I'm always working around amazing entrepreneurs. Everyone is trying to grow their business, and it's a great environment where everyone provides as much help as they can. I also find that people take you a lot more seriously because they know that a great incubator accepted you."
It helps that the Fashion Zone is firmly rooted in this city. "I'm just trying to reflect the idea that we're all Toronto," said Mahdi. "Toronto is like a melting pot of all sorts of different people, and I'm just trying to represent that."
To learn more, visit the Black Orchid website, external link, opens in new window.