Enactus Ryerson wins big at Central Regional Exposition
Student team heads to national competition in May
March 31, 2017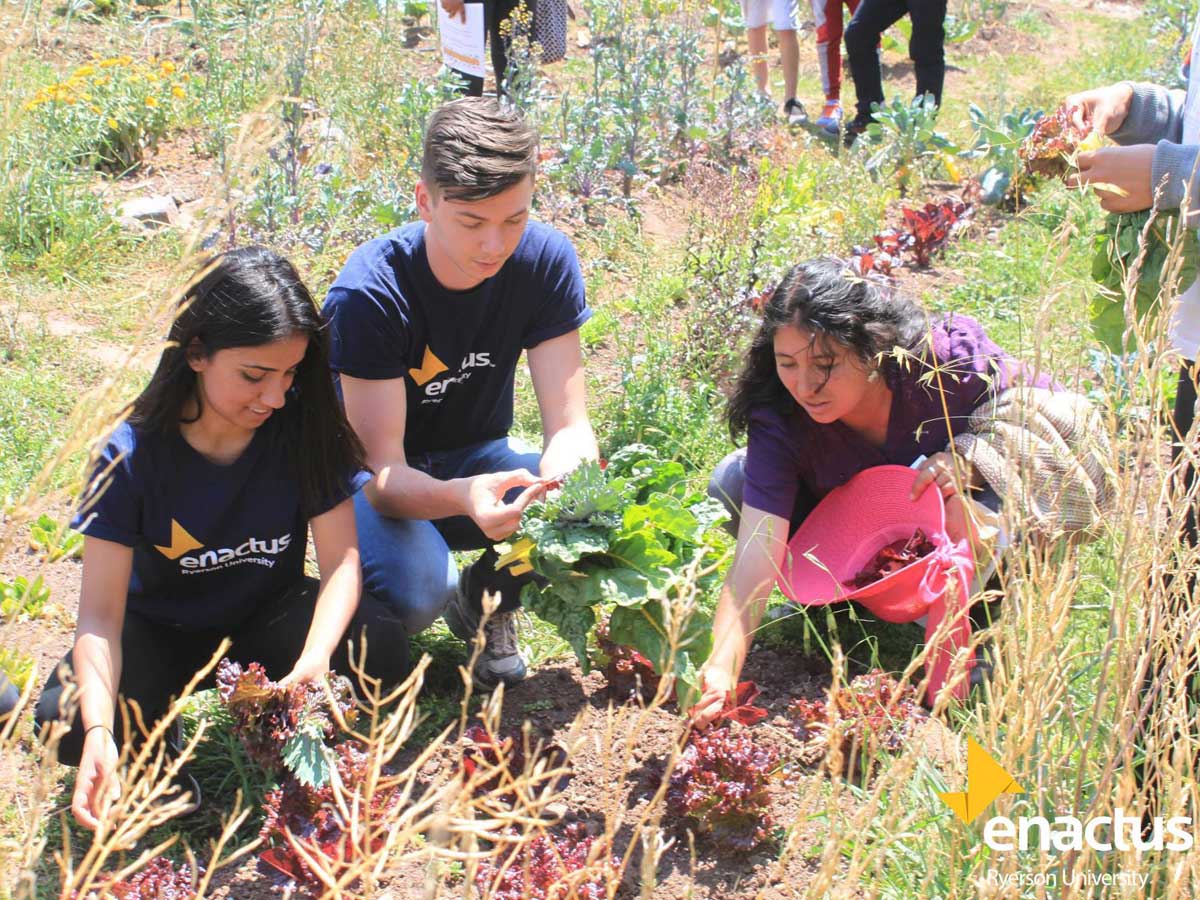 In October 2015, students from Enactus Ryerson, opens in new window travelled to the Peruvian village of Pisac to help build a sustainable business with a local school. On March 10, 2017, Project Sacred Valley, opens in new window won the Scotiabank Youth Empowerment Challenge at the Enactus Central Regional Exposition, external link, opens in new window.
The award belongs to Enactus, but according to the project managers, the key to success is recognizing that the project belongs to the villagers.
"When we start these projects, it's not about going into the community and trying to westernize them. It's about going into the community, listening to them, and trying to understand what changes they want to make," said Pavneet Sandhu, co-project manager from Enactus Ryerson.
A popular tourist destination in the Sacred Valley of the Incas, Pisac is a village of just 10,000 residents. Project Sacred Valley involved the construction of a community garden, maintained by the local school and producing organic, food. The idea came from the Pisac residents; during two visits and frequent correspondence, Enactus Ryerson offered mentorship and guidance to help get the project off the ground
Enactus Ryerson is part of the international non-profit organization that empowers students to use entrepreneurship for social change. "When we first visited the community, they told us they wanted youth empowerment," said Sandhu. "They wanted students to focus on their education.. They wanted us to help create opportunities for the students. We're able to continue the partnership because the entire idea is based on what they want to do."
"This is a project that the community has taken on as its own," said Jordan Hanna, co-project manager. "Although we have facilitated a lot of the business elements and helped them with the starting-up of the project, in order to take it to that next level, the community has to play a hands-on role. That's exactly what we've been able to have happen."
In addition to providing hands-on experiential learning for the school classes, the community garden has provided a revenue stream: it is currently partnered with six restaurants in the community. In May, Enactus Ryerson will return to the village with the hope of repeating the business model in two more schools
"In our first trip, we were able to provide them with some funding, some tools, some education, and then we continuously worked with them while we were back home," said Hanna. "On our second trip, we were almost in shock. The students were hosting events at the garden, and had actually invested some of their own money and built a little extension with a café. The garden was in full force with people working there every day, volunteering and helping.
"We don't want to go there, dump resources onto a group of people, and then walk away," Hanna added. "We want to provide them with the tools that will help them help each other. That's where the empowerment comes: we're going there and providing them with the tools that will allow them to make this into something they want it to be."
The Enactus Central Regional Exposition brings together student groups from across Central Canada to show how their outreach projects and business ideas have made real-world impact. Other Enactus Ryerson teams also won awards. Project SAAF and Project Myaah shared the Scotiabank Eco-Living Green Challenge championship; Project Start Me Up was runner-up in the Capital One Financial Literacy Challenge; and Project Welcome was second runner-up in the Capital One Financial Literacy Challenge. Projects Sacred Valley, Myaah, and SAAF will advance to the National Competition, May 9-11 in Vancouver.
For more information, visit Enactus Ryerson, opens in new window.