Becoming a leader in women's volleyball
Theanna Vernon looks back on journey from Spanning the Gaps to national championships
March 14, 2017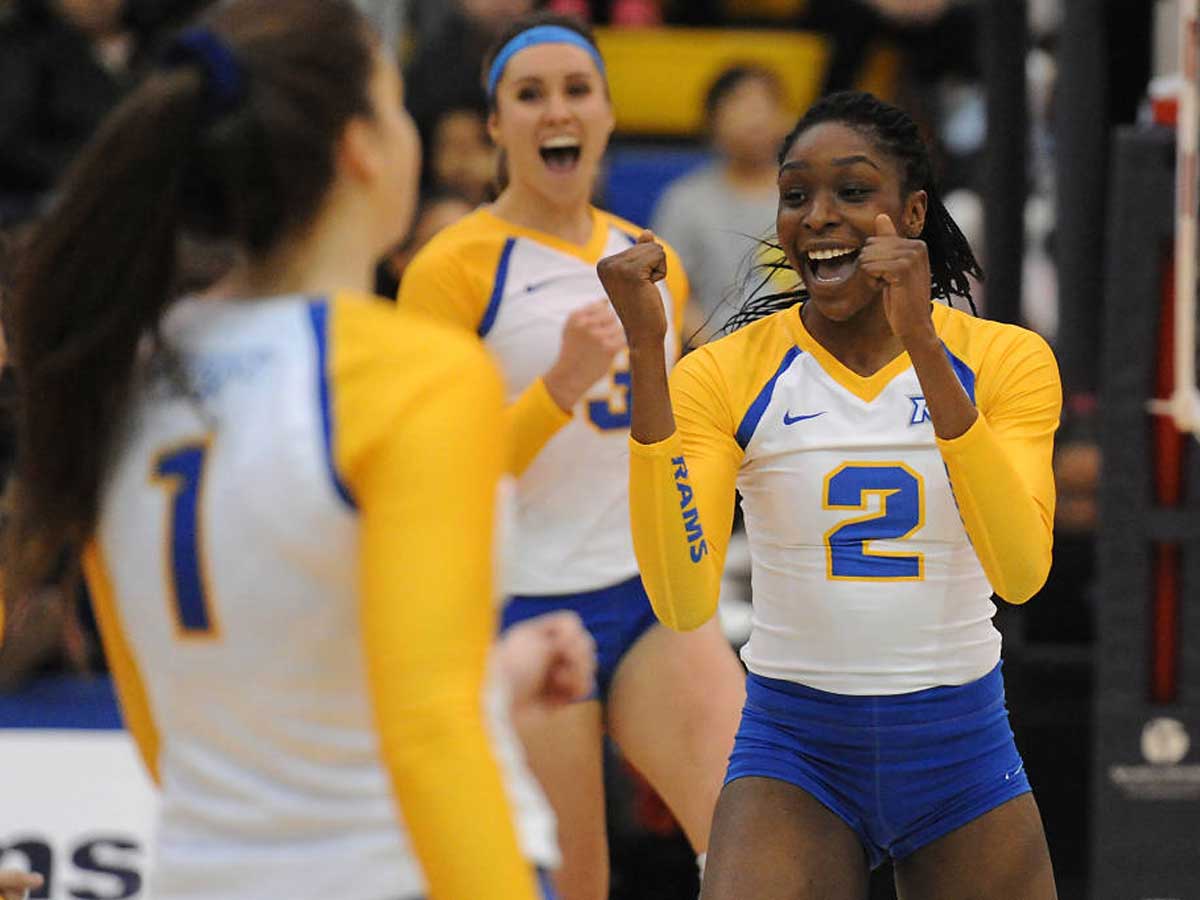 Theanna Vernon dabbled in sports throughout her childhood, but it was volleyball where she felt immediately at home. The reason was simple: "I ran into a bunch of girls that were my height. Being a tall girl growing up, it was never easy, but matching and jelling with different girls who were my height and enjoyed volleyball."
Vernon (who, for the record, is 6'1'), a fourth-year social work, opens in new window student, still feels that sense of camaraderie on the Rams women's volleyball, external link, opens in new window team, where she has ascended to a leadership role in her third year. "Trying to be an example for the younger players on our team—that's what matters to me most," she says. "I remember talking to Dustin [Reid, head coach] at the beginning of the year and saying, 'I want to make the rookies feel welcome—I just want to be the person they can look to when something's wrong.'"
Vernon took an unexpected path to Ryerson. Originally accepted to play volleyball at Purdue University in Indiana by age 15, her family was struck by tragedy just six months before her high school graduation. She chose to stay in Scarborough and be with her family, but her grades kept her from being accepted in a Canadian university.
Dustin Reid, head coach of Ryerson women's volleyball, saw her potential. Reid helped connect her with Spanning the Gaps, opens in new window, The Chang School, opens in new window's bridging program for prospective students from underprivileged backgrounds. Through the program, she was able to attend Ryerson as a redshirt freshman, but was unable to play on the team for her first year.
"It was great only because I could see what other teams are like, but it sucked not being able to be on the court," she says. "I still got to practice and travel with the team, so it's not like I was missing out on a lot of things—I just wasn't able to play on the court. My coach was very supportive—never got me down, always wanted to motivate me—and all my teammates and family just supported me."
Vernon is now in her third year on the team, serving as a middle blocker. She remains in close contact with Spanning the Gaps ("They've been in touch with the athletics department here just to keep me on track and make sure I'm okay"). She still commutes from Scarborough, but notes, "It's not too bad: I get my resting done during that time." As she has become a senior player, she has adapted to becoming one of the team leaders.
"I'm the type of person that just does my work and goes home—I don't like to put my opinion on somebody else's play," she says. "This year, it was big for me to actually step up and start talking and encouraging the team more, because I felt like the team needed it. I know that's something that Dustin really wanted me to do, but I never really had the courage to do it, but I felt like the team was behind me and wanted to hear me more."
"Theanna has really become comfortable with the type of player that she is, and the type of player that she can be," said head coach Dustin Reid. "She has real desire for success as a team. ... I've seen her evolution and her maturity on and off the court this season, and it's clear that when she has something that she wants to say, the players listen. She's more comfortable taking those opportunities."

Looking to the future, Vernon hopes to continue with volleyball. "I always wanted to play volleyball in post-secondary—it didn't matter where. There's never been a time where I said, 'No, this will stop me from going to school or stop me from playing volleyball.' I've just always had that dream, and I've always pushed myself to get where I am now."
After a successful showing at the OUA quarter-final and losing the bronze medal game to U of T Varsity Blues at the OUA Final Four, the women's volleyball team enters the U Sports National Championship on Friday, facing the University of Alberta.
"This is the very first time I'll be in a national championship, so there's pressure there," said Vernon. "The challenge is just being able to embrace the crowd—knowing that it's going to be loud, and thriving off that."
The championship takes place at the Mattamy Athletic Centre, with the first game at 6 p.m. Tickets are free for anyone with a OneCard. For more information, visit Ryerson Athletics., external link, opens in new window