Barry Avrich donates archives to Ryerson
Documentary filmmaker's collection features a who's-who of 20th-century entertainment icons
March 16, 2017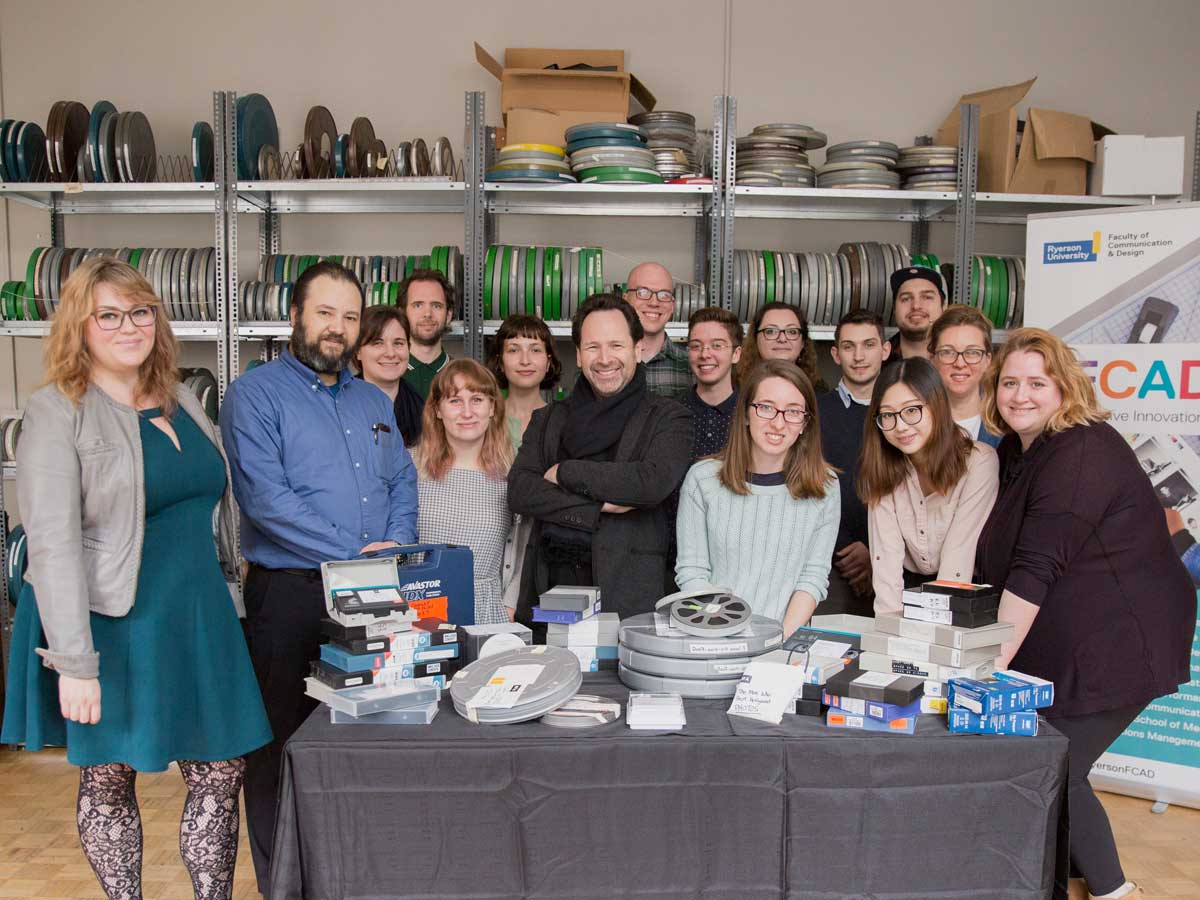 When you've made documentary films about the likes of Harvey Weinstein, Lew Wasserman, Bob Guccione, Jackie Mason, Garth Drabinsky, and Dusty Cohl, you're going to amass some pretty colourful material. Now, these legends are part of Ryerson: filmmaker Barry Avrich is donating his archives to Ryerson's Faculty of Communication & Design, opens in new window for research and historical preservation.
Avrich—Toronto-based filmmaker and distinguished visiting professor—specializes in documentaries about larger-than-life figures, including The Last Mogul (about Hollywood superagent Lew Wasserman) and Filthy Gorgeous (about Penthouse Magazine founder Bob Guccione). The Barry Avrich Collection includes the original masters of his films, thousands of hours of raw footage and interviews, plus news clippings, magazines, and other historic documents.
The gift was made to the master's program in Film and Photographic Preservation and Collections Management, opens in new window with support from the Ryerson University Library & Archives. The collection will be managed, studied and used for research purposes by scholars and students across the university, including from the schools of Image Arts, Creative Industries, Performance and RTA School of Media.
"This university represents what the city is, where it's going, and I honestly believe that this institution will do the most with this," said Avrich. "Instead of saying, 'Okay, great donation, thank you,' and then shoving it in a room to collect dust, I think they will mine it properly.
"It's also my give-back," he added. "Ryerson has been good to me; the city has been good to me; so people should have these assets. I came from nothing and have had an opportunity to realize that you can do anything you want to do.
The collection includes extended interviews with a range of important figures, including John Kenneth Galbraith, Al Waxman, Helen Gurley Brown, David Carr, Robert Evans, Larry King, Al Goldstein, Michael Ovitz, Jack Valenti, Alan Dershowitz, Xaviera Hollander, Piers Handling and Martin Scorsese. It also features unique items from Avrich's collection, including a reel of movie credit sequences personally given to Avrich by the legendary designer Saul Bass.
"I did a film called The Last Mogul about Lew Wasserman, so you've got interviews with Jack Valenti," said Avrich. "Not only was he there in Texas when Kennedy was assassinated, but he also became Lyndon Johnson's head of communications and went on to run the Motion Picture Association of America."
"The content in this collection is historically significant," said Blake Fitzpatrick, chair of Image Arts. "These are profiles of the movers and shakers in the entertainment and cultural industry in Canada and the United States for the better part of the last century. There's richness of information here about leading minds."
"It connects to all the various creative industries that FCAD represents," said Charles Falzon, dean of FCAD. "This is part of a direction I'd like to continue going: of having a sense of being media archivists."