Mélanie Joly explores future of Canadian media at FCAD
Minister of Canadian Heritage discussed changing media landscape with students
February 16, 2017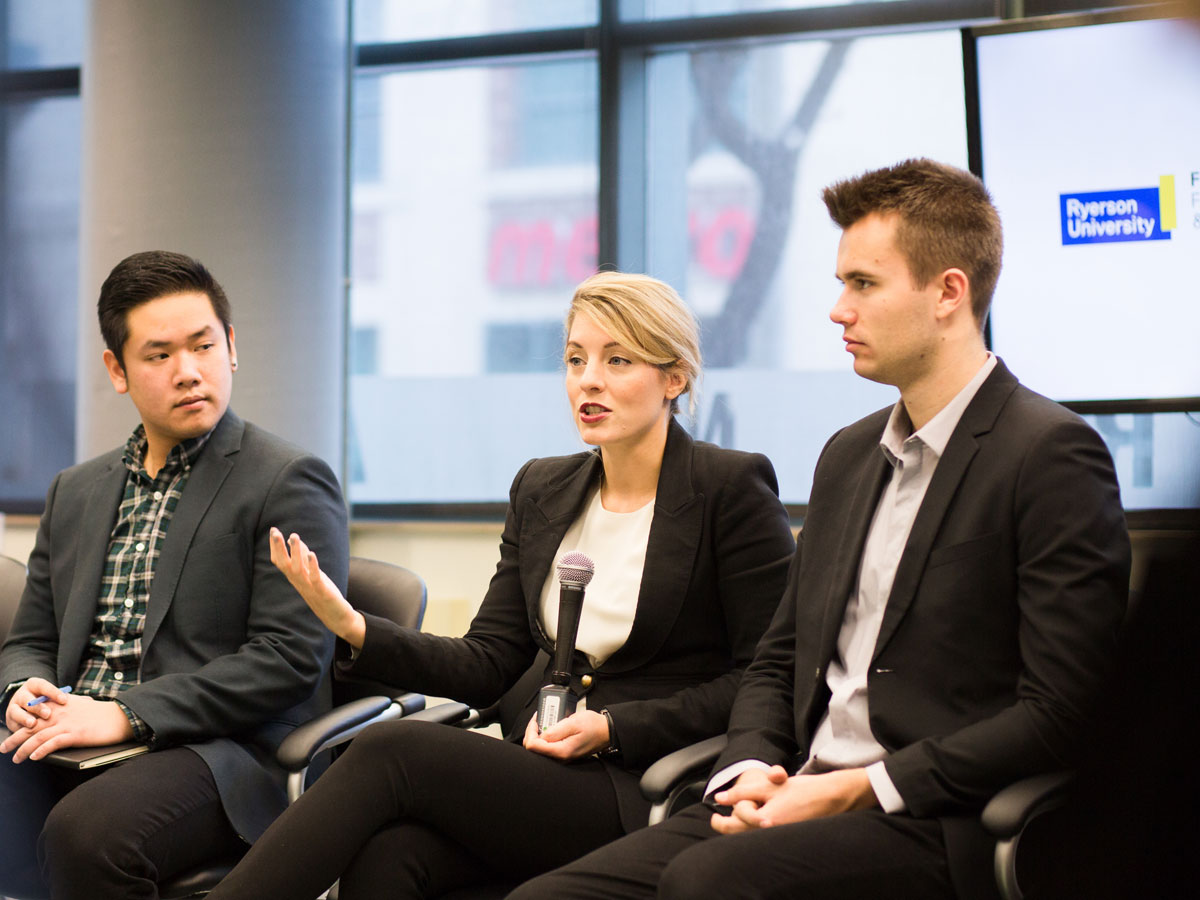 How can Canadian culture stay visible in a changing media landscape? On February 9, Minister of Canadian Heritage Mélanie Joly visited the Faculty of Communication and Design, opens in new window (FCAD) to talk to students about what the government can do to promote homegrown entertainment.
The Liberal MP, who was appointed to Canadian Heritage in 2015 by Justin Trudeau, visited FCAD as part of a sweeping review of the country's Canadian content regulations. In addition to touring the Rogers Communication Centre, the minister had an an opportunity to connect with younger media consumers and creators.
"I started reading the Broadcasting Act and the mandate of the CBC and looking into the CRTC and all the things that are under Canadian Heritage," said Joly. "And I thought, 'Wow! There's nothing in there that's referring to the web.' Everything had been developed around 1991."
She quipped: "Were you born in 1991? I was very young."
Joly questioned how Canada's traditional content regulations could adapt to a media landscape that's becoming increasingly decentralized. "I could see that my colleagues in France and in Germany were trying to impose quotas on, for example, Netflix—for national content in French or in German. Meanwhile, companies like Netflix were not necessarily headquartered in Germany or France. So ultimately, how do you deal with the internet—which is international by nature—while governments are national by nature?
"I said clearly that we would go from protectionism to promotion, and that we needed to really have a strong approach when it comes to supporting Canadian content. And ultimately, our job as a government was to support Canadian content and creators, but also promote them."
Much of the discussion involved new opportunities presented by global streaming giants like Netflix, Amazon Prime and YouTube, which Joly views optimistically. "These are new platforms of distribution, and I think that there is an even greater opportunity to show great work from here because there's a greater democratization of access to distribution. What we need to do, though—and that's the focus of promotion—is making sure that people know about what is being done here, and they decide to buy shows from Canada. But they're not only shown in [one country]: they're distributed in 140 countries."
In the hourlong discussion, FCAD students brought up topics ranging from Indigenous art and diversity in media to ways that the federal government can support an infrastructure for Canadian creators. "I'm delighted … that the Minister chose to visit Ryerson, because we are a creative innovation hub," said Charles Falzon, dean of FCAD. "You are the future architects of the cultural industry—you will drive it."