Student-athletes host first Big Sports Day for GTA youth
Ryerson collaborates with Jays Care and Toronto Community Housing Corporation on monthly event
December 15, 2016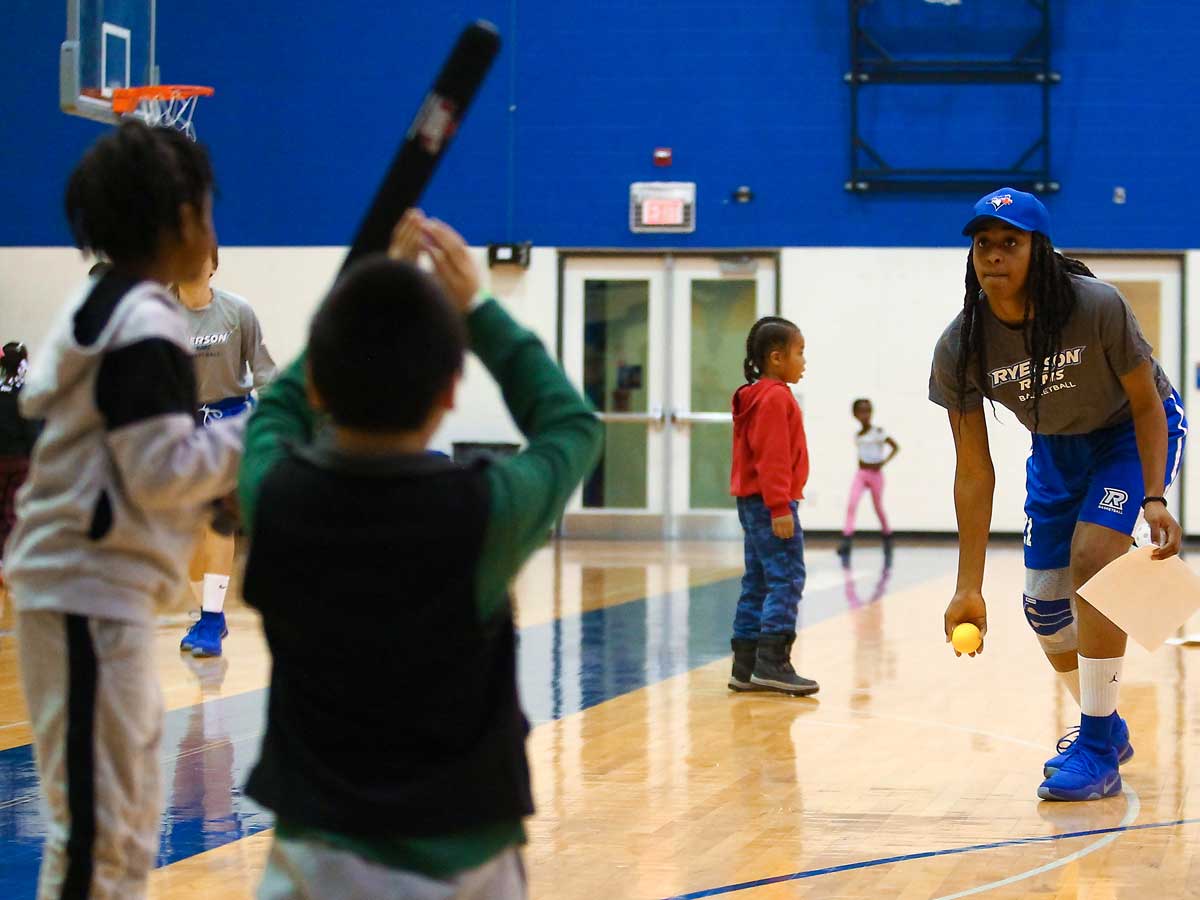 On November 29, Ryerson Athletics, external link, opens in new window in collaboration with Jays Care, external link, opens in new window held the first Big Sports Day event at the Mattamy Athletic Centre. The event saw 13 student-athletes from a variety of teams lead Toronto youth from underserved neighbourhoods through a day of team- and skill-building athletic activities.
Big Sports Days will be held monthly at participating post-secondary institutions, including Ryerson, for youth in the Home Run Scholars, external link, opens in new window program run by Jays Care Foundation and Toronto Community Housing Corporation.
"It was a great experience," said Tashana McDonald, a forward on the Ryerson women's basketball team. "The kids came in and were engaged in a lot of activities. The sports theme was baseball, and the overall theme was resiliency: how, if something doesn't go your way, you can keep going at it and never give up."
These two themes went hand-in-hand, says McDonald. "With baseball, they were learning skills so that next time they play, it won't be a completely new sport for them. It's the idea that you can learn a sport at any age: you may be going through school and saying, 'Well, I'm really interested in this, but I'm scared because I haven't been doing it.' They can think back to sports and say, 'Well, I didn't start this sport early, but I play it on the weekends now.'"
Robert Witchel, executive director of Jays Care Foundation, the charitable arm of the Blue Jays, believes that to play is to learn. "Baseball builds character, teaches resiliency and is particularly well suited to teaching children vital life-skills such as teamwork, leadership and confidence. Also, the benefits of regular physical activity are well documented and we know that children who are physically active are much more likely to remain so when they reach adulthood."
The Home Run Scholars program helps youth in low-income communities, offering an after-school curriculum to improve academic performance and enhance physical health and emotional wellbeing. The program's aim is to set children on a course to fulfil their potential.
Mentorships are key to student development, noted Sherwin Modeste, manager of grants development and sponsorships at Toronto Community Housing. "There is mentorship for the physical activity, but also exposure to post-secondary education. Being able to talk to individuals who are currently in post-secondary education is always an asset to children."
For Suzanne Fenerty, community events and engagement co-ordinator at Ryerson Athletics, sports offer kids a range of transferable skills. "It's a way to build relationships; it's a way to build confidence; and it's a way for them to learn the discipline, hard work, teamwork, and all of those skills that will allow them to become successful in their lives."
In addition to hosting monthly Big Sports Days on campus, student athletes will visit TCHC sites to participate in Home Run Scholars after-school programs.
"As an educational institution first and foremost, we think about the development of our student athletes on and off the playing field, and leadership development and building their own confidence through participating in this," Fenerty said. "Being able to build strong relationships with these youth is important and it's all through what they're comfortable doing, which is sports."
Learn more about the Jays Care Home Run Scholars program, external link, opens in new window.