RSJ grad to receive prestigious pro wrestling historian award
Oliver contributes to wrestling history through news website and books
May 28, 2020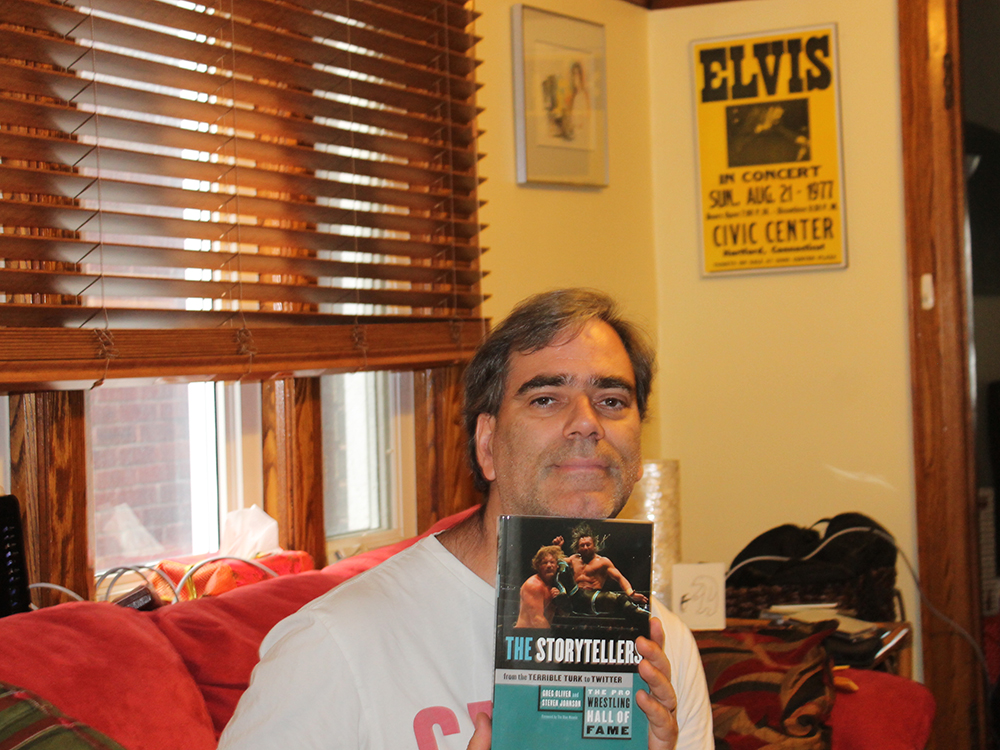 Sports writer Greg Oliver (RSJ '93) is the 2020 recipient of the James C. Melby Historian Award for his contributions to pro wrestling history.
The award is from the Cauliflower Alley Club, a fraternal association for pro wrestling, and is akin to the Elmer Ferguson Award for print journalists from the Hockey Hall of Fame. Melby was a notable American pro wrestling magazine editor and historian.
In 2008, Oliver was a co-recipient of the James Melby Memorial Award for wrestling journalism with another writer he worked with, Steven Johnson. He remembers telling Johnson, who is older, that he was not sure if he deserved it.
"(Steven) said, 'Greg, anytime you're over 50 and somebody wants to give you an award, you've got to take it.' So I accepted that one on his behalf," said Oliver. "Here I am, almost 50 myself, and I'm getting an award that's just for me. I totally understand it now, but I didn't then."
Before he went to Ryerson, Oliver was already actively covering wrestling. Around age 14 he started a pro wrestling newsletter that reached a worldwide audience. As a teenager, he worked for The Record in Waterloo, Ont. on overnight shifts. He had some wrestling stories make it into the newspaper and some magazines.
To Oliver, it was a "no brainer" that he wanted to be a journalist. While at Ryerson, he purposely distanced himself from wrestling to avoid being pigeonholed and ended up at the Toronto Sun — starting with his first summer job in the archives and having various roles over his time there.
When in 1996 the opportunity came up to join the news website Canoe, a Sun Media property, Oliver jumped in. That coincided with the height of pro wrestling.
"I was all of a sudden pulled back into the world of wrestling, and I ended up launching the Slam! Wrestling (external link) website as a part of Canoe and Slam! Sports," said Oliver.
The co-founder has been producing Slam! Wrestling ever since and recently moved (external link) the site to SlamWrestling.net. (external link)
He said that pro wrestling has often been frowned upon by mainstream media, though that has seen a turn.
"Things have changed a lot over the years, especially with the internet, because all these sites — whether it's Sports Illustrated or Forbes — they all realize that if they write a story about pro wrestling, it's going to get traffic online," he said. "The Sun Media papers always understood that wrestling got eyeballs, and that's part of what I'm carrying on."
Oliver has also written seven books on pro wrestling, six books on hockey and two children's books (external link) . His latest book with Johnson, The Pro Wrestling Hall of Fame: The Storytellers (From the Terrible Turk to Twitter), came out last year.
Pro wrestling coverage requires a lot of sourcing skills used in journalism, more so than in some sports, because there are no box scores to keep track of everything that is happening. You need to dive deep into the narrative, according to Oliver.
"Wrestling really requires that building block of other people doing the research to make it happen, same with hockey," he said. "You can't be a historian without other historians helping you and, certainly in pro wrestling, there's a good group of people that do help me."
In everything he covers, he gets good stories out of retirees.
"I still find talking to the old-timers fascinating... because they have no skin in the game," said Oliver. "Today, they are way more honest and talk about things. And often they don't have a filter. So they'll tell you everything."
Oliver is set to receive his award at the 55th Annual Cauliflower Alley Club Reunion, originally scheduled for April, but now postponed to September due to COVID-19. The reunions have been a regular occurrence for the writer for the past couple of decades — he has even co-hosted some.
He is committed to the club, having long been a part of bringing its pro wrestlers' stories to light.
"They lend a helping hand; if an old wrestler's down on his luck and needs some money, then they'll be there to help," Oliver said. "It's an organization I believe in."