You are now in the main content area
Thank you for your continuing support of students. At this time, we encourage anyone wishing to make a donation to do so via our secure online donation form. Please note that, in keeping with CRA regulations, external link, until the name of the university is legally changed, all tax receipts will be issued from Ryerson University.
For any questions regarding your donation or receipt please email Sergio Chiodo at schiodo@ryerson.ca. Thank you.
Empower Promising People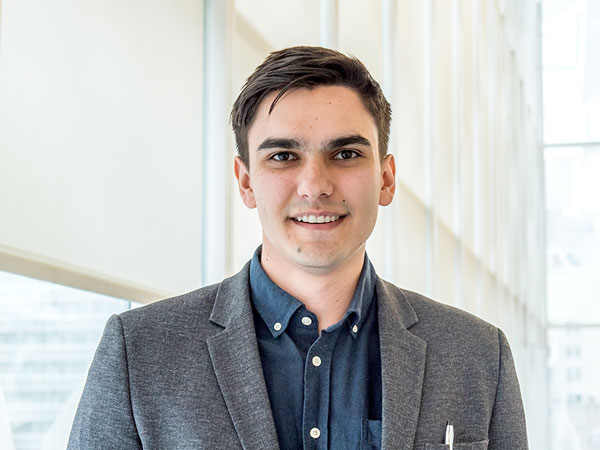 Student Reconnects Through Toronto Metropolitan University
Toronto Metropolitan University was my first choice for university. It was this beautiful jewel in the heart of downtown Toronto, integrated into the urban fabric, with a reputation for respecting diversity. I dreamt of taking fashion and journalism courses at the university from my small rural community. I wasn't raised in my family's Ojibway community, Biigtigong Nishnaabeg: I grew up away from my Indigenous culture and did not learn the language. It was at Toronto Metropolitan University that I began to reconnect.
An undergraduate professor (Art Blake) encouraged me to pursue graduate studies and another incredible mentor then encouraged me on this journey (Ben Barry). They saw potential in me I hadn't yet seen myself. Ben hired me as a Research Assistant and asked me to create a first-year lecture in the fashion program about Indigenous clothing and fashion design. Everything changed. It shaped my research interests and began a personal healing journey.
Toronto Metropolitan University's commitment to respecting Indigenous practices and supporting Indigenous students allowed this to happen. With the new Truth & Reconciliation Strategic Plan Working Group (which I'm honoured to be a part of) the university will expand its supports for Indigenous learners across the campus. I won the Frank H. Hori Award for Aboriginal Students—it was worth $5,000 and came at a very opportune time. Near the end of my Master's degree I had a conversation with our campus Elder and I realized I needed to slow down and take time to sit with my research. I was able to take another semester to finish my thesis and also apply for PhD programs. The timing was right, and I knew I had the full support of the university.
- Riley Kucheran
Empowering Promise
Only 10 per cent of Indigenous students complete university, many prevented due to lack of financial resources. Addressing this need will lead to greater post-secondary opportunities for Indigenous people, markedly higher employment rates, and constitutes an important response to one of 94 Calls to Action issued by the Truth and Reconciliation Commission of Canada.
Toronto Metropolitan University is ready.
The President's Awards to Champion Excellence (PACE) addresses financial barriers head on. The fund helps overcome the cost of completing a university degree and offers a new pathway to success for Indigenous students at Toronto Metropolitan University.
Building relationships with Indigenous communities is part of our organizational culture and embedded in our Academic Plan. The university recently launched the Yellowhead Institute, external link, opens in new window, a national think tank rooted in Indigenous community networks and committed to Indigenous self-determination. We are home to an Aboriginal Education Council, Ryerson Aboriginal Student Services and a traditional counselor. There are Indigenous-centred courses across faculties, an Aboriginal Knowledges and Experiences certificate, and accomplished faculty whose research and teaching focuses on Indigeneity. Toronto Metropolitan University also offers an Aboriginal Foundations Program, designed to prepare students with the skills necessary for success at the university level.
Join us to empower promising young people as they realize their remarkable potential and become the next generation of Indigenous leaders.
$29,045
more in annual earnings for Indigenous people with a bachelor's degree compared to a high school diploma

Aboriginal youth are the fastest growing segment of the population in Canada

80%
employment rate for degree holders among Inuit, Métis, and First Nations people, 19 per cent above high school diploma holders from the same group

27,000
Aboriginal entrepreneurs in Canada

25%
increase in Aboriginal entrepreneurship (compared to 8% for the rest of Canada) over a five year period
You can champion Indigenous students like Riley by contributing to the President's Awards to Champion Excellence. Your support will provide direct financial assistance to Indigenous students through awards, making more accessible the life-improving opportunity of post-secondary education.