You are now in the main content area
Thank you for your continuing support of students. At this time, we encourage anyone wishing to make a donation to do so via our secure online donation form. Please note that, in keeping with CRA regulations, external link, until the name of the university is legally changed, all tax receipts will be issued from Ryerson University.
For any questions regarding your donation or receipt please email Sergio Chiodo at schiodo@ryerson.ca. Thank you.
Setting the PACE for International Students
In the World and of the World
Canada is a country of terrific opportunities and diversity. Toronto Metropolitan University's commitment to equity and social justice means sharing these opportunities by opening our doors to more international students, particularly those who demonstrate promise and excellence but find themselves in challenging circumstances.
International students educated in Canada often have dramatically improved employment opportunities, and are better positioned to contribute important skills to their home countries.
International students also make Canada and Toronto Metropolitan University stronger. Attracting the best and brightest international students helps foster innovation, promotes cross-cultural understanding, and enriches the educational experience of all students.
Cost is the greatest barrier to education for students from abroad. Scholarships and bursaries help attract talented international students who face higher overall costs when moving to a new country, and adapting to a new language, customs and culture.
Toronto Metropolitan University's International Student Support program helps students adjust to life in Canada, connect with fellow classmates, and reach their academic, personal, and professional goals.
With students from over 146 countries, we have one of the most diverse and inclusive student populations in Canada. Help us continue to renew and enrich this diversity by attracting international students who deepen our connections to the global community.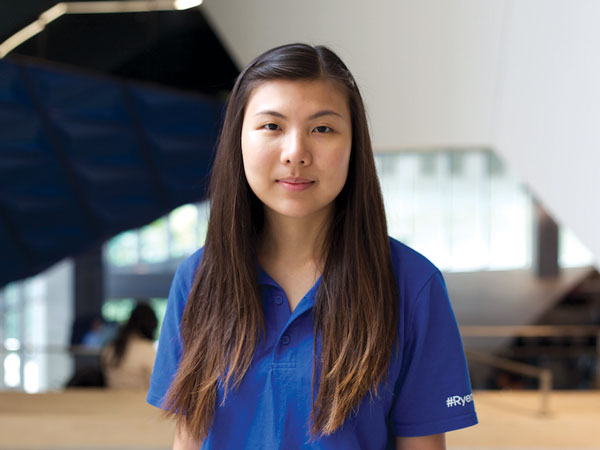 Tara's Story
I'm from Ho Chi Minh City in Vietnam, and one of the reasons I chose to study at Toronto Metropolitan University is its strong sense of community. What I didn't know when I applied was how much I would count on this community throughout my studies.
I came to Canada by myself when I was 16 years old, and stayed with my aunt's family. I couldn't take up paid work because of my visa and there were no other students from Vietnam in my high school. It was a challenging time. When it came time to apply for university, my biggest frustration was how few scholarships and awards were out there for international students.
When I arrived at Toronto Metropolitan University, I found the help I needed at International Student Support (ISS). I ended up working with ISS for two years as a mentor to other international students because I wanted to share my knowledge and experiences with other newcomers, especially women.
Getting a student award took away some of my financial burden and gave me the incentive to keep working hard on my academic performance. And that is one of the main reasons why I found a great internship at the Michael Garron Hospital when I graduated.
Working in Toronto helped me realize that international students have a unique place in the city. We can help make the businesses we work in more creative and innovative. International perspectives are essential for progress, and we have the languages and skills to help Canadian companies compete in an increasingly global world.
85%
of international students say they developed a more sophisticated way of looking at the world

96%
of international students say studying abroad increased their self-confidence International students sparked

81,000
jobs in Canada

51%
of international students plan to apply for permanent residency in Canada

80%
of employers say employees with international experience enhance competitiveness
You can help international students by contributing to the PACE fund. Your support will provide direct financial assistance to international students through scholarships and bursaries.