You are now in the main content area
Thank you for your continuing support of students. At this time, we encourage anyone wishing to make a donation to do so via our secure online donation form. Please note that, in keeping with CRA regulations, external link, until the name of the university is legally changed, all tax receipts will be issued from Ryerson University.
For any questions regarding your donation or receipt please email Sergio Chiodo at schiodo@ryerson.ca. Thank you.
Setting the PACE for First Generation Students
Being the first in your family to attend a Canadian university is a big step. It often means overcoming a variety of challenges, ranging from a lack of academic guidance to limited financial resources.
Toronto Metropolitan University has created several supports for first generation students. Our First Generation Project connects potential students with mentors and helps young people explore their future academic and career options.
To help ensure their university success, we provide first generation students with networking events, volunteer opportunities, and financial aid.
One of the primary roadblocks for first generation students is the cost of pursuing a post-secondary education. You can help ensure that financial considerations do not prevent promising young students from earning a degree by making a gift to the PACE fund.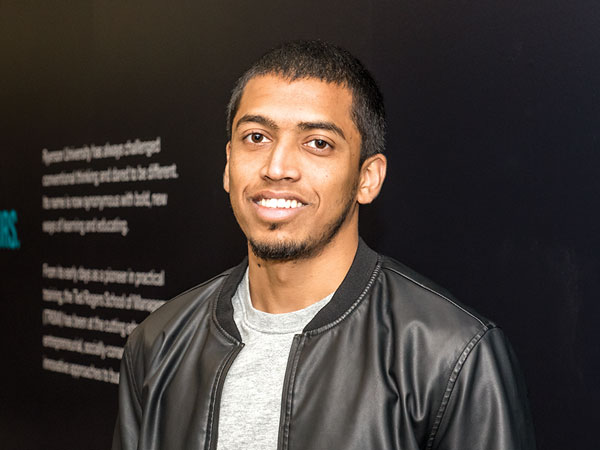 Zayan's Story
I came to Toronto Metropolitan University through the Pathways to Education program in Regent Park, which helps youth from low-income communities graduate from high school and successfully transition into post-secondary education, training or employment. Toronto Metropolitan University offered Pathways high school students a free marketing course to give us a feel for what it would be like to attend university. I loved every moment of it and knew right away I wanted to study at here.
All through my undergraduate studies I was involved with the university's Tri-Mentoring Program (TMP), which offers peer support to first generation students. I was mentored and then I became a mentor. Toronto Metropolitan University has helped me discover who I am, and broke down the limits of who I thought I had the potential to be.
One of my most meaningful moments as a mentor happened when I was stopped by a first-year student on campus. He wanted to tell me that I had inspired him to come to Toronto Metropolitan University. I had given a workshop to high school students about the importance of post-secondary education and how to access financial aid, and that made him believe he could do it too.

Many first generation students have parents that have a lower income, work multiple jobs, or have limited job opportunities because they didn't go to university. It sometimes feels as though you and your family are stuck in a loop and it's hard to get out. But post-secondary education changes that. With my degree, I know I have more choices in life. And my little brother can look to me as a role model and know that he can do it too.
Awards were important to me because they helped pay for expenses that my parents couldn't help with. Receiving an award meant my story and my struggles were heard by someone who cared, and it motivated me to keep going and get the degree that would change my future.
35%
of students in Canadian universities are first generation

727
first-year students registered as first generation with Toronto Metropolitan University's Tri-Mentoring Program

1308
students at Toronto Metropolitan University self-identify as first generation

23%
of Canadians whose parents didn't attend University went on to earn a degree (compared to 56% for those whose parents had attended)

600
first generation students attended 'day in student life' tours at Toronto Metropolitan University this year
You can support first generation students by contributing to the President Awards to Champion Excellence (PACE) fund. Your gift will provide direct financial assistance to first generation students through scholarships and bursaries.