You are now in the main content area
Thank you for your continuing support of students. At this time, we encourage anyone wishing to make a donation to do so via our secure online donation form. Please note that, in keeping with CRA regulations, external link, until the name of the university is legally changed, all tax receipts will be issued from Ryerson University.
For any questions regarding your donation or receipt please email Sergio Chiodo at schiodo@ryerson.ca. Thank you.
Setting the PACE for Students with Disabilities
At Toronto Metropolitan University, our fundamental priority is to provide students with exceptional experiences and opportunities. This goes for all students. We believe that disability is not an obstacle to overcome, but rather an opportunity to learn about how people experience the world in different ways, and how we can collectively ensure that we are open and accessible to each and every student.
Toronto Metropolitan University has a longstanding commitment to supporting students with disabilities. Diversity is one of our core values, and it means we focus on the abilities of our students – the ability to learn, the ability to excel, the ability to lead, the ability to contribute, and the ability to succeed.
Students with disabilities often have expenses related to their disability and may incur extra education-related expenses (transportation, attendant care, talking calculators, note takers, readers, and more). Taken together, it all puts even more pressure on their financial resources and acts as another barrier to entry. We can encourage success for students with disabilities by ensuring access to necessary supports and services, including scholarship and bursary support.
If we can help more students with disabilities get a university education, we will release a wellspring of potential. Creating bursaries to open new doors for students with disabilities will help realize dreams and aspirations.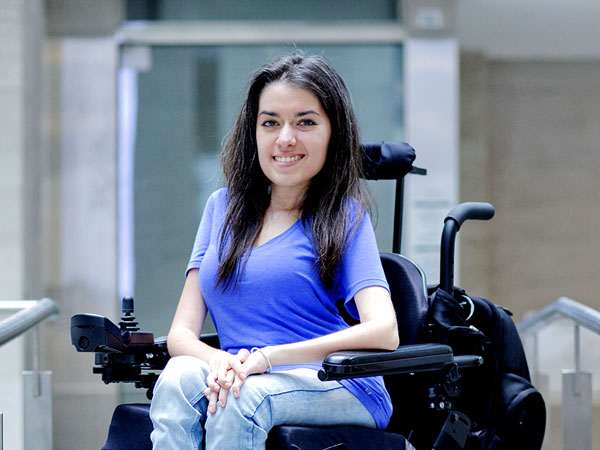 Maayan's Story
My journey to Toronto Metropolitan University is connected to my journey towards greater independence. When I was looking into studying at Toronto Metropolitan University I reached out to the university with questions—mostly about building access and housing. As a person with Muscular Dystrophy, these were important considerations. The help I received made me feel so supported. It gave me the confidence that I could move downtown and be a Toronto Metropolitan University student.
The reality is I spend almost no time thinking about my disability; but I do spend a lot of time figuring out access. For example, in one of my classes, a hands-on group assignment wasn't accessible to me, so my professors, classmates and I had to get creative and re-think how we could achieve the same learning goal in a different way. In the end we all learned more from the experience.
I gained a lot of confidence in my ability to educate others about accessibility; I saw how far my message could reach. More than most universities, I think the university embraces doing things differently. The community here understands that supporting someone who may need a special type of accommodation creates positive waves for everyone around them, too.
I used my courses and the broader university network, including staff, faculty and startup founders in the Zones, to build and test my idea for Access Now – an app that collects and shares building accessibility information. The rich entrepreneurship ecosystem around the school was invaluable. I've won several awards for my work on AccessNow, which has validated all the effort that has gone into it. The positive attention has made it easier to access further funding and support, which can be a struggle for so many social ventures.
Thanks to the university and its donors, I've been able to continue following my passion of sharing accessibility information around the world.
2 million+
Canadian adults with a disability

Canadians with disabilities are
2
times more likely to live in poverty

22%
of Ontario students who at 15 identified as having a disability were at university by 21

11%
of Canadians with a disability have graduated from university (compared to 20% of Canadians without a disability)

8%
of Toronto Metropolitan University students openly identify as having a disability

33%
of university students with a disability report their income is insufficient to costs of education
You can support students with disabilities by contributing to the PACE fund. Your gift will provide direct financial assistance to students through scholarships and bursaries.