You are now in the main content area
Thank you for your continuing support of students. At this time, we encourage anyone wishing to make a donation to do so via our secure online donation form. Please note that, in keeping with CRA regulations, external link, until the name of the university is legally changed, all tax receipts will be issued from Ryerson University.
For any questions regarding your donation or receipt please email Sergio Chiodo at schiodo@ryerson.ca. Thank you.
Setting the PACE for Women in STEM
While women make up the majority of university graduates in Canada, they are greatly underrepresented in Science, Technology, Engineering and Mathematics (STEM).
Toronto Metropolitan University is addressing this important gap. Scholarships and bursaries help attract talented women to pursue these programs, and provides them with the encouragement and confidence to pursue these vital fields. Our outreach programs engage junior and high school students to consider STEM careers.
Once enrolled at the university, women in STEM disciplines can take advantage of our student-led programs, from peer mentorship to career consultation events. In addition to a top-notch education, these supports are helping women get to graduation and land the job of their dreams.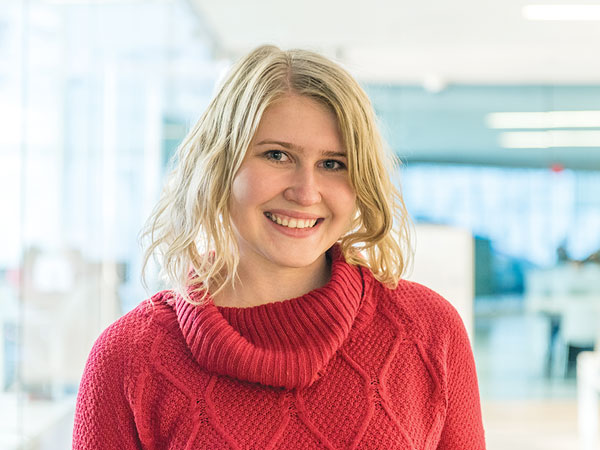 Vera's Story
When I was deciding what I wanted to study at university, I had in my mind that Computer Science isn't something that "girls do." A lot of women don't go into STEM because of stereotypes – they don't think they'll fit in or be successful. Both of my parents are engineers, so they encouraged me to go for it.
Toronto Metropolitan University offers a lot of different activities outside the classroom that helped build my confidence. I joined the Computer Science Course Union and the Women in Computer Science student group, and learned about industry events and met new friends.
I also did a co-op placement which helped me understand what the work world was really like. When my placement was over, other students asked me questions about my experiences and they were impressed with how much I learned.
The financial help I received allowed me to spend more time on my studies and work on a tech startup I co-founded. I wouldn't have been able to do that without the university's donors. Getting an award recognized my hard work in class and as a volunteer.
It also felt like I was helping break the stereotype that women aren't good at Computer Science. Without women in this field, we're excluding half the planet from creating important new technologies.
12%
of engineers in Canada are women

19%
of students enrolled in Science, Technology, Engineering and Mathematics (STEM) programs are women

27%
of those employed in STEM-intensive occupations are women

Women in STEM occupations earn
33%
more than those in non-STEM occupations
You can champion women in STEM by contributing to the President's Awards to Champion Excellence (PACE). Your support will provide direct financial assistance to women in STEM through scholarships and bursaries.