Hicks Morley encourages diversity and inclusion with new student awards
Law firm supports students from diverse backgrounds in Politics and Governance program, and those aspiring to practice law.
November 17, 2017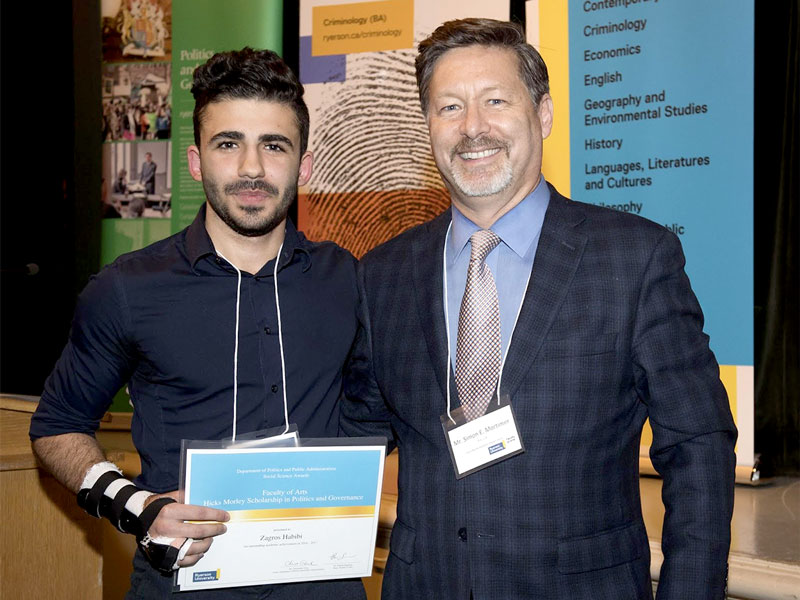 For over two decades, Hicks Morley has been a trusted legal adviser to Ryerson, a generous supporter, and a friend.
Zagros Habibi, a third-year student and the 2017 recipient of The Hicks Morley Scholarship in Politics and Governance, is only the most recent of many students, faculty and staff members who have come to value that friendship. And now, with the announcement of two new awards in the Faculty of Arts to start in 2018, the firm has extended their special bond with the university for years to come.
The Hicks Morley Award in Excellence, Diversity and Inclusion and The Hicks Morley Advancing Legal Studies Award will recognize students with financial need who have achieved academic excellence and are from a traditionally underrepresented group. The first award will be for a first-generation student in their third-year of the Politics and Governance program. The second award will be given to a fourth-year student in the Social Sciences or Humanities who is applying to law school.
"Hicks Morley shares the value Ryerson places on diversity and inclusion," says Simon Mortimer, a partner at the firm, "and we are pleased to have the opportunity to help expand access to post-secondary education for students from equity seeking groups, and to encourage students from these groups in their pursuit of a career in law."
"A diverse field is a strong field," says Stephen J. Shamie, managing partner at Hicks Morley. "We understand that having different voices and experiences at the table contributes to better service, a better workforce, and better engagement with the community."
For Habibi himself, "Being the recipient of the Hicks Morley award is a definite and much needed confidence boost. The monetary value will go a long way in helping to pay for the costs associated with pursuing higher education, and the recognition for doing something good for the school, as well as that extra assurance that I'm on the right track are really invaluable."
As the executive vice-president of the Politics and Governance Student Association, and the vice-president of marketing for the Ryerson Law Network, Habibi has played a leadership role in enriching the student experience at Ryerson. His next steps include taking the LSAT test in 2018 and enrolling in law school.
"I'm very thankful to Simon Mortimer and the entire Hicks Morley firm for making this award possible through their generosity," says Habibi. "Thank you for encouraging students like me in Politics and Governance, and giving us that extra push to put forth our best."