Harry Rosen funds research investigating relationship between stress and music
October 04, 2016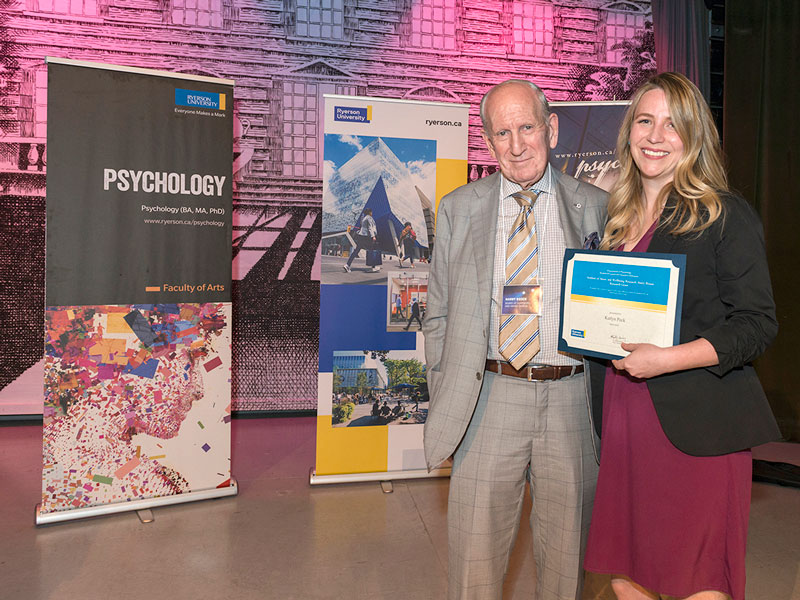 Can music reduce stress? That is the question at the center of the research being conducted by Katlyn Peck, a Ryerson University graduate student pursuing her PhD in Psychology, and the 2016 recipient of the Harry Rosen Research Grant.
"I have always had an interest in the relationship between music and stress, and how music can be utilized to potentially alleviate stress," says Katlyn. "Most research studies focus on the effects of music following recovery from acute stress. I want to see if music can act as a buffer in reducing stress reactivity prior to the exposure," she adds, "and if music preferred by the participant is the most beneficial for stress reduction."
Established in 2013, the Harry Rosen Research Grants offer funding to graduate students and faculty in the Department of Psychology with research projects related to stress and wellbeing. The grants have supported 13 studies to date, with the fashion retail mogul recently renewing his support to extend funding beyond 2016.
"The grant has allowed me to offer remuneration to my participants and purchase supplies essential to my study," says Katlyn. "It is critical to have financial support when conducting research. This funding enables me to recruit a large sample of healthy participants from the community that I would not otherwise be able to do."
Katlyn also makes ample use of the Harry Rosen Research Commons housed within the Institute for Stress and Wellbeing Research at Ryerson. The research commons is outfitted with state-of-the-art equipment and technology such as a portable BIOPAC system for measurement of psychophysiological data, electroencephalography (EEG) equipment for monitoring and analyzing brain activity, a virtual reality system, an assay lab, and more. The availability of this equipment enables researchers to administer various physiological tests and gather data. In addition to taking heart rate, pulse, skin conductivity, and other readings, Katlyn uses the resources to test participants in her study for cortisol, a hormone that can be detected and extracted from saliva and serves as a marker of stress levels.
"The research I am conducting involves collection of a wide range of physiological data, some of which are quite expensive to analyze. Thanks to the Harry Rosen Research Commons, and his support, we now have the facilities and equipment to conduct these types of analyses in house," says Katlyn.
Currently, Katlyn is under the supervision of Dr. Alexandra Fiocco, an expert in the field of stress and healthy aging research, and director of the Stress and Healthy Aging Research (StAR) Lab here at Ryerson.
"Stress is relevant to everyone on some level," says Katlyn. "That's why it's so important to support this type of research," she adds. "Music is something that can be accessible to everyone, and I am hoping that this research can lend support to the applicability of music as a stress prevention and management tool."