You are now in the main content area
Thank you for your continuing support of students. At this time, we encourage anyone wishing to make a donation to do so via our secure online donation form. Please note that, in keeping with CRA regulations, external link, until the name of the university is legally changed, all tax receipts will be issued from Ryerson University.
For any questions regarding your donation or receipt please email Sergio Chiodo at schiodo@torontomu.ca or 416-979-5000 ext. 556516. Thank you.
How to Apply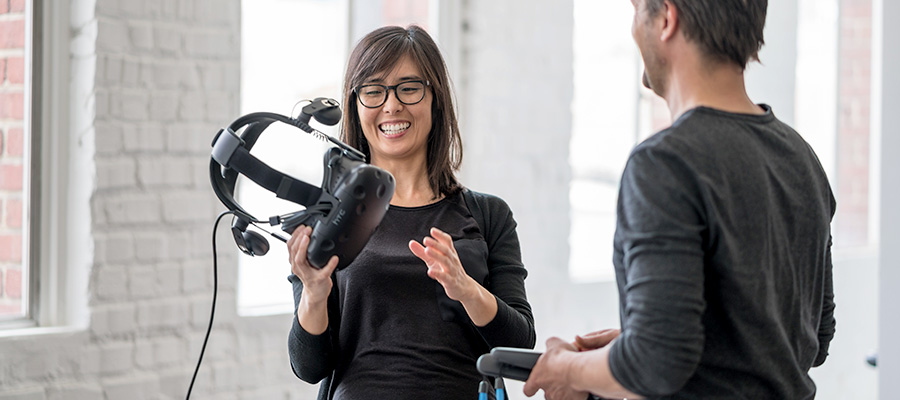 The purpose of the Innovation Circle Discovery Prize is to encourage graduate students to pursue their innovative ideas under the guidance of faculty researchers.
Applications must be created jointly by faculty member(s) and graduate student(s). Applications will be reviewed by representatives of the Office of Research and Innovation. Finalist faculty-student teams must be available to pitch their project in-person to a selection committee composed of Innovation Circle members, faculty and industry experts. The winning project will be selected following the live adjudication session.
Important information for applicants:
We are now accepting research proposals from Toronto Metropolitan University faculty members & graduate student teams under the 2022 Innovation Circle Program call for proposals. The Program will support one new and innovative research project. The supported project will propose potentially long-lasting, and implementable solutions that directly address the following question:
"The problem of inequity in our society continues to grow, with many populations experiencing amplified social, economic and health inequity. The pandemic exposed and exacerbated these issues of inequity. Looking forward, how can we address these inequities and provide long-term solutions at the local and/or national level?"
To apply fill out the Application Form, external link, opens in new window. Once your Application Form is complete submit your proposal through the university's Research Information System (RIS) before June 20, 2022.


If you have any questions regarding the Application Form or process, please contact Lisa Leung at lisa.leung@torontomu.ca

Login to the Research Information System (RIS) by clicking here
About the Research Information System
The university has an online application for the submission of research proposals called the Research Information System (RIS). All submissions must go through RIS.
RIS is a system for recording and obtaining approvals for research proposals. RIS also helps you track your funded proposals and other research-related agreements. RIS will allow you to:
Get electronic approvals for your research proposals from your Chair and Dean.
Send your proposal to OVPRI for review and comment prior to submission.
Check on the status of your proposal.
Store your proposals for future reference.
Understand the terms and conditions associated with funded proposals.
RIS keeps an electronic record of your research funding activity, including past submissions and funded proposals. After you have uploaded content to RIS, you may save and log out to complete the submission at a later date, or return at any time to review the status of a submission. When you have filled out a "Grant Authorization Form" (GAF) and uploaded your proposal, the "Submit for Review" button sends your application directly to a grant officer for review and comment. The officer can then send comments back, which you may incorporate into your application.
All applications for funding must be approved by Toronto Metropolitan University prior to submission. RIS allows researchers to obtain this approval electronically. The "Submit for Approval" button sends your application through the approval hierarchy: first to your Chair, then to your Dean, then to OVPRI for university endorsement. Chairs and Deans will be notified by email that an application is awaiting their approval.
Note: To log in to RIS you will require Two-Factor Authentication. See the link below for more information. If you require further assistance with regard to Two-Factor Authentication, please contact the CCS Help Line at ext. 556806 or email help@torontomu.ca.