Unravelling gun violence
Nursing professor and associate director unpacks the devastating impact of gun violence on families and communities
January 24, 2019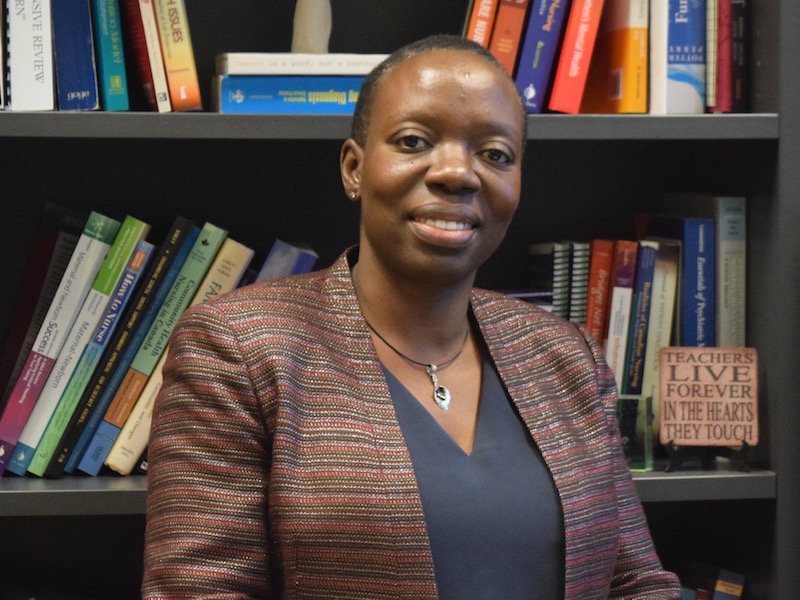 When Annette Bailey was working on her PhD in Public Health Science over ten years ago, she had yet to find a dissertation topic that she felt passionate about.
That all changed when Bailey, now an associate professor in the Daphne Cockwell School of Nursing and the associate director of the Collaborative Nursing Degree Program, learned of the death of Jordan Manners to gun violence, in May 2007.
Manners was 15 years old when he was shot to death inside his school in Toronto. News cameras followed along as his mother, Lorraine Small, was informed of her son's death.
"She collapsed in her grief," Bailey recalls. "And the cameras just kept on rolling. I started to think about what happens to these mothers, what are their lives like, after losing their children to gun violence."
"I was asking myself questions, like: 'What kind of supports are in place for these mothers? How are they affected by such a meaningless loss?' And that's where this work started. I decided I wanted to investigate the impact of gun violence, not just on mothers, but on families, communities and society."
Since then, Bailey has devoted her academic career to unravelling the complexities of gun violence and its traumatic impact on vulnerable groups and communities. It's an issue she describes as a public health problem with devastating social, psychological and financial repercussions.
"It has economic consequences. In Canada, we spend up to $13 billion each year on gun violence and other violent crimes. It has social implications — when we think about what it does to communities, how it divides communities."
To begin, Bailey's research examined how the trauma from losing a child to gun violence impacts the resilience of Black mothers. "We found that the level of traumatic grief was very high among this population, and this grief eroded the resilience of many of these mothers."
Social support is a key mediating factor that can foster resilience, Bailey explains. However, social support tends to be diminished among Black women who lose their children in this way, likely due to the social stigma of gun violence.
"Many of the mothers tell me that at the funeral, they see people they've never known. Hundreds of people would attend these funerals, and the next day, they're alone. And sometimes they're alone for a very long time."
Some mothers who lack social support are quite resilient in the face of loss, Bailey has found, and her research largely attributes this to spirituality. "Spirituality helps them to find meaning and purpose in the loss, to the point where, one mother can say, 'I lost my son but I had him for 19 years, and for those 19 years, I was blessed to have him.'"
Mothers who lose a child to gun violence are compelled to ensure their remaining children do not meet the same fate. "The mothers would say, 'please, while we want you to study us, we also want you to do a study with our young people to see how we can help them.'"
Bailey's research with youth has since found that the trauma of losing friends or family members in this way is one of the most significant influences on a young person's involvement in gun violence.
"Trauma is central to their experience with violence," she says. "They are dealing with the loss of their sibling(s) and their friend(s), they're also dealing with the impact on their mothers, they're dealing with broken marriages."
Youth impacted by gun violence can also seek to avenge the death of their loved ones through retaliatory attacks, according to some of the mothers and youth Bailey has spoken with.
"They talk about violence begetting violence," she says. In fact, Bailey likens the spread of gun violence to the contagion of a virus.
"One will not get ill from a virus simply entering the body, unless the body is under undue stress," she says. "It's the same thing with gun violence."
Gun violence tends to replicate quickly in vulnerable communities, Bailey explains, and young Black men are disproportionately affected. The devastating impact of trauma is compounded by poverty, police profiling, suspension from school and a lack of mental health support. "Trauma, for them, is a constant, everyday experience," she says.
However, communities can create barriers against the spread of gun violence, Bailey contends. "We have to start with the youth. We know that youth are the victims and the perpetrators."
Youth have spoken about social unity and connection, adult mentors and long-term community programs as possible buffers to gun violence.
"If you can shift the mindset of young people; if you can support them to understand their worth and capacities, then we can begin to shift their view of themselves and their world."
Bailey highlights the importance of taking a proactive, rather than a reactive, approach. While gun violence is often framed as a law enforcement issue, she argues that we need to understand the phenomenon as a matter of public health.
But perhaps most importantly, Bailey highlights the need for empathy. "Empathy helps us to ask the questions of how or why a person commits a violent act. If we can ask ourselves the question, 'why,' and still point the finger at them, without looking at society, then we're really not there in our understanding," she says.
"No child was born with a gun in their hand. Something must have happened in their life to get them to that point."

Annette Bailey has been a principal investigator on studies focused on grief, trauma, support and resilience among mothers who lose children to gun homicide, as well as youth survivors of gun violence. She conducted a Canada-wide study to understand service challenges and supports for survivors of gun violence in Canada. She has also participated in studies as a co-investigator focusing on community and youth violence and capacity-building community projects in Canada and Latin-American countries. She has received funding from the Faculty of Community Services at Ryerson University, the Social Sciences and Humanities Research Council, Women's College Hospital and the Association of Universities and Colleges of Canada.