This year's FEAS Gold Medallist holds numerous prestigious awards
Alumna recognized for her advocacy work supporting and empowering women in engineering and outstanding voluntary extracurricular contributions
July 05, 2022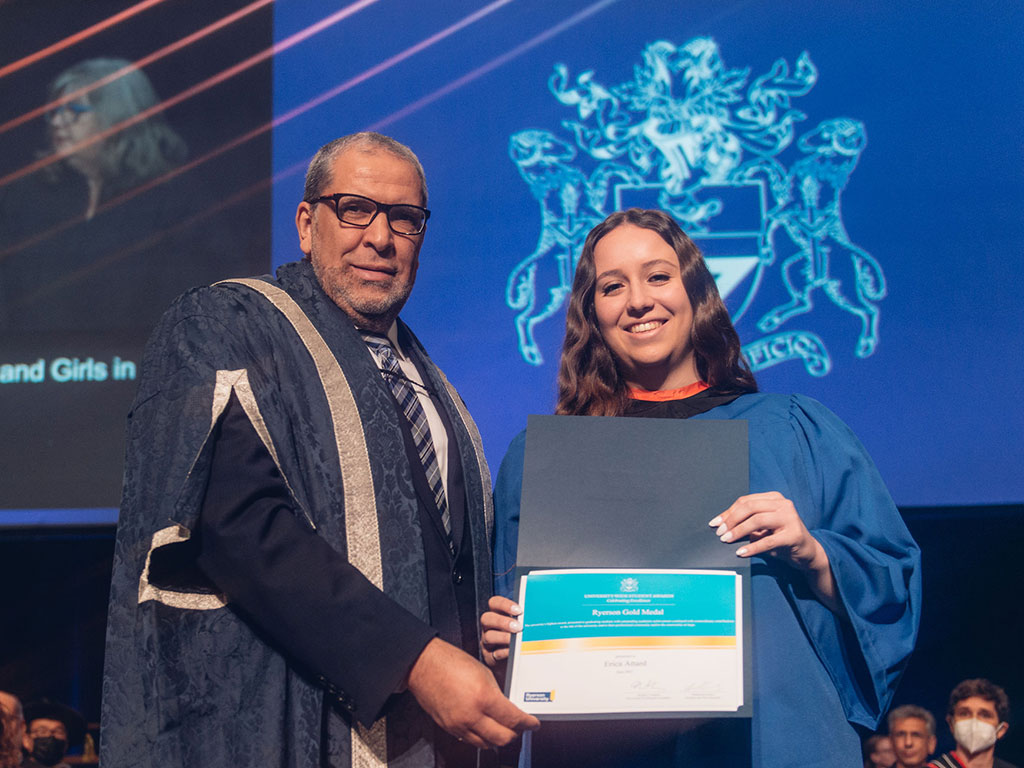 Mechanical engineering grad Erica Attard (BEng '22) is the 2022 Toronto Metropolitan University (TMU) Gold Medallist for the Faculty of Engineering and Architectural Science (FEAS). This year, she also earned a program-wide Dennis Mock Leadership Award, an Aileen Clark Lambie Award and an Ontario Professional Engineers Foundation (OPEF) for Education Scholarship Award.
Attard is also the first female Team Captain and Engineering Lead of TMU's Formula Racing team. This engineering student design team received a 2022 Sheldon Levy Student Group of the Year Award and the 2021 Alan Shepard EDI Award, partly due to Attard's leadership in creating a positive and enriching team environment.

In partnership with the TMU Women In Engineering (WiE), external link group, Attard helped plan their design event. In addition, she is involved with the See It Be It STEM It and Girls in STEM initiatives, where she has shared her experiences and advice with other women in engineering to provide representation.

We asked Attard about her time at TMU and tips for students striving to reach their goals.

What does receiving the Gold Medal Awards mean to you?

As a female in mechanical engineering, receiving the Gold Medal Award shows that women can deal with all the challenges associated with studying engineering and being a woman in a male-dominated field while further developing their technical and personal skills and striving for academic excellence. It is a statement on how women belong in leadership positions and have so much to offer this incredible profession.
What advice would you give students entering their first year?

Try something new and get out of your comfort zone. There are so many incredible groups at TMU that can help you explore new passions and learn new skills. This time is the best opportunity to grow as an engineer and a person. When I began university, I had no engineering or car experience, I had never used tools or machines, and I wasn't sure what the difference was between the various engineering programs. Five years later, I am the Team Captain of an engineering design team that builds electric race cars.
Do you have any favourite classes or professors, and what made them stand out?

My favourite classes were Calc 2 (MTH240) and Stress Analysis (MEC430). Both classes were math-intensive, my favourite subject, and they offered ways to develop my problem-solving skills, which are essential to engineers. I worked with many incredible professors during my studies, both in classes and research. The professors that stood out to me the most were those who could simplify a complicated subject and take you through it step by step, allowing you to develop a deeper understanding.
How did the university support you during your time here?

TMU's support and advertisement of design teams allowed me to find a place where I could flourish as an engineering student. Design teams are incredibly critical to the development of a student's technical and soft skills. Joining a design team and having the support and encouragement of many of the TMU staff involved helped develop my strong work ethic.
What has been your proudest accomplishment?

My proudest accomplishment was working with the Ryerson Formula Racing team to design, manufacture and compete with our first electric vehicle. This endeavour brought on many challenges that forced us to build strong relationships and problem solve as a team. We competed in June 2022 and placed 15th out of 55, first in Ontario and first in the Business Presentation Event. Watching all the engineering students I trained grow into confident and knowledgeable leads has been a big inspiration and motivation for me.
What are your future plans?
I will be pursuing a Master's in Applied Science in the Civil Engineering Department at the University of Victoria, focusing on developing and integrating renewable energy.