Gold Medal Award goes to high-achieving international student
The impressive student was recognized for her academic success, as well as athletic and community involvement
October 28, 2019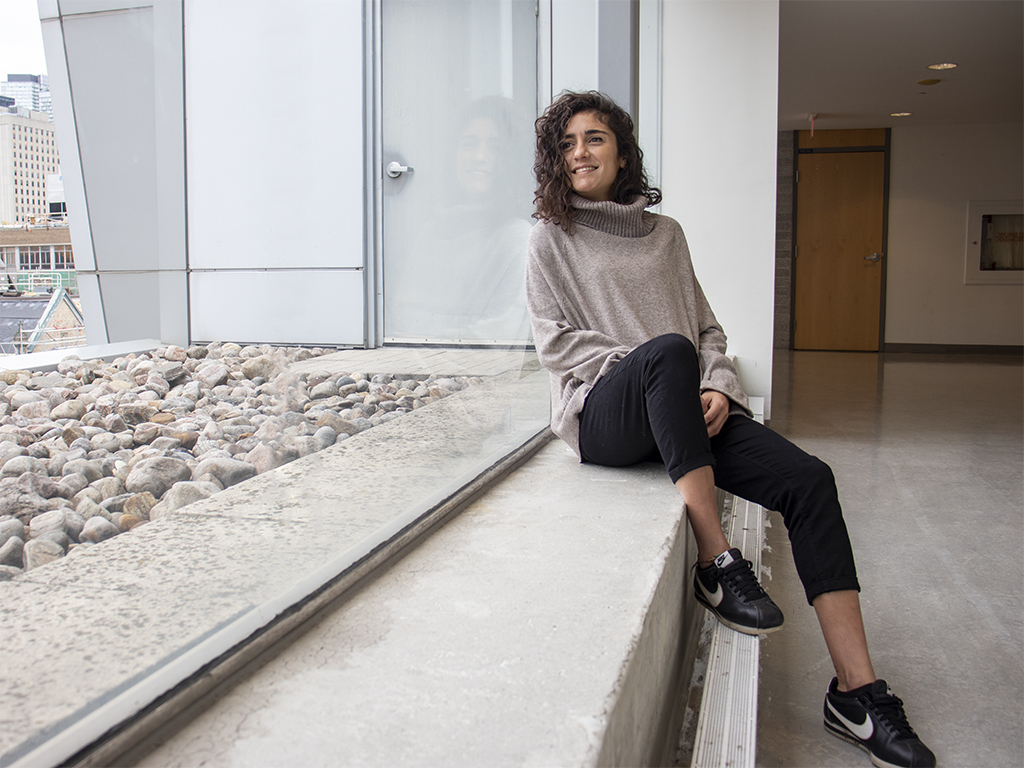 Graduate studies represent an opportunity to focus on the topics that matter most to you. While research and life in the lab can be part of your academic career, FEAS Gold Medal winner Sylvie Antoun embodied the importance of striving for balance during her time at Ryerson.
For Antoun, pursuing her PhD in mechanical engineering at Ryerson meant leaving her friends and family behind in Lebanon. Building a life in Toronto while also tackling challenging research projects seemed overwhelming at first, but Antoun's zeal for community engagement helped her thrive in her new environment. Her research regarding sustainable technology was successful in improving thermal storage and solar technology.
Antoun also trained and competed with Ryerson's cross-country and track-and-field teams. If balancing academics and athletics wasn't enough, she also dove into the Ryerson community by volunteering her time to teach software and problem-solving skills and provide academic mentorship. We asked Antoun about her time at Ryerson and her tips for students striving to reach their personal and academic goals.
What does receiving the Gold Medal Award mean to you?
This award is a reminder of what's possible when I choose to believe in myself. As an international student and one of very few women in the program, I was so afraid to fail. The pressure to adjust to a new country, succeed in my program and prove that I deserved to be here was almost overwhelming. With hard work and support from friends, family, advisors and coaches, I have been able to overcome countless challenges and make the most of my education. This award is especially meaningful to me, as women in engineering are often underrepresented and underestimated. I hope that other people are inspired by my story and are able to see their own potential in this achievement.
What advice would you give students entering their first year?
Stay connected to the curiosity that led you to study engineering in the first place. Allowing that curiosity to drive your research and choices is the key to getting the most out of your education. It's also so important for students to have balance between their school and personal lives. One way to do this is to get involved with the Ryerson community. Participating in athletics and volunteering my time expanded my social sphere and helped me build a strong group of supporters who guided me through each setback and challenge.
Do you have any favourite classes or professors, and what made them stand out?
My favourite teacher was, of course, my advisor, Prof. Ziad Saghir. He provided me with the opportunity to travel to Canada and pursue my research. His guidance, trust, mentorship and candid advice are so greatly appreciated. I have learned over time that the best classes are always the ones that will truly challenge you. Also important to my success were my coaches Tim Uuksulainen and Albert Dell'Apa, who taught valuable lessons and helped me believe in my own potential.
How did Ryerson support you during your time here?
The most important supports I had at Ryerson were those that helped me and other international students adjust to life in Canada. Financial aid, health care, counselling services and participation in a diverse international community were all essential to my success. The ability to participate in athletics made a huge impact on my time at Ryerson, as did access to labs and other educational resources.
What has been your proudest accomplishment?
My goal in life has always been to not only succeed but also inspire others. I'm proud that I created such a wonderful sphere of friends and supporters who were able to help me overcome the challenges of moving away from home. Because of that strong foundation, I was able to give back through volunteering to run software workshops and problem-solving sessions and to be an academic mentor. The encouragement and confidence I was able to instil in other students, especially young women, is one of my proudest achievements and something I hope to continue doing in the future.
What are your future plans?
I am currently working as a postdoctoral researcher here at Ryerson. I manage multiple projects and mentor grad students in the lab. My long-term goal is to become a professor so that I can pursue meaningful research and prepare students to make positive changes in the world, by teaching them critical-thinking and problem-solving skills. I want to continue to focus my work toward saving the earth and advancing sustainable energy technology. Most importantly, I plan to continue inspiring others to choose to believe in themselves and to follow their passions.