You are now in the main content area
Exams: Prepare to deliver Hybrid Exams using Brightspace

Using tools within or integrated with D2L Brightspace, you can administer a variety of assessments. Depending on the needs of your course this could be digital, on paper, or a hybrid approach.
On this page you will find a collection of resources to follow along with when designing and setting up your hybrid exams.
If you would like support when designing assessments for remote learning, the Centre for Excellence in Learning and Teaching has provided recommendations for adjusting assessment in your course.
Are you planning a different style of exam?
Learn about delivering other types of exams using D2L Brightspace:
In-Person Bubble Sheet
Using Akindi, it is simple to convert an on-paper assessment to online (see "Hybrid Bubble Sheet Exam" below to learn more).
Note: Akindi Online does not support virtual proctoring or Turnitin Originality Check.
Essay or Short Answer Exam
Option 1: Create a Brightspace Assignment with an accompanying question document
Students can download the list of questions or answer template, respond to them independently on their own device, then upload their completed attempt.
Note: Brightspace Assessments support Turnitin Originality Check, but are not compatible with virtual proctoring.
Option 2: Create a Brightspace Quiz with "Written Response" questions
There are no limits to the length of question responses, and any TA/Grader/Instructor in the course can assess student responses. Note: Brightspace Quizzes are compatibale with Respondus Lockdown Browser + Monitor, but are not eligible to be included in the Turnitin Originality Check.
If only some students are completing an online attempt, you can use Quiz Special Access or Release Conditions to restrict access to the online assessment. See "Mixed Proctor Exam" information below to learn more.
Option 3: Crowdmark's Assigned Assignments
These can be completed and submitted by students independently. The assignment is emailed to the student and then the student must either complete the assignment digitally or print and complete it on paper and then scan and upload a pdf.
Hybrid Bubble Sheet: Akindi Online
To administer a hybrid bubble sheet assessment, create an Akindi Online "Display Full PDF" assignment. Students will be able to either complete a digital bubble sheet via their Brightspace course shell, or can be provided a printed blank bubble sheet in person.
Note: Be sure to make your Akindi module visible to students, and share instructions with them about how to access it.
Brightspaces quizzes can be administered remotely or in-person, and each can be proctored. If in-person, students must be asked to complete the quiz in a lab, not on their own devices, with human supervision and perhaps Lockdown Browser. If remote, students may be asked to complete the quiz with Lockdown Browser + Monitor enabled (the only university-approved virtual proctoring system).
It is possible to run duplicate versions of the same quiz for both students in-person and remote, enabling the Webcam monitor only for the remote students.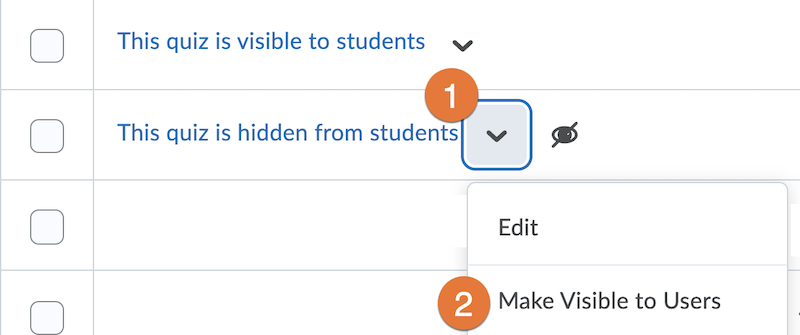 If the students cannot see the exam listed during the exam:
If you set a narrow availability window (i.e. 9:00 - 9:15 for a 3-hour exam), you are likely to receive urgent requests from students who need to be let back into the exam. If students experience any technical issues during the exam that result in a temporary loss of access they will not be able to re-enter after the availability end time. As such, we don't recommend setting a narrow availability window.
Please see the "Are the quiz date and time correct" section below for our recommendations.


If a student has network connectivity issues and attempts to re-enter after the End Date, they will not be able to resume unless an instructor provides them a modified End Date using the Special Access settings. 
If you set a narrow window of time between the Start Date and End Date, please establish a preferred method of emergency contact between students and their instructor during the exam (such as a drop-in Zoom meeting).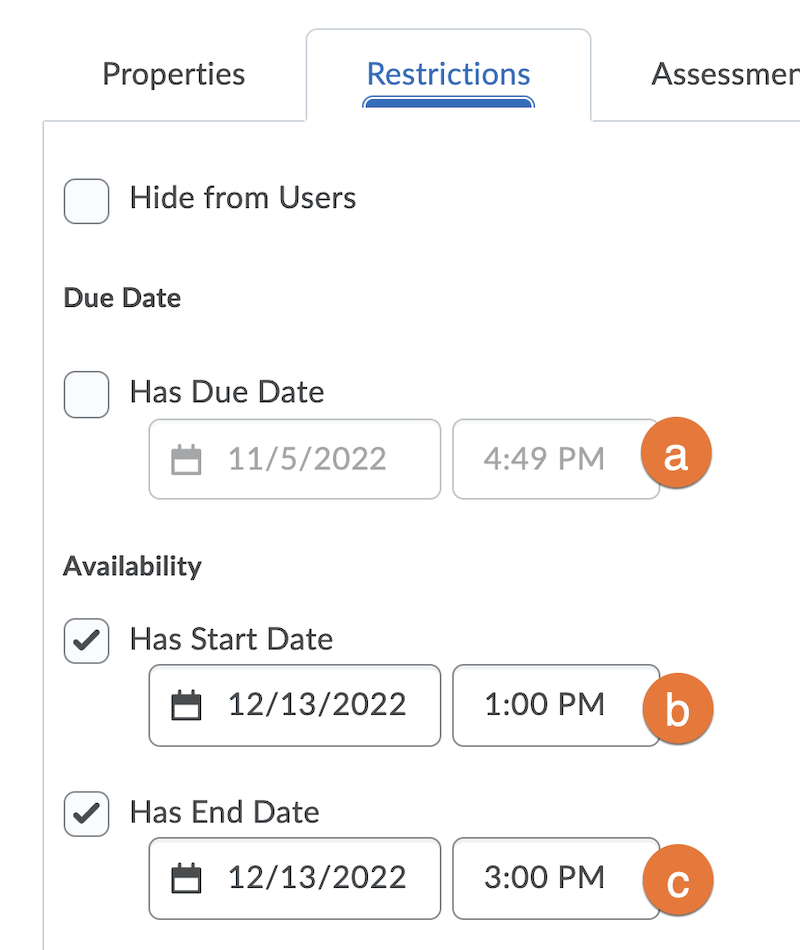 Akindi Online Date/Time Availability
The students completing the online version of the exam will be restricted by date/time settings set in Akindi.
The date/timing for students completing the on-paper version will be managed by the in-person exam administration.
If any of your students completing the assessment online have time-based accommodations for their exam, please confirm that their settings match the information you have been provided.