You are now in the main content area
Pandemic preparedness is a multi-disciplinary challenge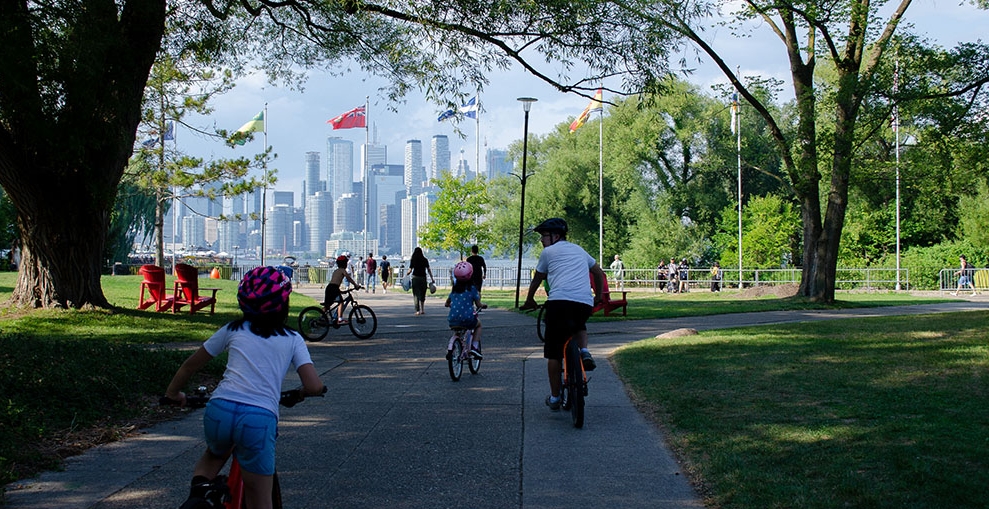 Since the COVID-19 pandemic began, we've learned that this major public health crisis is deeply intertwined with the ways cities work, and is exacerbated by existing health and equity challenges. Today, urban planners, policy makers and health experts are considering how innovative efforts can address immediate impacts and facilitate a green and equitable recovery for all. Ryerson's city-building researchers from a range of disciplines are at the forefront, responding in real time to this global challenge and providing crucial evidence to support cities' COVID-19 recovery and pandemic preparedness in the months and years ahead.
Building homes that help—not hinder—our health
With many jurisdictions urging residents to work from home and limit non-essential trips during the pandemic, our living spaces quickly became the centre of our work, leisure, and domestic activities. For many living in multi-unit mid- and high-rise buildings -- the fastest growing housing type in many cities -- this experience raised important questions about quality of life in higher-density urban dwellings
Dr. Terri Peters, an Assistant Professor in Ryerson's Department of Architectural Science and a registered architect in the UK, has been exploring design solutions for sustainable, health-promoting architecture for many years, and is also an expert in multi-unit residential design. In the context of COVID-19, Dr. Peters is exploring how health-promoting design can support wellbeing for residents of urban mid- and high-rise apartment housing.
Analyzing more than 100 peer-reviewed papers in environment psychology, building science, and architecture on quality of life in high-rise housing, as well as more than 40 news and magazine articles on the impacts of COVID-19 on housing. The resulting study offers designers and developers with evidence-based recommendations for health-promoting apartment housing -- both during and after the pandemic. Key recommendations include guidance on window placement, lighting levels, sleep promotion, indoor air quality, access to nature, and spaces to promote physical distancing and prevent crowding, offering insights on how to reshape urban multi-unit housing to support the health and wellness of residents well into the future.
"The role of urban housing has changed in the pandemic. [To provide guidelines for healthier living in multi-unit residential buildings,] we identified 7 restorative environmental design principles, based on the intersection between state of the art housing research, restorative environmental design and studies relevant to COVID-19 and urban housing."
Designing cycling infrastructure that connects us and protects us
Amidst ongoing physical distancing requirements, concerns over crowding on transit, and the ongoing need to mitigate vehicular congestion on city streets, cycling has emerged as a crucial mode of transportation during the pandemic. But as enthusiasm for cycling grows, are our cities equipped with the cycling infrastructure necessary to keep riders safe?
Dr. Anne Harris, an epidemiologist and Associate Professor in Ryerson's School of Occupational and Public Health, is an expert in injury prevention, and on bicycling and pedestrian injury in particular. In collaboration with City Building Ryerson, Dr. Harris led a team of researchers to analyze the injury impacts of different cycling infrastructure designs on Toronto's Bloor-Danforth corridor, considering anticipated ridership increases due to COVID-19.
The study found that the installation of fully separated cycle tracks could reduce injuries by 89%, when compared to no infrastructure. More cyclists during the pandemic could spark a "safety in numbers" effect, leading to further injury prevention, while the removal of temporary COVID-19 cycling infrastructure could have a "bait and switch" effect, attracting riders to the route then leaving them without safe infrastructure, and resulting in increased injuries.
This research is timely, as cities like Toronto consider whether or how to make temporary COVID-19 active transportation installations permanent, and whether to further expand them in the future. as Toronto City Council will vote on the future of the temporary bikeways, including those on Bloor-Danforth, in late 2021. The study offers evidence to support advocacy efforts and decision-making regarding cycling infrastructure across the city.
"The benefits [of cycling infrastructure] accrue over time...not only do they accrue over time like any investment, but they can actually compound because of safety in number effects, so you can see the benefits increase as time goes by."
Creating road safety policies that reduce injuries into the future
In Toronto and cities across Canada, mobility restrictions to curb the spread of COVID-19 have dramatically changed how we move through the city. Early stay-home orders resulted in dramatic drops in vehicular traffic, while at the same time, many residents were taking to the street to walk and cycle for exercise and wellness. In a city where road safety is a major health issue, understanding the pandemic's impacts on traffic injury can provide clues to shape future transportation policies.
Dr. Linda Rothman is an Associate Professor in Ryerson's School of Occupational Public Health, an adjunct scientist in Child Health Evaluative Sciences at the Hospital for Sick Children, and an expert in pedestrian and cycling injury prevention in urban environments. Together with a cross-Canada research team studying child pedestrian injury, called Child Active Transportation Safety and the Environment (CHASE), external link, Dr. Rothman has been investigating road safety as a public health issue. So when cities began implementing mobility restrictions, active transportation policies, and road safety measures during the pandemic, Dr. Rothman and her team sought to understand the impacts.
The research links policy implementation, vehicular traffic, and road injury rates to identify key trends since March. Traffic levels dropped significantly in the early days of the pandemic along with road injury rates, raising important questions about how this pattern could be maintained beyond COVID-19. But this pattern was not equal across geographies: although Toronto's downtown neighbourhoods saw far fewer road injuries, troubling patterns emerged as road injuries persisted outside the core.
"In our latest research, we looked at how COVID-19 'stay at home' and physical distancing policies, as well as some specific, local COVID-19-related mitigation strategies, affected road traffic injuries and deaths in Toronto, to share what's effective and what's not. The goal is to emerge from the COVID-19 pandemic with cities that are much safer for walking and cycling."
Planning neighbourhoods to support safe outdoor activity
Over the spring and summer, with schools and playgrounds closed, the daily lives of Canadian children and youth were dramatically different. Canadian kids already face significant challenges when it comes to getting their daily dose of physical activity and sleep, but with online learning and fewer opportunities for outdoor play during the pandemic, the ability of kids to stay healthy and active was a key concern for many.
Dr. Raktim Mitra, an Associate Professor of Urban Planning and Co-Director of Ryerson's TransForm Research Laboratory, is an expert in the link between the built environment and healthy movement behaviors (like walking and cycling), particularly in children and young adults, and his scholarship in the field of children's mobility has received international recognition. In collaboration with a national research team led by ParticipACTION, Dr. Mitra sought to understand how children's activity patterns differed across social and built environments, and whether neighbourhood design could be the key to kids' healthy movement behaviours.
The survey found—perhaps unsurprisingly—that during the pandemic, the majority of Canadian children and youth spent less time walking, biking or playing outside and more time in front of a digital screen. But by mapping the survey results across the region, Dr. Mitra found that activity levels varied considerably by neighbourhood and across different social and built environments. Certain neighbourhood features - like density and access to park space - had considerable impacts on children's physical activity levels, leaving children in some neighbourhoods at a disadvantage based on built environment factors.
This research sheds light on the neighbourhood planning and design features that can help promote health and wellness amidst health crises, as well as some key characteristics of resilient communities beyond the pandemic.
"We decided to do this study to look at how children's movement behaviour might have changed during the pandemic, and if there is a change, then what can we learn as urban planners—people who design and build cities and communities—from this experience so that we can make our cities healthier and more resilient in the future?"

All quotes are from our COVID in Focus webinars, Fall 2020.