You are now in the main content area
Some Observations on the Recent Pattern of Residential Building Permits in the GGH
By: John Clinkard
June 4, 2021
PDF filePrint-friendly version available
Over the last two quarters (i.e., Q4/2020 plus Q1/2021), the total number of residential building permits issued in the Greater Golden Horseshoe (GGH) hit a record high of 39,734 units, up 56% from the same period a year earlier. By far the major contributor to this gain was a 73.6% jump, year-over-year, in apartment units which significantly outweighed the 26% rise, year-over-year, in the permits for single, semi-detached and townhouse units, aka ground-related units.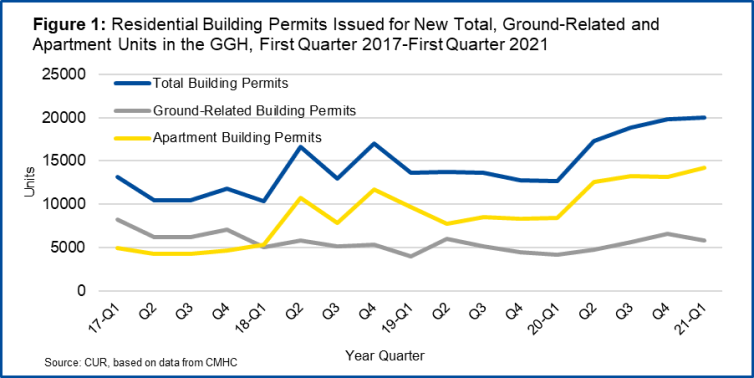 In regions of the GGH outside the GTA (the so-called 'outer ring' in addition to Hamilton), the total volume of permits issued during the past two quarters totalled a record 10,021 units. However, the pattern of growth of permits was somewhat more balanced with the number of apartment permits approved over the past six months totalling 5,597 units (+34.1% year-over-year) versus 4,424 (+35% year-over-year) for ground-related homes.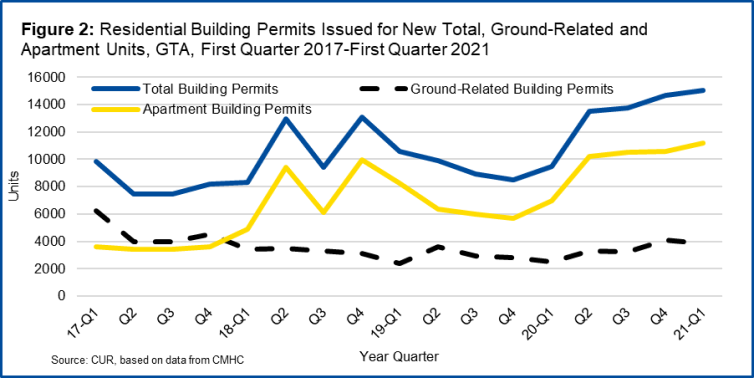 Conclusion
The fact that, over the past year, prices of existing ground-related homes in the GTA have risen by +24%, while prices of apartments are up only by 4.3% clearly indicates that home buyers have a strong preference for ground-related dwellings relative to apartments (and also that there is a shortage of product in the existing market). However, given the mismatch between homebuyer's preferences and the above noted sub-par pattern of ground-related building permits relative to apartments in the GGH, it appears unlikely that ground-related dwelling prices will materially ease in the near future.
John Clinkard is a Research Fellow at Ryerson University's Centre for Urban Research and Land Development (CUR) in Toronto.