You are now in the main content area
*In April 2022, the university announced our new name of Toronto Metropolitan University, which will be implemented in a phased approach. Learn more about our next chapter.*
Showcasing Immigrant Voices: Calling for a Paradigm Shift
Date

April 07, 2021

Time

4:00 PM EDT - 5:00 PM EDT

Open To

Students, Faculty, Public

Contact

rcis@torontomu.ca
The Ryerson Centre for Immigration and Settlement (RCIS) is hosting a panel discussion with WINS Toronto about ways to foster an inclusive Canadian labour market in which diverse professionals can succeed and flourish.
WINS Toronto, external link is a not-for-profit that promotes inclusive policies in the Canadian workforce and aims provide an embracing community of care in which newcomers can learn from one other and expand their career horizons. The name WINS reflects a commitment to providing a setting in which diverse professionals can succeed and flourish.
Join us Wednesday, April 7th, 2021 via zoom from 4:00 PM – 5:00 PM EST.
The speakers for this session include:
Dr. Hitu Sood, Founder of WINS Toronto. Hitu is an HR and Diversity Consultant running her own consulting called HITU HR Solutions in Canada. Hitu has previously worked in corporate as well as universities in Australia and colleges in Canada. She has been named in the North American 100 most inclusive HR influencers in the world for the last two years.
Mark Lovewell, Chair of WINS Toronto. Mark is a Consultant and Advisor to start-ups in the Education sector and a retired university professor from Ryerson University. He has also worked in the cultural sphere as the former co-publisher and interim editor-in-chief of the Literary Review of Canada. Mark's economics principles text published by McGraw Hill is now in its 8th edition.
Veronica Seeto, Vice-Chair of WINS Toronto. Veronica has been working with immigrants for over 15 yrs and enjoyed a professional career of 45 years in software development in both the for-profit and not-for-profit sectors. She has mentored professional IT newcomers by helping them transition their careers to Canada.
Dr. Usha George, Director of the Ryerson Centre for Immigration and Settlement and Professor of School of Social Work at Ryerson University. Usha's research focuses on newcomer settlement and integration, with an emphasis on examining policies and programs to ensure newcomers have the supports they need to settle and become contributing members of Canadian society.
Register for the event to receive a password for the ZOOM webinar.
A video recording of the event with captions will be made publicly available on the RCIS website following the event.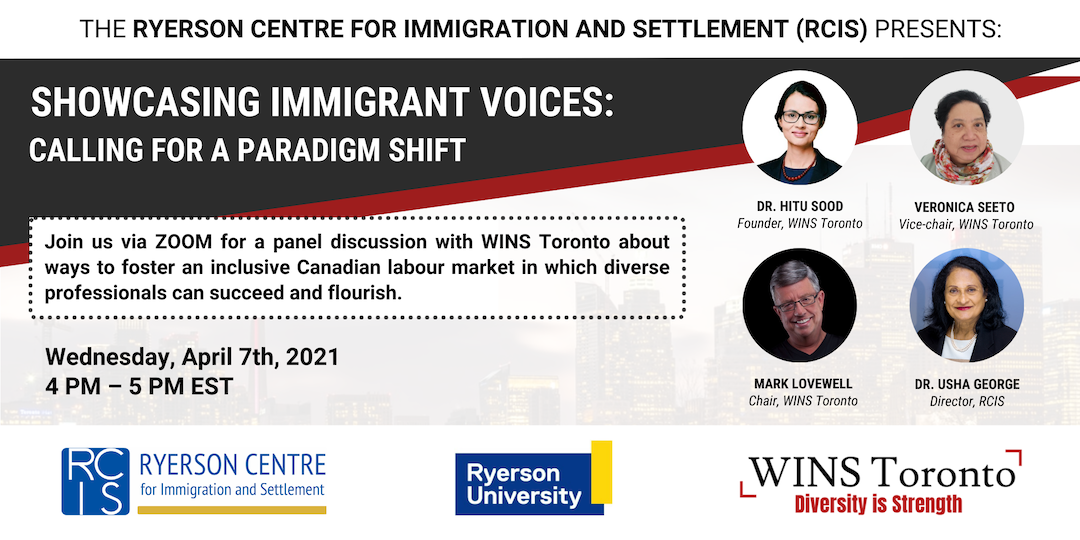 TMCIS occupies space in the traditional and unceded territory of nations including the Anishnaabeg, the Mississaugas of the Credit, the Chippewa, the Haudenosaunee, and the Wendat peoples, and territory which is also now home to many diverse First Nations, Inuit, and Métis peoples. This territory is covered by Treaty 13 signed with the Mississaugas of the Credit, as well as the Williams Treaties signed with multiple Mississaugas.