You are now in the main content area
Content Delivery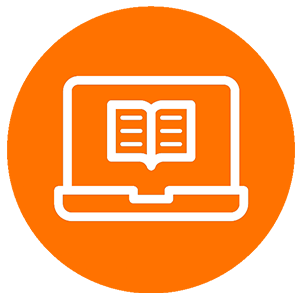 Synchronous and asynchronous content
With the transition from face-to-face to online teaching, content can be delivered in two ways: synchronously and asynchronously.
Synchronous learning
Synchronous learning enables content to be delivered to students in real time, allowing students to communicate with each other and the instructor at the same time. This learning environment facilitates a classroom community, and increases student motivation (Hrastinski, 2008). Synchronous learning is best for explaining complex information, guest lectures, Q&A sessions, and virtual office hours (Roch & Stracuzz, 2020).
Provides a level of engagement that is analogous to face to face classrooms (White, Ramirez, Smith, & Plonowski, 2010)
Less structured session that promotes student to student interaction, promotes discussion, and creates a sense of community (Lidstone & Shield, 2010; Roseth, Akcaoglu, & Zellner, 2013)
Promotes increased instructor to student interaction
Can be used for virtual check-ins to give students the opportunity to ask questions or discuss the content
Technical difficulties for students or the instructor may limit the effectiveness of the session (White et al., 2010)
Ask yourself whether synchronous sessions are needed to achieve the learning outcomes of the course
Accessibility issues (e.g., students in different time zones, students without reliable, high-speed internet, students who are front-line workers) may prevent students from participating in live sessions
If you do incorporate synchronous learning into your course, we recommend these sessions be voluntary and recorded for students who could not attend; this helps to maintain equity in the classroom
Asynchronous learning
In asynchronous environments, students engage with the content at their own pace allowing for flexible learning (Hrastinski, 2008). This is particularly important given the competing responsibilities that students may have during this time related to work and family commitments. Although asynchronous learning can be associated with a loss of community and collaboration in the learning experience, there is evidence of increased reflection and processing of course content (Hrastinski, 2008). Asynchronous learning is best for delivering lecture content, ensuring the course is accessible for all students (Roch & Stracuzz, 2020).
Flexible content delivery – students can watch pre-recorded modules, or participate in asynchronous activities on their own time (i.e., the learning is self-paced). Because students can engage with the content at their own pace, they can revisit content to review or check their understanding.
Asynchronous learning is a less immediate, lower bandwidth option than synchronous sessions which makes the content more accessible for students who do not have access to reliable, high-speed internet.
As student to student interaction is beneficial for the learning experience, consider ways that you can provide these opportunities asynchronously (discussion boards in D2L, Google Chat groups, collaborative Google documents)
As positive student to instructor interaction is important for the success of the course, consider ways that you can connect with your students asynchronously (e.g., post an introductory video of yourself, online icebreakers, frequent announcements on D2L Brightspace)
Because the learning is self-paced, students may have difficulties with motivation and commitment to engage with the content.
Below are some suggestions for delivering asynchronous content in your course:
Slides
Recorded mini-lectures
Including external learning materials
Connecting Synchronous and Asynchronous Learning
In order to maximize the impact of both synchronous and asynchronous learning, it is crucial that all activities are woven together into a clear learning path so that students can make connections between both spaces.
Find ways to bring online work into live sessions, perhaps by showcasing some student submissions or providing an answer to a question posed during the asynchronous learning. Discuss what the next asynchronous modules will entail.
Conversely, find opportunities to bring the content of the live sessions into the self-paced online portions of the course. Consider starting group work in a live session that can continue throughout the week, or have students complete a reflection activity based on a guest speaker's presentation.
When planning course delivery, ask yourself:
How will each component connect to the next one in the learning path?
How will the live session connect to the online learning?
How will the online learning connect to the live session?
Is the learning path clear for students?
How will you communicate the learning path to your students?
Rethinking your three-hour classroom lecture time
The structure of a three-hour lecture is up to the instructor and the norms in their department or faculty. There is value in synchronous and asynchronous learning environments; each environment can be beneficial depending on the learning outcomes of the course and the type of content being delivered. You may choose to deliver your course completely asynchronously, or you may consider a blended approach that incorporates both asynchronous and synchronous delivery.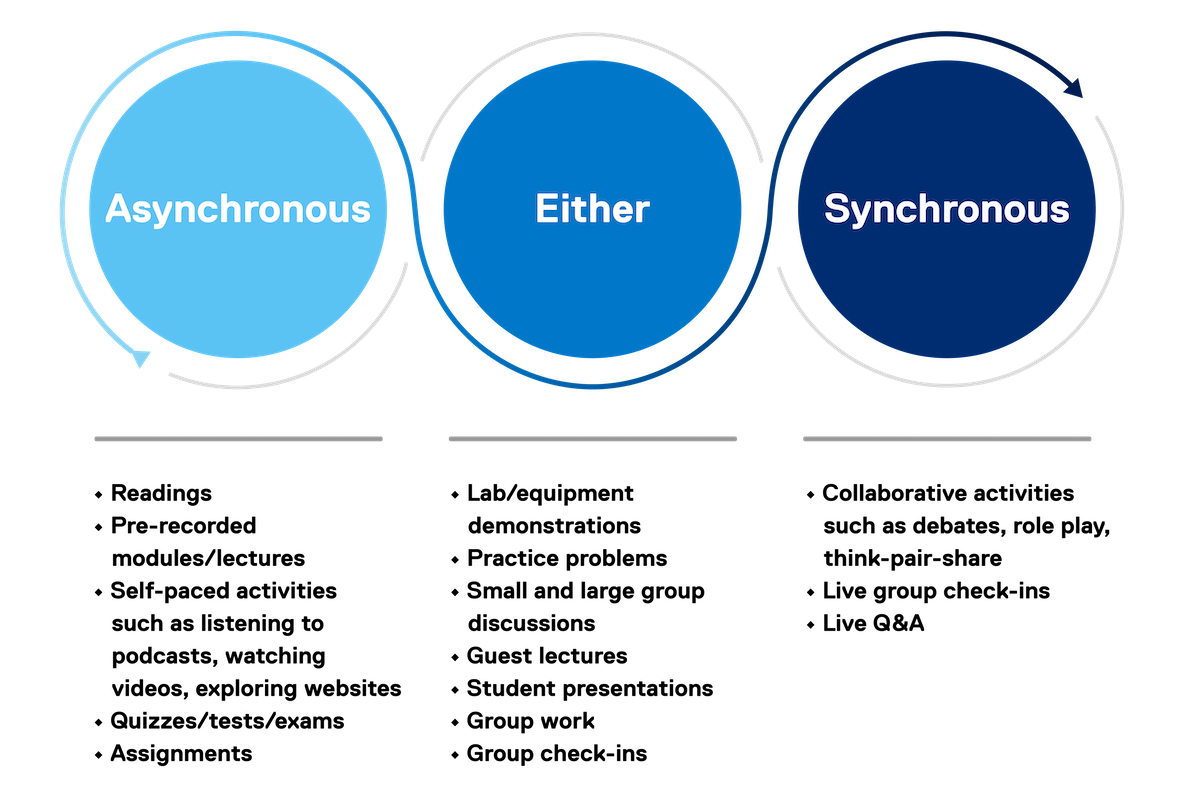 Structuring a three-hour lecture
If you are considering a blended approach, here are some examples to structure your three-hour lecture:
Examples

Asynchronous learning

Synchronous learning

Example A

1 hr: self-paced activities

1 hr: collaborative activities
1 hr: live group check-in

Example B

2 hrs: self-paced activities

30 mins: lab demonstration
30 mins: live Q&A

Example C

1 hr: self-paced activities

1 hr: group discussion
1 hr: group work