You are now in the main content area
Alumni Families: Lift it Up! with Toronto Met Day Camp
Date

October 22, 2022

Time

11:00 AM EDT - 12:00 PM EDT

Location

Hybrid - Virtual and In-person (George Vari Engineering and Computer Centre)

Contact

Matt Edmonds, camps@torontomu.ca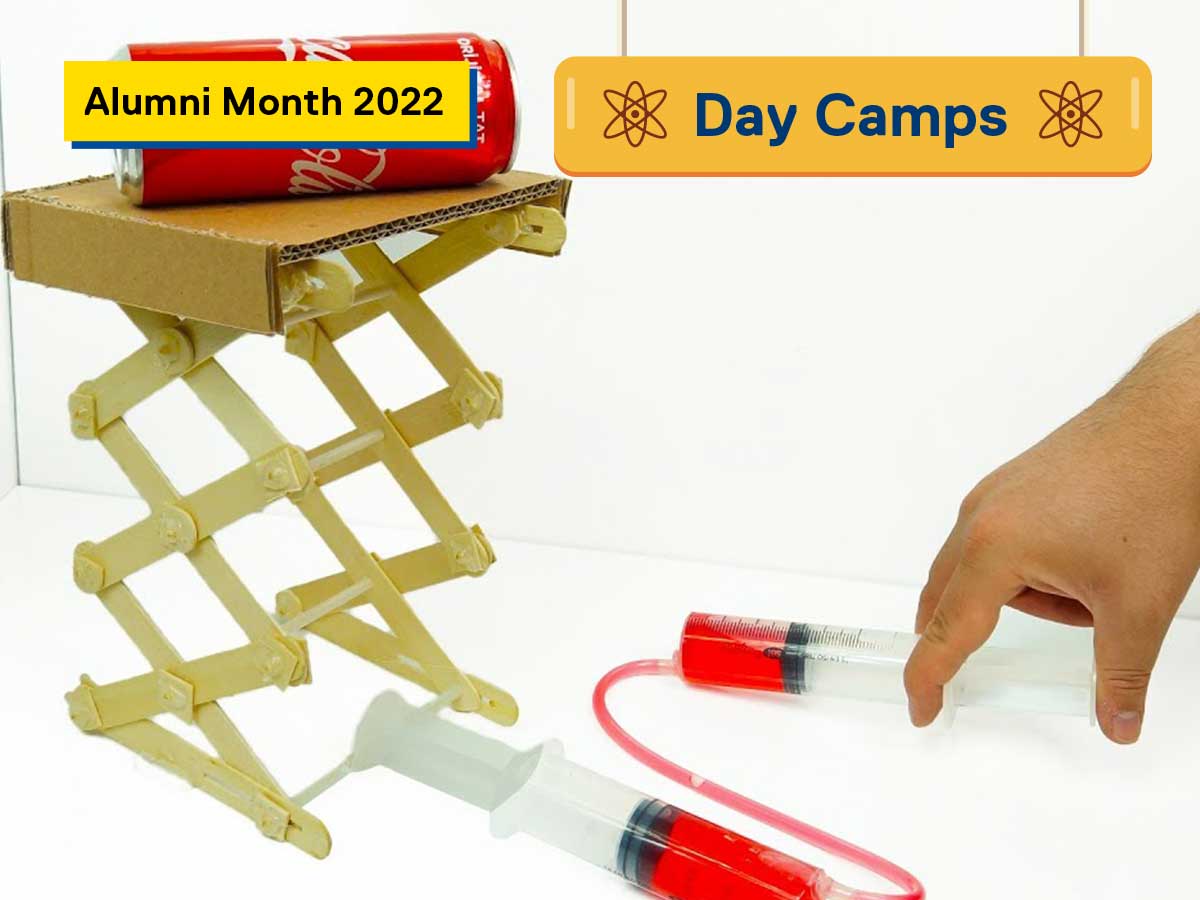 Hosted by:
Toronto Met Day Camps
Description:
This event is for participants aged 8 – 13.
Join us in person or online for a synchronous, hybrid camp experience! Led by our Eureka Camp counsellors, this session includes:
an introduction to your activity from a TMU student
a go-at-your-own-pace activity with support both in-person and online via Zoom from your Instructors
and a chance to show off your creation, debrief about how it works, and test your knowledge in a fun game!
Activity:
Lift it up!
When we think about water, we usually picture something calming like an ocean or river, but when pressure is applied water can go from peaceful to powerful! One example is a hydraulic system, which can harness the potential of a pressurized fluid to give tiny humans enormous strength, like a super power!
In this activity we will take on the role of mechanical and civil engineers to build our own scissor lifts. Participants will learn about Pascal's law and how engineers are able to lift incredible weights using only a small force thanks to the science of hydraulic systems.
A sample hydraulic system:
In-Person Session (30 seats):

Participants will be guided through the activity by Camp Instructors just like a day at Eureka Camp. All materials will be provided on-site.
Virtual Session (36 seats):
Participants will view the same "lesson" as the in-person session, and then will be guided through the hands-on activity by a virtual Camp Instructor over Zoom. These families will be provided with a "shopping list" beforehand so they can acquire the necessary materials before the date of the session. (Note: syringes & tubing should be ordered early to ensure on-time delivery.)
Schedule:
10:45 AM: Doors open
11:00 AM: Introductions & "lesson"
11:15 AM: Activity
11:45 AM: Show off your creation!
11:55 AM: See you next time!
Location:
Map of George Vari Engineering and Computer Centre