After TMU - Garbo Zhu
March 09, 2022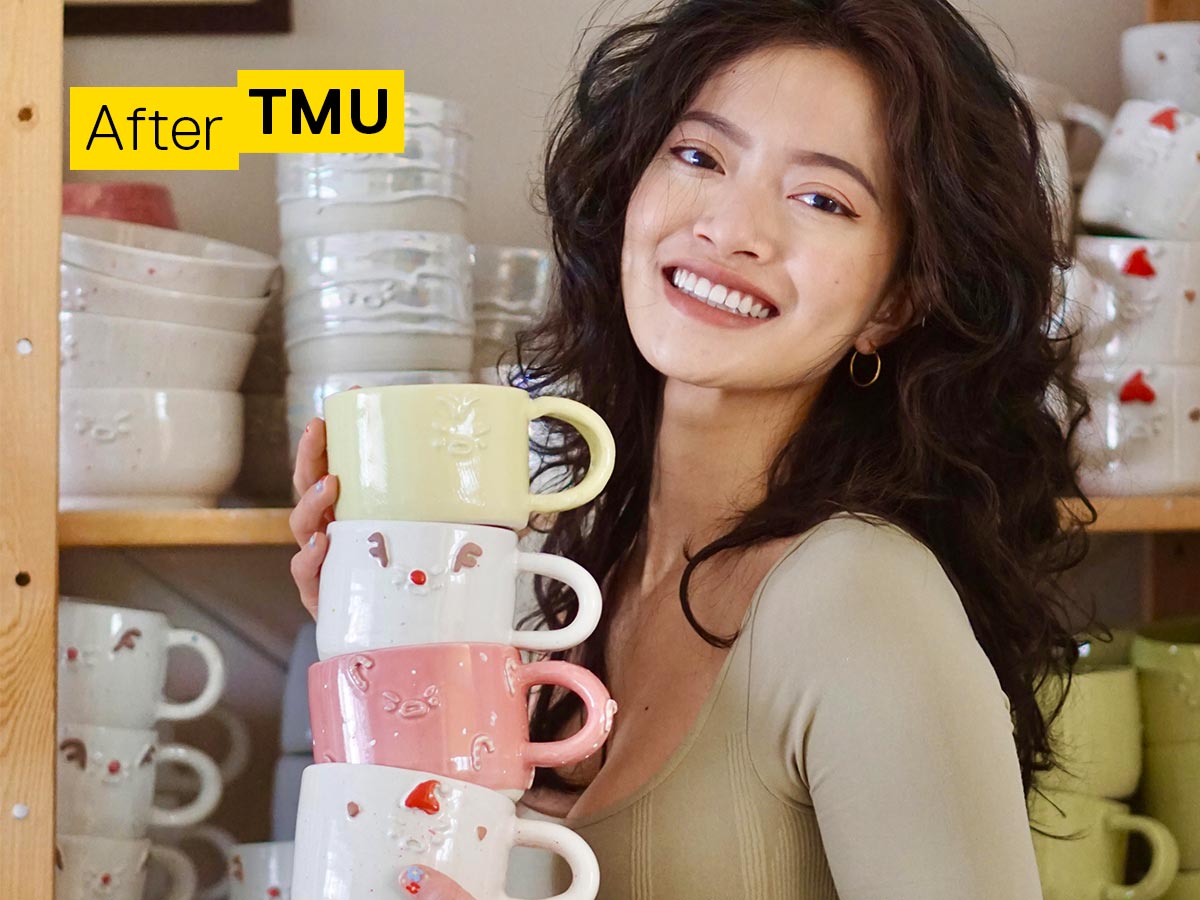 Garbo Zhu graduated with an Architecture degree, but a pandemic-inspired pottery hobby turned her construction industry career plans on their head. She's now the hands and brain behind a thriving pottery business, Grumpy Kid Studio!.

Here she shares how her studies have helped her prepare for this new endeavour, how she's handling success and what she loved about her Ryerson University experience.
Why did you choose to study architecture at TMU?
Since I was young, I have always been extremely creative, building towers with my food during dinner (and getting scolded after), and always coloring outside the lines. I had a hard time trying to figure out what I want to be when I grow up, just knowing that I don't want a desk job and wanted to design and create something physical. When the time comes to decide on my University major, Architecture seemed like the best option, as it combines two of my biggest passions — design and physics. TMU was my first choice, the reason being that it is located at the heart of a vibrant city and has an amazing co-op program!
How has your degree influenced your career path?
Initially, I was aiming to become a licensed architect, but after working in the design field for a few years, I have decided that I want to focus more on the construction side of the industry. That is when I pivoted my career path to become a BIM (Building Information Management) specialist, where we look for information within an architectural model to satisfy clients' needs. At the end of 2020, I started posting air dry clay works on Instagram as a hobby, which has turned into a full-blown ceramics business called Grumpy Kid Studio! In the beginning, I was still working at my 9-5 while trying to keep ceramics as my side hustle, but after generating steady revenue for over a year, I have decided to quit my day job to pursue my passion full-time!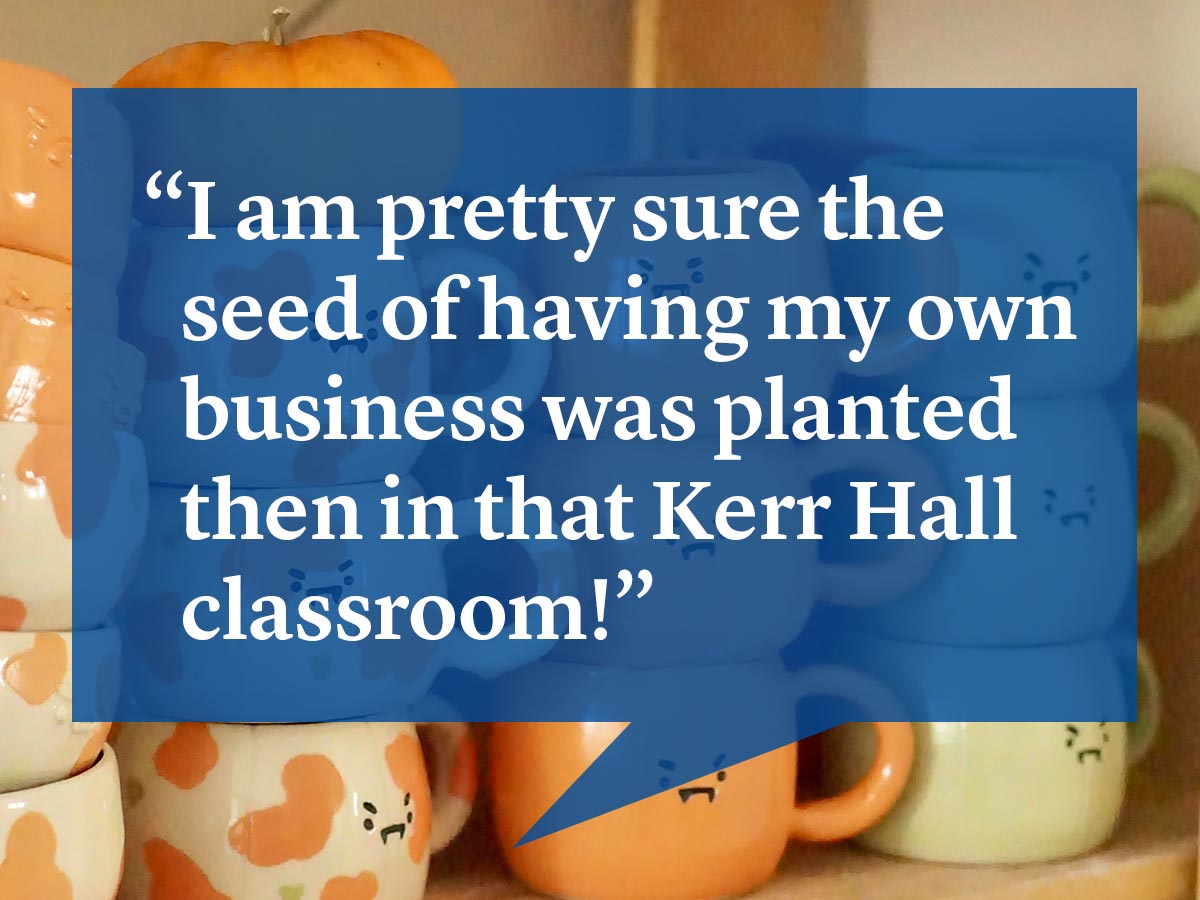 What are some skills you developed through university that have assisted you in your life and current role?
There are lots of similarities between architecture and ceramics: both start with a concept, then that idea will undergo several stages of design development, and at the end, you will have a physical product! At school, we were trained to develop our skills which include structure, graphics, and story-telling. All three have contributed greatly to my current job as the owner of my ceramics shop!
What inspired you to start Grumpy Kid Studio?
There was the urgent desire to create something physical. When the pandemic hit, we were forced to stay home and sit in front of a computer for work and for fun. I was searching for an outlet to release my little "creative bug", and air dry clay seemed like the best medium at the time! It was easily accessible ($20 for a pack from amazon), and no kiln was required. I would add funny faces on them to add personalities and paint them with whimsical patterns and shades. After I have created a new piece, I would photograph them nicely and post it on my Instagram (@grumpykidstudio). Slowly, it gained traction and people started inquiring about my work, which got me searching for a sturdier material and that's when I found ceramics! Luckily, I have a pottery studio 5 mins walking (3 mins running) from where I live. I took one hand-building class and the rest is history! Now I have my studio set up in my parents' living room, with my own kiln, pottery wheel, and lots of equipment! My favourite thing about the little grumpy face is that it adds a bit of cuteness and attitude to your everyday mug, so you are less grumpy before you take your first sip of coffee ;)
How does your foundation in architecture influence how you approach pottery?
Shockingly, my background in architecture doesn't really influence my pottery style! I treat architecture and construction with a lot of respect and seriousness since we are always doing it for someone else. But for ceramics, I am doing it for myself! I get to play around with all the different shapes and colours that you don't typically see in a building.
What have been your biggest challenges so far in launching your business? How have you overcome them?
Time! There is never enough of it! When I was working at my desk job, I had to drive 1-2hr daily commute to and from work. The construction job required me to be on-site in the warehouse. I would get up at 7 and come home at 6, have dinner, and start working on Grumpy Kid Studio until midnight. It was extremely tiring and rewarding at the same time. I overcame it by quitting my job!
What does a typical "Day in Your Work Life" look like?
Since I have only been doing this full-time for a month, everything still feels a bit wobbly, so none of my days are like the others. I always start by doing a daily-task log to keep myself on track, followed by posting on my socials (the two main ones are Instagram and Tiktok). Depending on the day, I could be making new mugs, glazing them, photographing them, or packing them. Some days, I would host small business consulting for other creators to help them reach their goals. Other than the repetitive studio work, I also do a lot of outreach with different brands for future collaborations!
What are the best parts of your work; what are the necessary evils?
The best part of my job is seeing my lovely customers using our grumpy mugs in real life! I am very glad to say that we have built a small corner of the internet where I have found a group of friends that are growing alongside Grumpy Kid Studio! I share all of my processes online in the form of short videos, which creates a more intimate relationship between my customers and our brand! They are extremely patient with me since they understand that Grumpy Kid Studio is still very young and I have no formal background training in either business or ceramics. The part that I always dread doing is packaging since it's the opposite of being creative. On an average month, we could send out over a hundred packages, which means tons of repetitive motion that could be physically exhausting. That's why I add a handwritten note to every single package we send out, it's not only to add a personal touch for our customer but also to break up the rhythm for myself.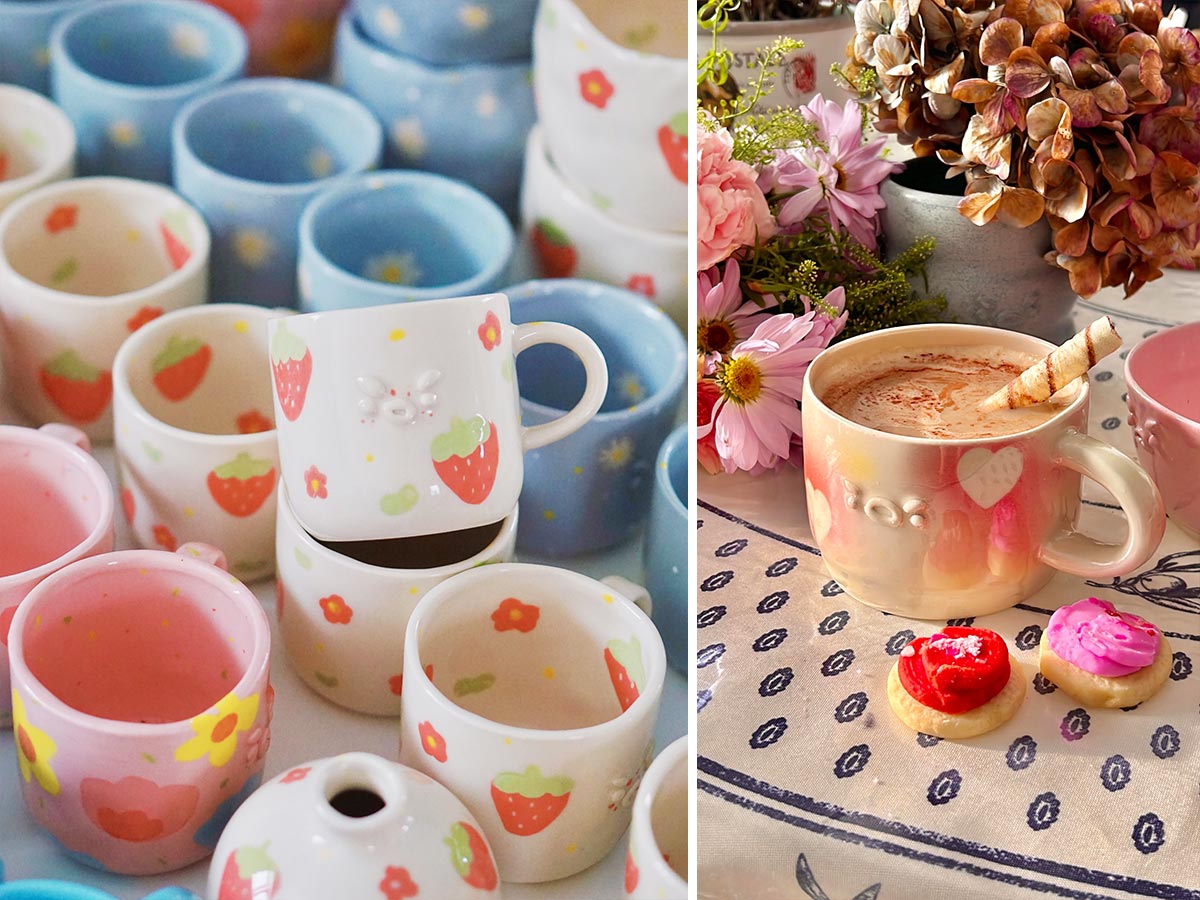 How have you been able to grow your business and what advice would you give to others trying to get started?
SOCIAL MEDIA! Never underestimate the power of short videos, so start posting reels and tiktok videos now! One of the reasons why Grumpy Kid Studio could grow so fast within a year is we post videos consistently on our platforms, no matter if it's a process video or a day-in-my-life, our audience loves to see what is happening behind the scenes of a small business. I started this account at the end of 2020 with 200 followers, and now we have close to 40k followers on Instagram!
What do you wish you could tell your university self?
Sleep more! Especially to my first-year self! Yes, you might get a slightly cleaner drawing if you work on it for another hour or two, but guess what, no one could tell the difference but yourself! Talk to more working professionals that are in different fields within the industry, and you will know that design is not the only way out. :)
What are your favourite TMU memories? Did you have any favourite professors who inspired you? If so, why?

There are two memories that stuck with me while studying at TMU. One is going to Frankfurt, Germany for a month for a studio-abroad program with professor Yew-Thong Leong. It was extremely mind-blowing to experience the cities we read in textbooks in real life. I felt extremely privileged to walk down the lane of history alongside my peers and my architecture professor, who did an extraordinary job at revealing the beauty of architecture and how it's shaped by history and culture. Professor Yew-Thong also lectures about the business side of the industry through a course called "Business Practices in the AEC Industry''. I am pretty sure the seed of having my own business was planted then in that Kerr Hall classroom!

Another memorable chapter was publishing my first research paper under the guidance of professor Jennifer McArthur, who introduced me to the world of programming and how it can influence the future of architecture. Our paper focuses on using genetic algorithms to auto-populate room layouts.
What's next for Grumpy Kid Studio?
My dream for Grumpy Kid Studio is to create a fun grumpy factory where people can come for tours of the workshop to see how their grumpy mugs are made! I would love to set up a glazing room for guests to paint their own grumpy mug which they could take home!
Scaling that back to 2022, my goal is to have more collaborations with different brands across a variety of industries and start wholesaling at different home goods stores. So far, I have worked with an illustrator in Poland, a giveaway with MilkUp (Ontario Dairy Farmers), and will work with a clothing company in Toronto, a candle shop in Calgary, and a designers' boutique in Brooklyn very soon!
My husband and I are moving to Montreal in the summer and I have signed the lease of my very own grumpy studio space! A lot is happening and I can't wait to show you what's in store. :)