WhereRUNow — Jermaine Bagnall
April 11, 2021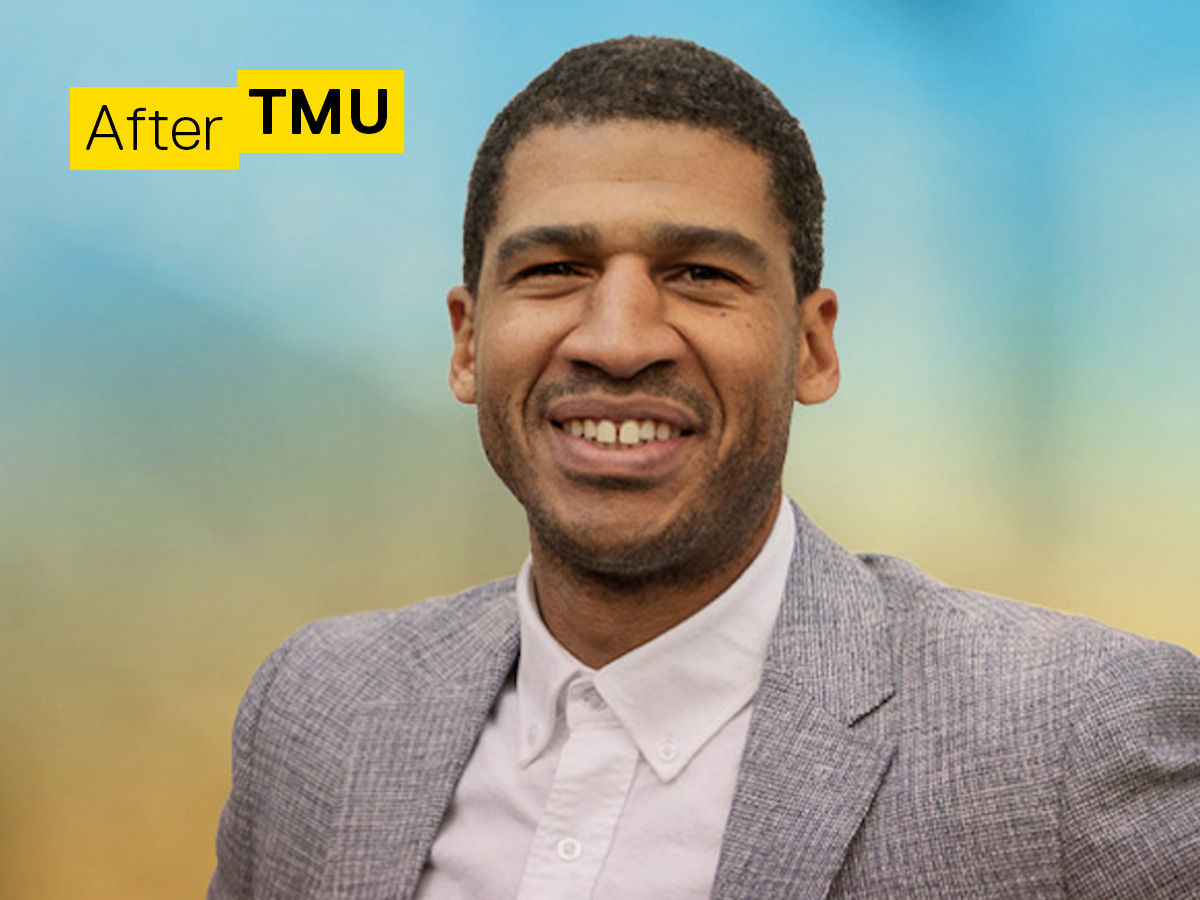 Why did you choose to study at Ryerson?
I actually chose Ryerson twice. The first time was for the Summer Film School and the second time was for the Master of Fine Arts in Documentary Media.
I chose the Summer Film School in order to get some hands-on experience from industry professionals and have the opportunity to use pro level equipment. My undergrad did not have a true film program so we had to make do. What does that mean? It means that my first projects were shot on Sony MiniDV handycams and we all shared one editing suite!
I was fortunate to be a part of the inaugural class of the Documentary Media program. What drew me to the program was furthering my skills as a documentarian and putting myself into the position where I could eventually teach. The idea of being a practitioner of what I teach is important to me as I have always learned best through real world examples. It is no surprise to me that my favourite professors tended to be those that did both as they could speak to the theory through what they have done. It's the exact reason why I chose Christopher Aylward and Gerda Cammaer to be my thesis advisors. Both of them could link theory and practice in such a way that spoke to me at a deep level.
How did your degree influence your career choice?
Partway through my undergrad I knew I wanted to be involved with filmmaking so my certificate and Master's Degree have been put to full use. I have been fortunate to work as a camera operator, director, and producer so I have used everything I ever learned while at Ryerson. I don't know how typical my path has been with doing so many different facets of the industry, but I enjoy it. I find that as my skill is furthered in one facet, it impacts how I practice the other parts.
What are some skills you developed through university that are applicable to your career?
I think one of the biggest skills that I developed through university that is applicable to my career is discernment while in the field. There were many classes where we had to discuss our own personal documentary ethos and how we would practice in the field. Meaning that we needed to think about how we would work with documentary subjects. This has helped me navigate projects where I worked with vulnerable populations. It's easy to get caught up in a project and do anything for the great shot or the great moment. Taking the time to figuratively step back and discern what's going on, ensures that everyone involved is treated with dignity and respect.
Another skill I developed in university is the ability to work well with a wide variety of people. Between my undergrad and graduate studies, I have been a varsity basketball player, a graduate council representative, and the Ryerson Students' Union President. In each of these roles I had to work with people to achieve a common goal. Working on set is not different. Every person brings a skill set that needs to be harnessed in order to create the best work possible.
What are the biggest challenges you've faced in your career, and how have you overcome them?
Two of the biggest challenges I faced was my mindset of working in my dream field and not knowing anyone prior to joining the industry.
When I first started in film/TV I was walking around with rose coloured glasses without a thought of what could go wrong. I learned early on that just because working in film/TV has been a dream of mine does not negate the fact that ultimately it is a business with its own set of politics. I was taught this cold hard fact when I was a Camera Assistant on a show where the crew I worked with was going to shoot the entire season of the show. Part way through the season a second crew was brought on in order to "divvy up the workload" which eventually shifted to my crew being let go while the second crew took over. I took it personally for a while as it didn't make any sense to me. My mentors helped me navigate those feelings and let me know that I should enjoy the work but always be aware of the business and politics that can occur behind the scenes. Us being let go had nothing to do with our quality of work and everything to do with an executive's underlying agenda. He helped me not take it personally, look forward to the next job, and continue to execute high quality work.
The other major challenge I had to overcome was simply not knowing anyone in the industry. When I was just about to finish my MFA I didn't have any job prospects as I wasn't sure how to break into the industry. I had a fortuitous meeting at a surplus store when I overheard a man say he was a documentary cinematographer to the cashier. When he left the line to get more items I made my way over to him and introduced myself and asked if we could meet for coffee when he was not busy in order for me to learn the business. He later connected me with a friend of his who hired me as a PA (yup, a MFA holding PA!). A year later I finally worked with the Cinematographer on a project he had going. Fast forward 12 years later, he is my friend and mentor.
That is a long roundabout way of saying, in order to overcome the challenge of not having connections, I had to find ways to forge them. Any time I was on set I was on time, worked hard, and ensured that I got to know people. Building a network is key, but it's important to create value for people when doing it! Networking is a two-way street.
How did your experience at Ryerson University help you find your first position after graduation?
My introduction to film as a career was pretty random. It was less about Ryerson directly setting me up with work as it was more so using the skills cultivated at Ryerson.
I think my experience of interviewing people for my MFA Thesis documentary, interacting with a wide variety of people as the RSU president, and having the desire to be in the industry was the winning combination that allowed me to take the step forward into the unknown.
In your experience, what are some attributes of individuals who are most successful in your field?
The traits that make people successful in this field are curiosity, passion, optimism, drive, visionary. Pretty much the traits that will enable someone to be successful in whatever their given field is.
If you could start all over again, would you change your career path in any way? Why?
I think the only thing I would change is either joining the IATSE trainee program right after my undergrad or trying to go to the US to test the waters. IATSE would have given me the opportunity to work on large scale productions and moving to the USA would put me in a space with more opportunities (we have to remember that America has 10 times the population of Canada!).
With that said, I think that all of the steps I have made in my journey have helped me be the professional I am today. And as long as I am alive I always believe there are opportunities out there.
What is a typical "Day in Your Work Life" like?
Working in film/tv "typical" will vary depending on the project. My day will be different when I'm hosting Working in Faith compared to a day as a Field Producer on Intervention Canada, or Ice Road Truckers.
The thing that is common is I get to wake up and ask myself: What do I get to create today?
What are the best parts of your work; what are the necessary evils?
The best part of my work is being invited into people's world and being given the opportunity to share with viewers who would not otherwise have access to it. I also like that with film/tv there is a chance to shape people's minds about a topic or share a perspective on a topic they may not have otherwise considered.
What I will say is a prerequisite people have to keep in mind with production is that it is collaborative and time intensive so you always have to have a certain level of patience with the process.
What do you wish you could tell your university self?
This thing you want to do is possible. There are going to be extreme highs and lows. There are going to be stretches you'll want to quit. When you hit those days remember why you wanted to do this — that there is a chance to do good in the world using these skills. Plus, what else do you really want to do?
I think that people need to remember that whatever you do ensure that you take care of yourself, mind, body, and soul. Know your worth. Know your boundaries. Do good always. If you can't do good at least do no harm. If you think you've done enough, do more.
Also — remember the quotes your grandpa always told you:
Do all the good you can, by all the means you can, in all the ways you can, in all the places you can, at all the times you can, to all the people you can, as long as ever you can.
I know these read as clichés for a motivational poster, but when enacted great things can happen!
These are lessons I've learned along the way.