WhereRUNow – Alexa Jovanovic
March 03, 2021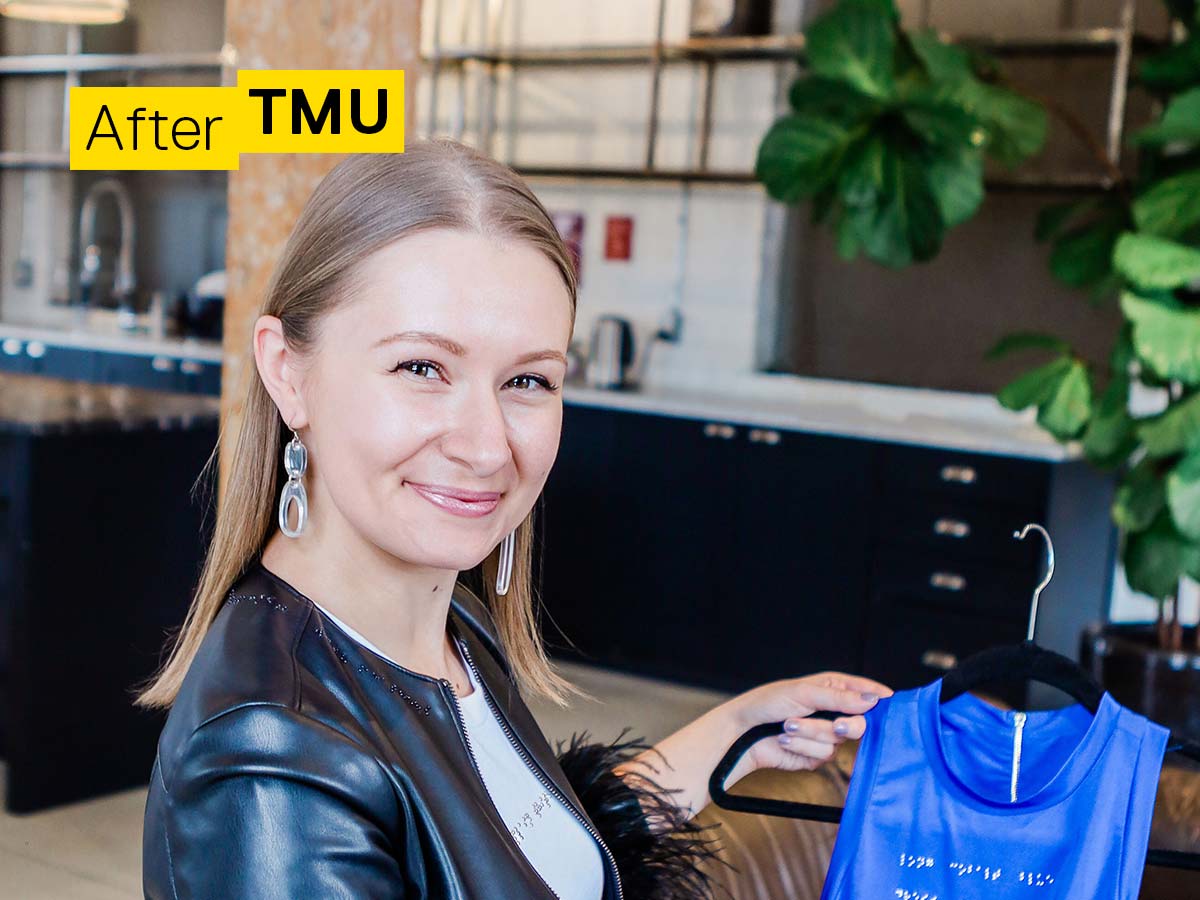 Why did you choose to study at Ryerson?
The fashion program at Ryerson is incredible! It's the only university in Canada that offers fashion, so when it came to applying to schools, I knew Ryerson was where I needed to be. Looking back, it's one of the best decisions I've ever made.
What are some skills you developed through university that are applicable to your business?
Learning how to problem solve with innovative design thinking and how to effectively create through a co-design process are two of the most valuable skills I learned while studying at Ryerson. They allowed me to grow as a designer and understand the value of diverse perspectives.
Tell us about your company! How did your experience at Ryerson University support your success as an entrepreneur?
Aille Design (pronounced: eye) is an emerging designer brand that is disrupting fashion industry norms and changing the way society views inclusive design. We create intricately beaded fashion-forward clothing, and what's unique about this clothing is that all of the beading is actually fully legible braille. Using Swarovski Crystal Pearls, we create phrases in braille that describe the clothing characteristics of the item (such as colour, textile, care content, fit, etc) or provide the option for the customer to choose their own customized braille text. All products are created in collaboration with the blind and visually impaired community and are designed to be worn by both sighted and non-sighted consumers to increase diverse representation in fashion and advocate for the importance of accessibility.
Ryerson, and more specifically, the Fashion Zone at The Creative Innovation Studio, were absolutely instrumental in my journey as an entrepreneur. Aille Design originated as my final capstone project when I was studying Fashion Communication at Ryerson and later on as an alumna, I joined the Fashion Zone, which helped me evolve my academic research into a fashion start up. They provided access to an incredible advisory network and growth opportunities that allowed me to gain a better understanding of the business side of retail and how to build an impactful brand.
What are some attributes or skills required to be successful in your field of work?
Being open-minded, passionate and hardworking. Building a business can be difficult, especially when you're first to market and creating something that has never been done before. Knowing how to remain flexible and view challenges as opportunities is crucial and will propel your success.
What advice would you offer to creatives starting their own business?
You may have a brilliant idea, but if there's no one to purchase your product and it has no perceived value, you won't be able to sustain the business. I can't stress enough how important it is to do your research, understand your end user, and work through a co-design process. Gaining that first person insight will allow you to design a product or structure your business in a way that truly benefits the consumer. Listening and getting to know as much as possible about your customer is key.
Aille Design is very unique and forward thinking. What are your hopes and plans for its future?
Thank you! My goal is to create a new standard of inclusion. We're working towards growing Aille Design to a level that brings inclusive design to mainstream fashion on a global scale. We want to help normalize the inclusion of individuals with disabilities in all areas of fashion, from clothing design and modelling to accessible retail environments and experiences. We will continue to partner and collaborate with major companies and influencers who have already established market share in their respective areas, which will allow us to access a larger audience and increase our product offering. This growth will allow us to design a model that actively employs individuals with disabilities and educates other companies about how they can do the same.
If you could start all over again, would you change your career path in any way? Why?
Not at all! I absolutely love what I do! Being a fashion designer has played a very meaningful role in my life, especially as a designer focusing on an area of fashion that's often disregarded. Creating Braille beading has allowed me to use my skill set to make a fashion statement, while also creating social impact. I'm able to work towards destigmatizing braille and blindness by providing positive connotations of luxury and increasing inclusive representation in fashion. I can't possibly imagine doing anything else.
What is a typical "Day in Your Work Life" like?
No matter what I'm doing, be it photoshoot prep, media interviews or strategic development, a typical work day always includes copious amounts of black tea and oat milk! Customer engagement and relationship building are very important to me, especially since Aille Design is community driven, so I make sure every day includes multiple customer related touchpoints through social media or one-on-one meetings with individuals to discuss product design, feedback, and potential collaboration opportunities. We recently launched complete text customization on all of our products, which has been a huge hit, so fulfilling orders and beading those custom pieces has also increased.
What are the best parts of your work; what are the necessary evils?
The best part is definitely getting to work so closely with a diverse group of people within the blind and visually impaired community. I will never forget the first time a participant was able to successfully read the beading on one of our prototypes. It was the denim jacket and we just began testing a new technique. The smile that appeared on her face, the joy that this experience brought her, and how proud she was of what we accomplished together is why being a fashion designer is so important to me. Individuals with disabilities have been largely overlooked as consumers, let alone consumers of fashion. We're here to change that.
I recently heard someone speak about how true passion motivates you to work on tasks that you otherwise don't enjoy and I identify so much with that notion. These tasks add up and it's that willingness to do things that you don't want to that will indicate just how truly passionate you are about your business and how much you want it to succeed. For that reason, I try to find joy in every part of the process and understand its significance to my end goal.
What do you wish you could tell your university self?
Keep working hard and doing what you're doing. Some people may question why someone who is blind cares about their visual appearance, but this lack of awareness only makes your research stronger and proves the need to change the traditional fashion narrative and challenge misconceptions about what it looks and feels like to be blind. Keep going.
Anything final thoughts?
Conversations centered around inclusivity in fashion often focus on being size-inclusive and have recently emphasized race, gender, age, and sexual orientation. But even when the conversation is about inclusion and diverse representation, individuals with disabilities are still excluded.