WhereRUnow — Chris Drew
Urban and Regional Planning '09
November 10, 2020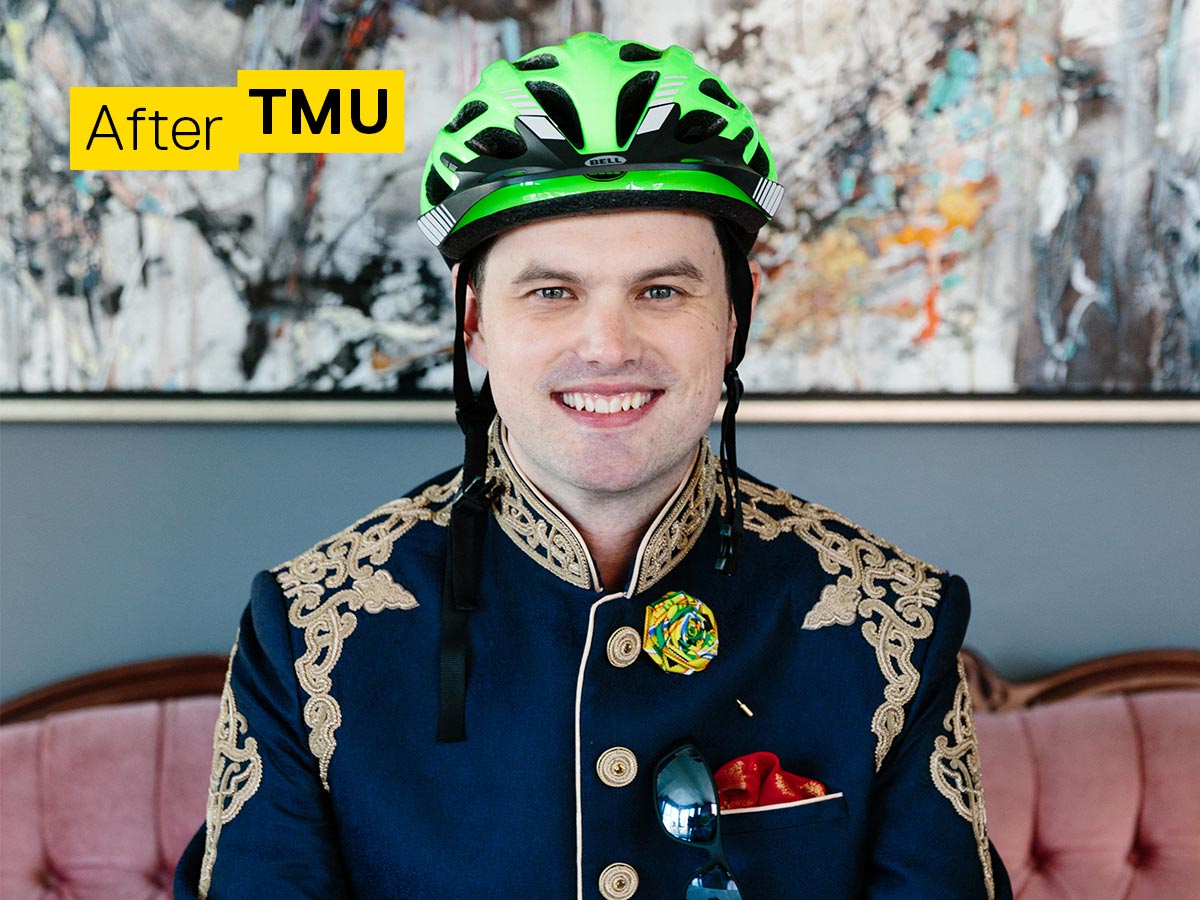 1. What is your most valuable takeaway or memory from your Ryerson experience?
The most valuable takeaway was encouragement to get involved in planning issues, causes, community actions, attend public meetings and events, and create opportunities for engagement. Planning isn't a passive thought or abstract concept. Planning is happening all around us and the need for good planning is constant. Ryerson's school of urban and regional planning motivated me to find a planning topic or issue that really interested me and get involved. Professors mentioned the benefits of attending community meetings outside of class to get to know a neighbourhood, a project, or a planning issue. For a favourite memory, I was very fortunate to also find a great test case on the Ryerson campus itself through the campaign to pedestrianize Gould Street, and it was wonderful to bring together students, alumni, staff and faculty to put people first for Gould.
2. What attracted you to the field of urban planning and why did you choose Ryerson?
I always enjoyed exploring my hometown of Brampton on my bike and seeing new places. It was also thrilling to visit Toronto with my family. I was amazed by the energy and activity of Toronto. I didn't understand the technical planning terminology at the time but I remember being awestruck by the mix of uses and how many transit lines flowed into Union Station. When I discovered that Ryerson was in the heart of downtown Toronto and next door to so many amazing neighbourhoods, it was a very fast decision. I knew I wanted to be part of the action and Ryerson was the place to be.
3. How has staying involved and connected to the Ryerson community helped your career?
Staying involved and connected to the Ryerson community has been a tremendous asset to my career. I've mentioned my involvement in job interviews and it's actually been a contributing factor in successful outcomes twice. It has been a great resource when networking, in my current job, and when I encourage fellow Ryerson alumni constantly in the public, private, and non-profit sectors. Being part of and helping to organize Ryerson community events and opportunities has been wonderful to mention in discussions with colleagues and clients. Through my involvement in the Ryerson Planning Alumni Association, the ability to network within the planning profession has provided many benefits to my career.
4. What advice would you give recent graduates about doing the same?
Get involved in your alumni association. Find ways to give back to current students because they will appreciate your time. If you don't see an event or activity hosted by your alumni association, offer to host or organize one yourself. It doesn't have to be big or elaborate. There are lots of ways to contribute your time, on your own schedule.
5. What does a typical day look like in your job?
Everyday can look a little different because each site is unique, the neighbourhoods can vary, and the needs and timelines can change. That's the interesting aspect of the job: each day is different with new questions and problems to solve, and opportunities to explore. The breakdown includes project management, planning research due diligence, assisting colleagues with any hearing preparation, and business development and industry research/professional development. The key aspect is responsiveness, providing excellent client service, and working with a team while multitasking. Doing my part to be an excellent team player and support colleagues is a critical part. Having a strong team is important not only to provide clients with what they need, but it also makes the workplace an enjoyable and good place to work which is even more important during the challenge of COVID-19. It's also important in any planning-related volunteer work I do.
6. If you could start all over, would you change your career path in any way? If so, how?
Looking back and trying to change one thing could lead to a cascade of thought on what else to change. Rather than spend a lot of time doing that, I would rather look forward. Happy to provide any advice to current students or recent alumni about choices they may have. I wouldn't change the path, but I may have wanted to do a few extra things along the journey, like learning a second language, or doing even more travelling. Travelling also doesn't need to be very far or expensive. There are interesting things to see and do in many places in Ontario. My wedding venue for instance was at a park in Toronto and many fellow Torontonians had never been to it before. It's accessible by GO and TTC. There are many interesting cycling and walking trips one can take, or parks to visit.
7. Is there anything else you'd like to add or share?
The Ryerson community friendships and connections with people were amazing and continue to be. That's why I encourage people to get involved in their alumni association. I've been involved with the Ryerson Planning Alumni Association since 2012 and I'm constantly meeting new students and Ryerson alumni who are fantastic, including the Ryerson alumnus who wrote the article of my train trip, external link, opens in new window to my wedding. There also continue to be new ways to get involved, such as recently when I helped on the campaign of a new friend who was elected to the Board of Governors, opens in new window as the alumni representative. Recently I organized a bike tour for Ryerson planning students and alumni and it was wonderful to explore the city and use new bike lanes on September 26th, external link, opens in new window and October 3rd, external link, opens in new window.