You are now in the main content area
ADaPT Core
Are you a student in your final semester or a post-secondary grad? Looking to gain a competitive edge in the job market? Check out the ADaPT Core program!
Applications for ADaPT 2023 Training are now open!
Join us on Wednesday, April 5th from 12-1 PM Eastern Time and learn everything you need to know about the ADaPT Program! The information session will be held virtually over Zoom.
Date: Wednesday, April 5th
Time: 12 - 1 PM Eastern Time
Zoom Link: will be emailed to you upon registration
To register, please RSVP, external link.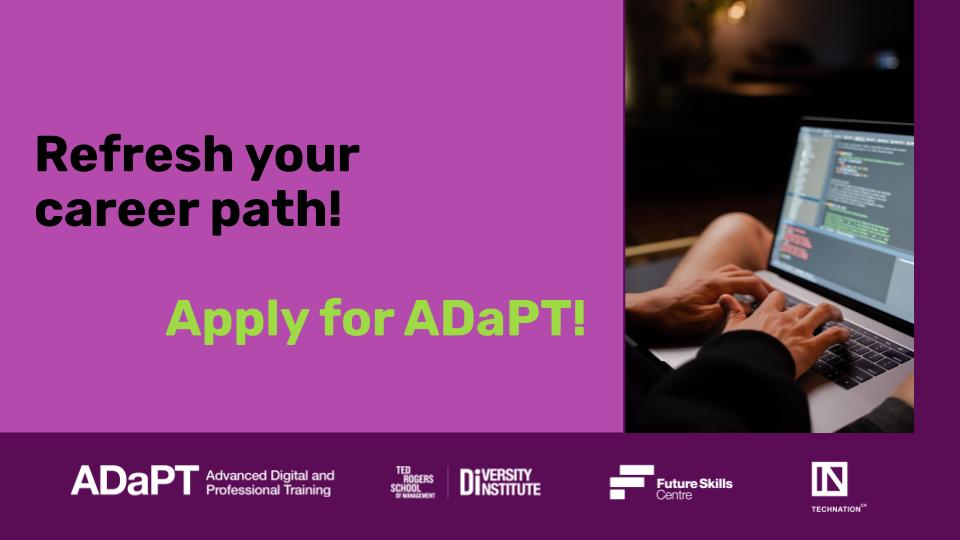 Apply by Sunday, April 2nd
Workshops on Wednesdays at 5:30pm, Saturdays at 10:00am PDT
Apply by Monday, April 10th
Workshops on Tuesdays at 5:30pm, Saturdays at 10:00am ET
Apply by Sunday, April 30th
Workshops on Mondays and Thursdays at 5:30pm, AT
What is the ADaPT Core Program?
The ADaPT Core program is designed to bridge the employment gap for post-secondary graduates and final-semester students.
This is our main, recurring program where you will:
Receive training in the areas of digital literacy, communications, research, business financials and professional skills
Enhance your employment prospects through access to career support
Boost your self-confidence and learn how to navigate the hidden job market
Learn how to connect with top employers and like-minded peers to potentially land a paid job placement (employment is not guaranteed)